'Lock Him Up'
The scene outside the courthouse where former National-Security Adviser Michael Flynn pleaded guilty to lying to the FBI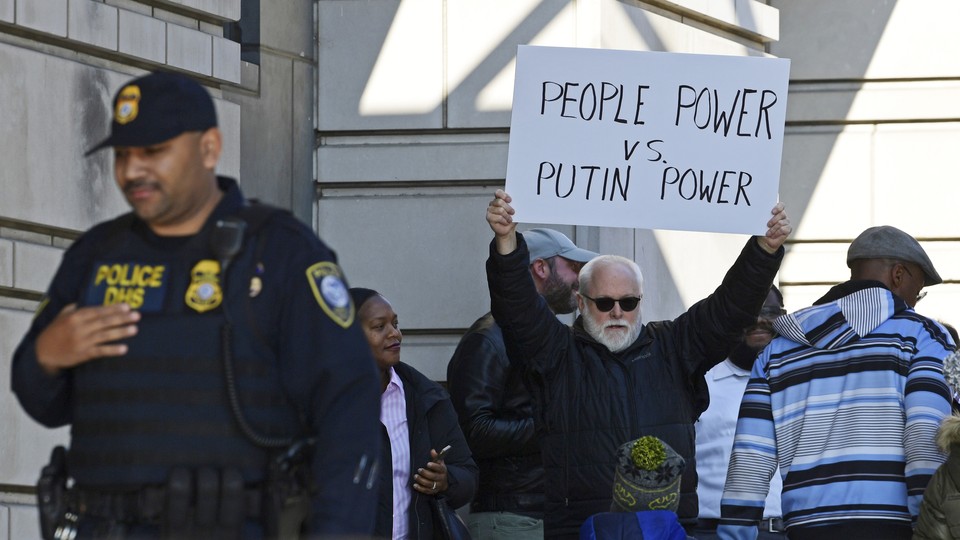 It's not every day that a former White House official pleads guilty to lying to the FBI—especially when that same official once led a crowd of thousands in a rallying cry against government corruption. So on a chilly Friday morning in Washington, dozens of people gathered outside a federal courthouse to revel in Michael Flynn's undoing.
"I've been telling myself if I have the chance to chant 'Lock him up' at Mike Flynn, I will take that chance," said Nick Keenan, a local resident and retiree, referring to the rallying cry both President Trump and Flynn used against Hillary Clinton. Keenan had just arrived on the scene with his wife, Marie Collins, who told me she was "just trying to see a small drop of justice in the chaos of modern American politics."
In the biggest development so far in the investigation into Russian interference in the 2016 election, Special Counsel Robert Mueller charged Flynn, the Trump campaign aide-turned-national security adviser, with making false statements to the FBI about his conversations with Russian Ambassador Sergey Kislyak. According to Mueller's team, in one instance Flynn discussed with Kislyak sanctions that the Obama administration had issued against Russia, and then lied about that conversation to intelligence agents.
Flynn arrived at the federal courthouse around 10:30 a.m. ET on Friday to plead guilty to the charge. During his appearance, the sidewalk outside the building was a mix of reporters, curious onlookers, and angry sign-holders waiting for him to make an exit.
One such protester was Paul Romano, a cybersecurity consultant and former captain in the Marine Corps who lives in the Washington area. "I also took an oath," said Romano, who was carrying a sign that read "Lock him up!" He was referring to the enlistment oath Flynn, a former Army lieutenant general, took at the start of his career; Flynn also took an oath to the country when he was sworn in as a White House staffer. "I'm just ashamed that a fellow serviceman would do that," Romano added. Behind him were his parents, who anxiously scrolled through a CNN newsfeed on their cellphones and read updates aloud to each other.
I found John Donner, a bearded man in a University of Southern California Trojans baseball cap, leaning against a barrier to the right of the courthouse entrance. "I was gonna go to the movies and go to the Smithsonian—there's an exhibit at the National Gallery I wanna see," he said. Instead, he found a better show. "I'm a newshound," he added, shrugging.
More and more people filled the sidewalk as the morning went on, shuffling around to get a good view of the doors from behind the press cameras and parked cars. There was a collective intake of breath every time the glass revolving doors started to turn. A taxi driver drove by the scene with his head out the window. "Is this about that Donald Trump guy?" he shouted at the crowd.
"It feels like we're opening a big can of worms," 23-year-old Beatrice said, with one eye on the door. She and her girlfriend, Concie—both of whom declined to give their last names—had crossed over from Northern Virginia after getting a CNN push notification about the plea hearing. "Like a bad can of worms that's going to be good in the long run." Another onlooker, a middle-aged man, told me the same thing: Flynn's plea is "the beginning of the unraveling."
The plea is important in part because Flynn is the first member of Trump's White House staff to be implicated in Mueller's investigation. What's more, as my colleague David A. Graham pointed out, the plea "appears to corroborate reports that Flynn was working toward a deal in which he would plead guilty in exchange for cooperating with the government." That could mean he has valuable information to give Mueller's team.
Just before noon, a stream of suited men and women poured out, among them the tan and well-coiffed former national-security adviser the crowd had been waiting for. "You lying piece of shit!" Romano yelled. "You took an oath!" Others erupted in a boisterous chant of "Lock him up." Flynn's expression didn't change as he got into the back of a black SUV and drove away. His exit lasted all of 30 seconds. "That seemed … anticlimactic, almost," I heard someone say.
While most of the onlookers had yelled and snapped photos in Flynn's direction, Donner, the Trojans fan, stayed quiet. "We have to let nature take its course," he said. "[Trump] may be absolved, Jared [Kushner] may be absolved. I haven't drawn any conclusions. I just think you have to uncover the facts as they come and proceed."