John Conyers Won't Seek Reelection
"I am retiring today," the Democratic representative, who is facing sexual-harassment allegations, told a Detroit radio show on Tuesday.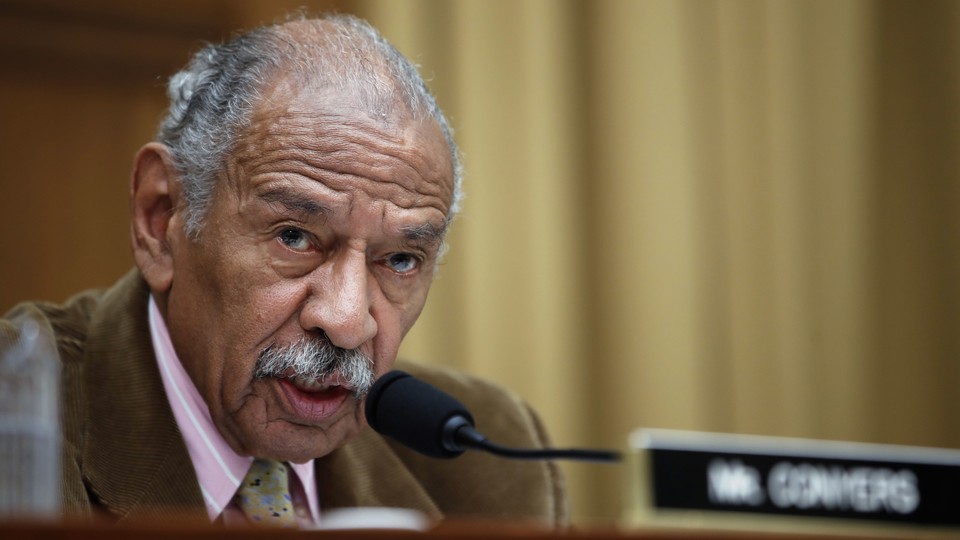 Democratic Representative John Conyers of Michigan said on Tuesday that he is "retiring today," an announcement that follows allegations by former aides that he sexually harassed them and calls for his resignation from top Democrats in Congress.
"I am in the process of putting my retirement plans together," Conyers said on a Detroit radio program, endorsing his son, John Conyers III, to replace him. On Tuesday, Conyers said, in response to a question about the allegations against him, that "whatever they are, they are not accurate."
On Tuesday afternoon, a spokeswoman for Republican House Speaker Paul Ryan wrote on Twitter that "Mr. Conyers' resignation letters" had been received by the House, "making the resignation effective." In an e-mail earlier in the day on Tuesday, a Conyers spokesperson said that the congressman "is retiring, not resigning."
In November, BuzzFeed published an explosive report detailing a complaint from a former Conyers staffer. The report stated that in 2015 the congressman settled a complaint "with a former employee who alleged she was fired because she would not 'succumb to [his] sexual advances.'" Conyers denied the allegations, but confirmed the existence of the settlement.
Since then, other women have come forward with allegations of misconduct against the congressman.
Deanna Maher, a former staffer, alleged that Conyers took off his clothes while the two of them were in a hotel room in 1997, and claimed that the congressman made unwanted sexual advances toward her on other occasions. Melanie Sloan, a lawyer who worked for Conyers on the Hill in the 1990s, alleged verbal abuse from the congressman. In an interview on NBC's "Today" show, Marion Brown, a former staffer, accused Conyers of sexual harassment, saying that he had invited her "to hotels with the guise of discussing business and propositioning for sex."
Conyers, through a lawyer, has continued to deny the allegations and any impropriety.
In the midst of a tense national debate over sexual harassment, Washington is facing its own upheaval. The news of Conyers' retirement comes as Capitol Hill grapples with a wave of sexual-misconduct allegations against members of Congress.
Senator Al Franken, a Minnesota Democrat, has been accused of groping multiple women and now faces a Senate Ethics inquiry. Franken has issued apologies, but said that he does not recall inappropriately touching women who have come forward. On Monday, President Trump, who has denied multiple allegations of sexual misconduct that surfaced during his presidential campaign, endorsed Roy Moore in an Alabama Senate special election on Monday. Moore faces accusations of sexual impropriety toward teenage girls, allegations that the Republican Senate candidate denies.
At the end of last month, Conyers relinquished his position as the highest-ranking Democrat on the House Judiciary Committee. The House Ethics Committee began an investigation into allegations Conyers faced in the wake of BuzzFeed's report.
When the report first surfaced, some congressional Democrats seemed inclined to give Conyers the benefit of the doubt. In remarks for which she was widely-criticized, House Democratic Leader Nancy Pelosi called Conyers "an icon in our country." After a backlash, however, Pelosi said last Thursday that Conyers should resign, adding that the allegations that had emerged  were "serious, disappointing, and very credible."
Conyers fought calls for his resignation. "It is not up to Nancy Pelosi. Nancy Pelosi did not elect the congressman, and she sure as hell won't be the one to tell the congressman to leave," Arnold Reed, Conyers's attorney, said after the House Democratic leader's call for resignation. Reed also said that the congressman's health would be a determining factor any decision over his future plans.
But pressure from congressional Democrats urging Conyers to step aside intensified in the past week. Allegations have continued to emerge as well.
The Detroit Free Press reported on Monday that Elisa Grubbs, another former aide to the congressman, alleged that Conyers inappropriately touched her, including sliding his hand up her skirt at a church on one occasion.
Conyers, the longest-serving member of the U.S. House of Representatives, defended himself and his time in office on Tuesday even as he announced the end of his congressional career. "My legacy can't be compromised or diminished in any way" he said. "This too shall pass, and I want you to know that my legacy will continue through my children."
The retirement may set the stage for competition between John Conyers III, the congressman's son who he endorsed as his successor on Tuesday, and Ian Conyers, the grandson of the congressman's brother, who told The New York Times that he plans to run for the soon-to-be open seat.