'God Made Republicans to Cut Taxes'
In party-line votes, the House and Senate passed a far-reaching, $1.5 trillion revision of the tax code, cutting rates for corporations, small businesses, and individuals.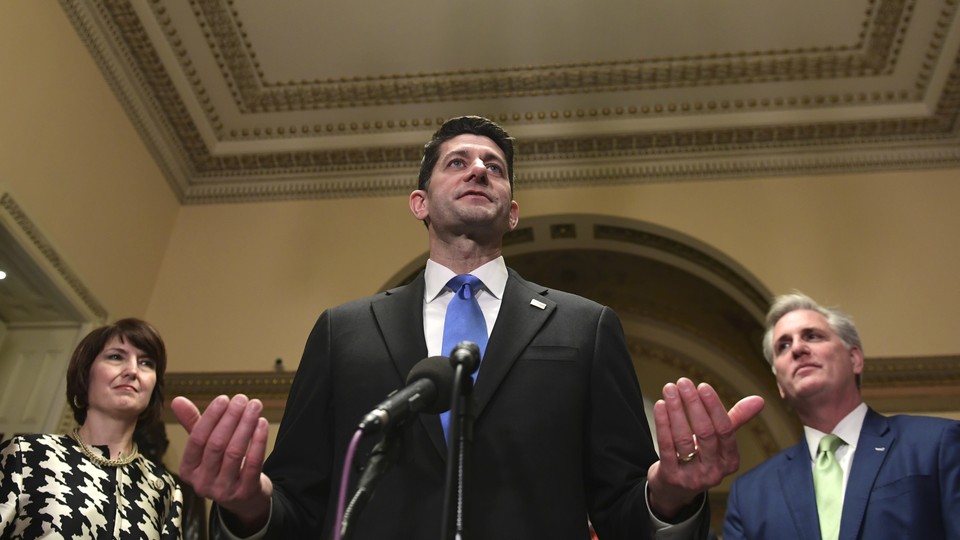 Updated on December 20 at 1:19 p.m. ET
As Speaker Paul Ryan brought the gavel down on House passage of a $1.5 trillion tax cut on Tuesday, a raucous cheer went up among the 227 Republicans who voted for it. It was an outburst of celebration, and of defiance—of the economists who disputed their fiscal claims, of the Democrats who assailed their morality, and of the polls suggesting that Republicans had just voted themselves back into the political abyss.
The Senate followed suit on a 51-48, party-line vote after midnight on Wednesday. Because a few provisions were removed at the last minute, the House voted again on the legislation early Wednesday afternoon, sending it to President Trump for his signature. With that final vote, GOP made good on one of its central promises, delivering a steep reduction in taxes for corporations and small business owners, and a more modest one to millions of individuals and families. The law will nearly double the standard deduction and the child tax credit, and in an unexpected digression into health-care policy, it will eliminate the Affordable Care Act's individual insurance mandate. But if this bill is Trump's $1.5 trillion Christmas gift to America, it's a present the public does not appear to want.
Polls have shown that a majority of Americans disapprove of the Republican tax plan; they believe it is skewed toward the wealthy and that they are more likely to owe more to the federal government rather than less. Rather than disputing those findings, however, GOP lawmakers gave credit to the opposition. "The polls are down because there's a disinformation and fear-mongering scheme going on by the Left," Representative Tom MacArthur of New Jersey told me shortly before the vote.
MacArthur is one of those Republicans whose vote on Tuesday could come back to haunt him next year if the perception of the bill doesn't turn around. He represents a competitive district in a state that will bear the brunt of the tax bill's limits on the state-and-local deduction. After criticizing an earlier version of the GOP proposal that killed the popular provision entirely, MacArthur helped negotiate a compromise and is now an ardent defender of the policy.
Republicans like him are betting that Democrats have had too much success in trashing the tax bill—that far from being angry, their constituents will be, as MacArthur put it, "pleasantly surprised" when their taxes actually go down next year. And they may be right. Democrats have seized on expiring provisions in the GOP bill to argue that over the course of a decade, it represents a tax increase on millions of middle-class families. But in the short term, analyses show, the vast majority of people will pay less than they do now. "They're going too far, and the facts are going to catch up with them," MacArthur told me. "People are going to see a tax cut, and all the fear-mongering in the world by Democrats is not going to change that."
Republicans also took comfort in history, dredging up a Gallup poll from 1986 finding that just 18 percent of respondents believed the compromised brokered between President Ronald Reagan and Democratic congressional leaders would reduce their taxes. (A more recent and, for Republicans, a decidedly less helpful analogy would be Obamacare, which became popular seven years after its passage.)
Ryan told reporters he had "no concerns whatsoever" that the tax bill would be a political liability for his party. "Results are going to make this popular," he declared.
The bill secured final passage on Wednesday after Republicans suffered an embarrassing hiccup on Tuesday afternoon. The plan was for the Senate to send the final bill to Trump's desk on Tuesday night, but after the House vote, Democrats in the Senate announced that the chamber's parliamentarian had ruled that a few provisions did not comply with Senate budget rules and could be struck from the bill. Because the Senate changed the bill, the House had to vote once again on Wednesday to send it to the president. That outcome, however, was merely a formality.
Despite the late procedural twist, Tuesday's 227-203 vote was undoubtedly a seminal moment for Ryan, the Republican speaker who has been waiting his entire 19-year congressional career to preside over passage of a tax bill as sweeping as this one. "We are about to achieve some really big things, things that the cynics have scoffed at for years, for decades even," Ryan said in a triumphant speech on the House floor. "This really is a generational defining moment." In the minutes before the vote, rank-and-file Republicans swarmed the speaker to get him to autograph their copy of the final bill.
It was such a personal pinnacle, in fact, that Ryan used a morning meeting of the GOP conference to dispel speculation—driven by reporting from Politico's Tim Alberta—of his imminent departure. "I'm not going anywhere," Ryan told his party in reference to what he quipped was "my own fake news," according to Representative Bill Huizenga. "When you're on a roll, why would you do a mic drop in the middle of implementing your agenda?" the speaker added. Ryan did not address, however, the question of whether he intends to serve beyond 2018 should Republicans retain the House majority.
Even as Republicans insisted the public would come to love their tax cuts, they struggled to rebut the judgments of economists and fiscal analysts who rejected their claims about the bill's distributional effects and its likely impact on the federal budget.
Analysts with the nonpartisan Joint Committee on Taxation found that the bill would saddle the nation with $1 trillion in additional debt and generate little economic growth, and that most of its benefits would go to corporations and the wealthy. Democrats used those findings to equate the Republican bill with a looting of the federal Treasury at the behest of their wealthy benefactors, and to warn that the GOP would quickly pivot to an assault on Medicare, Medicaid, and Social Security. In a final floor speech, Minority Leader Nancy Pelosi accused Republicans of "monumental, brazen theft of the middle class," of "moral obscenity and unrepentant greed."
"It is a vote," she said, "to instill a permanent plutocracy in our nation."
If anything, the Democratic attacks steeled the GOP's resolve. Republicans scoffed at what they described as Pelosi's outlandish depictions of a simple tax cut, particularly her characterization of the bill as "Armageddon." But a few of them on Tuesday acknowledged that their belief that the tax cuts would usher in a new period of American economic dominance was, to some extent, a matter of faith more than science. "That's the whole difference between being a Republican and a Democrat right there," Representative Tom Rooney of Florida told me. "I hope it's true, because if it's not, then we're going to end up with bigger government and much higher spending. And then I'm in the wrong party."
Representative Tom Cole of Oklahoma put it a bit more succinctly. "God made Republicans to cut taxes," he quipped to reporters.