L.A.'s Day at the Mercy of the Wind
Three wildfires are burning as an ominous weather forecast of gusty winds threatens to spread disaster across the region.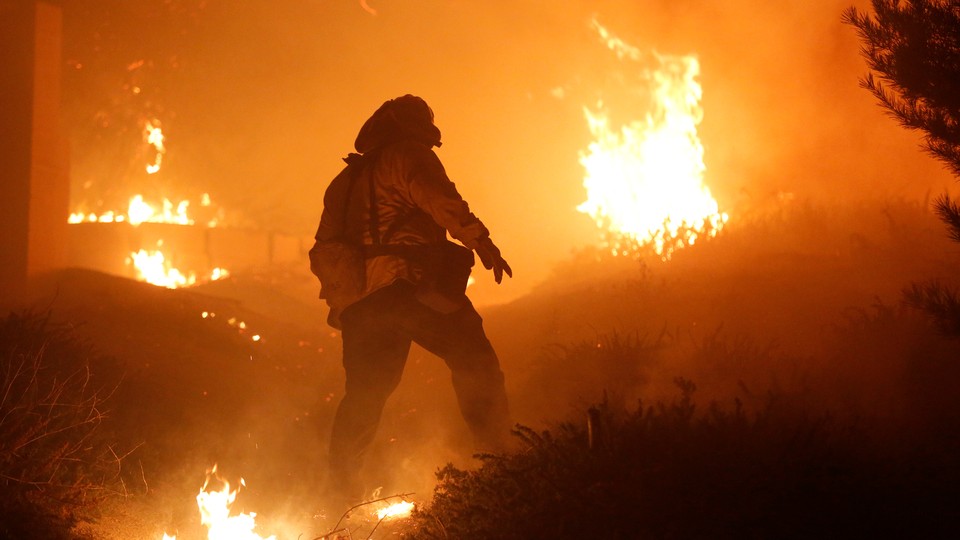 LOS ANGELES—As dawn nears on the West Coast the residents of America's second largest city are in something like the opposite position of stranded sailors praying for wind to escape ruin.
Greater Los Angeles is not quite overwhelmed by fire.
Four-hundred-and-seventy-five acres are ablaze near the mountain pass that connects the L.A. basin to the San Fernando Valley. The mountains on the Valley's northern border are aflame too––the Creek Fire has burned something like 13,000 acres. And roughly an hour north, in seaside Ventura, the Thomas Fire has burned roughly 90,000 acres, stretching from the Pacific Ocean to the Los Padres National Forest.
But any of those fires, or a new blaze sparked by an opportunistic arsonist or a careless cigarette smoker, could be whipped into an exponentially bigger blaze that destroys hundreds or even thousands of homes if Thursday's winds spread the flames.
And forecasters have warned of gusts up to 80 miles per hour.
Thus the late-night alerts that millions of Angelenos got on their cell phones late Wednesday, and the Los Angeles County Fire Chief's ominous warning: "It's critically important for people that live in wildland areas that you sleep with one eye open tonight." That advice was perhaps informed by the fires that devastated Santa Rosa and surrounding areas in Northern California earlier this fall, driving some residents to flee burning subdivisions as others sought refuge in swimming pools, barely surviving, or in more than 40 cases, perishing from smoke or flame.
*  *  *
To await a wildfire is strange, for the potential damage is hard to fathom.
I remember watching the Grand Prix Fire of San Bernardino County 15 years ago, when it was but a faint glow in the wilderness on the far side of the mountains north of the Inland Empire. It was late October. At nightfall the air was nearly still, and it was hard to imagine that flames would peak over the high ridge let alone burn down the mountain and threaten homes built into the foothills.
That night I happened to be hanging out with some firefighters in Rancho Cucamonga. We stood in the driveway of the firehouse, where I watched the ridgeline as if a tongue of flame might appear unexpectedly. Knowing better, they looked in the opposite direction, at a flag pole. Later, one gave a low whistle. The flag had been hanging limp. Now it was billowing gently in a direction it didn't typically flap.
Wind originating in the high desert had begun moving down through canyons.
"This is the wind that is sometimes called the foehn. The fire wind. The devil wind," John McPhee wrote. "In Los Angeles, it is known as Santa Ana. When chamise and other chaparral plants sense the presence of Santa Ana winds, their level of moisture drops, and they become even more flammable than they were before. The Santa Anas bring what has been described as 'instant critical fire weather.'"
The firefighters knew then that the fire would come over the mountains and menace their city, even as many with homes built at the edge of wilderness slept soundly.
By dawn they were racing up cul-de-sacs, waiting for flames to bump up against the edge of backyards, and dousing the conflagrations as best they could before hustling back to a connecting road, following the fire west, and heading up another cul-de-sac. Watching them work, I learned that fire creates its own wind—and that eucalyptus trees contain oil that vaporizes and explodes if set aflame. I spent that morning awed by firestorms I could have scarcely imagined—and suffered from a hacking cough and burning lungs for days.
Ninety-one thousand acres and 975 buildings burned in that fire.
Later I visited many homes that were lost. Earthquakes, hurricanes, floods: There are a lot of ways a person can lose their worldly possessions. But something about fire is superlatively fearsome. One's things are not bashed and battered, but irrevocably disappeared, leaving nothing but smoldering ash.
*  *  *
Wildfires are the price Angelenos pay to live in a city that straddles mountains, builds housing into hillsides, and threads communities through brush-filled canyons; we pick this poison, in place of living with tornadoes or hurricanes or winter storms where ice falls from the sky and blankets whole regions.
More often than not, we escape largely unscathed.
If all goes well Thursday, ash will rain down on parts of Southern California like apocalyptic snowflakes. School will be canceled in vast areas. Lungs will burn. Some families will lose everything; more will be newly thankful for what they've got. And by what will prove a spectacular sunset, the fires will be mostly under control, with a weather forecast that promises to assist firefighters.
But wind can spread fire over vast distances, in unpredictable directions, and faster than is fathomable even to people like me who've seen it happen up close. The number of homes lost could quickly go from dozens to many thousands. Whole neighborhoods could be threatened; 100,000 have already been evacuated; scores of lives could be lost. As I go to sleep today, around dawn, Greater Los Angeles is very much is at the mercy of the wind. May it be gentle.