Flynn's Plea Raises New Questions About Whether Trump Obstructed Justice
Before firing then-FBI Director James Comey, the president reportedly asked him not to prosecute the former national-security adviser.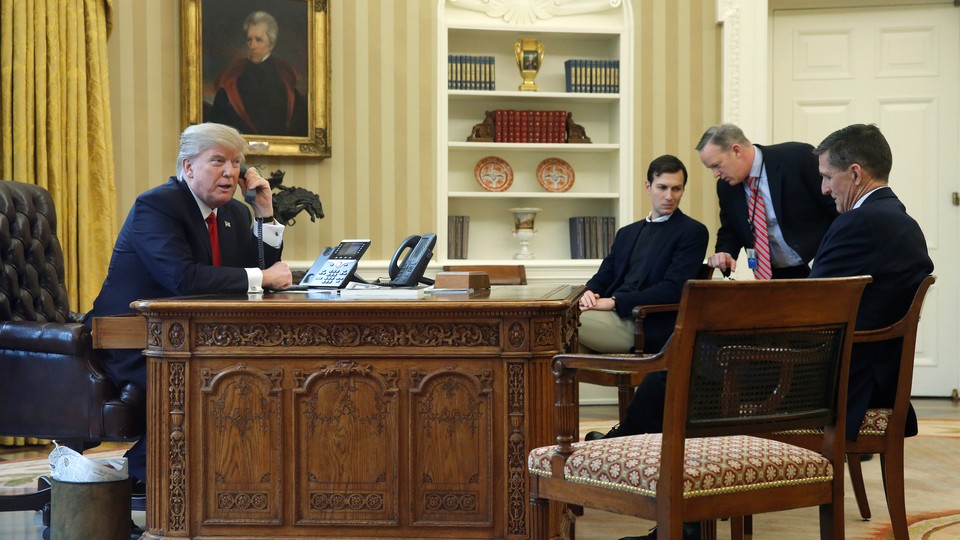 Former National-Security Adviser Michael Flynn's plea deal in the Russia investigation raises new questions about whether the president sought to obstruct justice when he fired former FBI Director James Comey."I hope you can see your way clear to letting this go, to letting Flynn go. He is a good guy," President Trump told Comey in February, according to a contemporaneous memo written by Comey.
Flynn pleaded guilty on Friday to lying to the FBI about his communications with former Russian Ambassador Sergei Kislyak. Flynn had requested of Kislyak that the Russian government not retaliate against the United States for sanctions the Obama administration had imposed; the penalties were in response to Russian interference in the 2016 election aimed at helping Trump's candidacy. The special counsel's office released a document Friday, signed by Flynn's attorneys, indicating the former Trump official agreed to give his full cooperation in the investigation, which has already implicated several former aides to his onetime boss.
"When they get a deal, that means they're fully agreeing to cooperate and provide information on a bigger crime by a bigger target of the investigation," said Ali Soufan, a former FBI special agent who now runs the Soufan Group security firm.
On Saturday, the president stunned some legal observers when he said on Twitter that "I had to fire General Flynn because he lied to the Vice President and the FBI. He has pled guilty to those lies. It is a shame because his actions during the transition were lawful. There was nothing to hide!"
Susan Hennessey, a former attorney in the National Security Agency's office of general counsel, noted in response that "this is a pretty substantial confession to essential knowledge elements of an obstruction of justice charge." The tweet was the first confirmation that Trump himself knew that Flynn had lied to the FBI when he reportedly pressured Comey to back off prosecuting Flynn, meaning that the president could have been attempting to obstruct justice when he did so.
Two sources told the Washington Post that the tweet was drafted by the president's attorney, John Dowd.
Trump fired Comey in May, and has said publicly that he was considering the Russia investigation when he did so; that fueled allegations of obstruction of justice. A week after Comey's firing, Deputy Attorney General Rod Rosenstein appointed Robert Mueller as special counsel, granting him a broad mandate to investigate crimes related to Russian interference, including potential obstruction.
"If it turns out that General Flynn has information implicating Mr. Trump in a crime, there's now a much stronger inference that Mr. Trump was obstructing justice if he asked Comey to let the investigation of General Flynn go," said Bruce Green, a law professor at Fordham University and a former associate special counsel in the Iran-Contra affair.
According to the statement of the offense Mueller issued, Flynn informed a senior member of the Trump transition team on December 29, 2016, that Kislyak had contacted him. During that conversation, they discussed that senior members of the transition team did not want Russia "to escalate the situation" with regard to sanctions. On January 24, four days after Trump took office, Flynn attempted to mislead federal investigators looking into the matter. Acting Attorney General Sally Yates testified to Congress that she warned the White House that Flynn had been compromised by those conversations on January 26, four days before she was fired for ordering Justice Department officials not to defend Trump's newly issued travel ban. Flynn was not forced to resign until February 13, after his conversations with Kislyak were reported in the press.
"Many points that might form the basis of an obstruction case flow through Flynn," said Clinton Watts, a former FBI special agent who is currently a fellow at the Foreign Policy Research Institute. "President Obama warned Trump about Flynn before he took office. Yates contacted the White House about Flynn and was fired shortly after. Trump pressured Comey about Flynn and then later fired him."
The revelation that Flynn discussed his conversations with Kislyak with a senior member of the transition team raises a number of questions about what Trump and his advisers knew. Vice President Mike Pence led the transition team, but he told CNN earlier this year that Flynn and Kislyak "did not discuss anything having to do with the United States's decision to expel diplomats or impose censure against Russia." The information in Flynn's plea deal suggests that either Pence was kept out of the loop, or he misled the public about the extent of his knowledge.
But Flynn's plea could be even more perilous for another, even closer presidential adviser: Jared Kushner, who is also the president's son-in-law. According to The Daily Beast,  Kushner "best fits the description" of the senior transition official with whom Flynn discussed his outreach to Kislyak. NBC News reported Friday afternoon that Kushner is indeed the senior transition official named in the document. If it was Kushner, his own statements to investigators will be closely scrutinized.
"If Mr. Trump knew that Flynn met with the Russian ambassador at Mr. Kushner's request and then lied about it, one can assume that Mr. Trump wanted to shut down the FBI investigation to protect his son-in-law more than Flynn," Green said.
"It's now clearer that Trump was aware—or certainly should have been aware—that a continuing investigation of Flynn would bring things closer to him and his family, as it now has," said a former Justice Department official. "So it's not merely that a continuing investigation might serve as a continuing distraction, or be a source of political embarrassment. It's that it could point to the involvement—and potential criminal liability—for him and members of his family. It goes to motive, which is not something that the prosecutor needs to prove, but it sure makes life easier in making and proving [a] case."
It's unclear whether a sitting president can be indicted, and obstruction of justice is a notoriously difficult charge to prove. But Mueller does have the ability to recommend to the House that Trump be impeached based on whatever he uncovers. And even if Trump himself can't be prosecuted, his advisers can be. (Trump has denied any wrongdoing and has referred to Mueller's investigation as a "witch hunt.")
The difficulty for Mueller is that Flynn has already pled guilty to lying—which means his credibility as a witness is already impaired. But that might not matter if Flynn has documents corroborating his claims.
"The fact that he pled guilty to a false-statement charge is a problem for him as a witness; he's a proven liar, so his cooperation might be more useful in documented form," said John Q. Barrett, a law professor at St. John's University. "If he has recollections that can be corroborated, his testimony could be very powerful."
The fact that Flynn got a deal at all implies that Mueller believes he can use Flynn's knowledge to implicate a more important target. The question is who, and for what.
"Based on my experience," Soufan said, "when someone lies during an investigation, they're usually trying to conceal a crime."