The 18 Days That Haunt Trump's Presidency
A timeline of the events that led up to former National-Security Adviser Michael Flynn's departure from the White House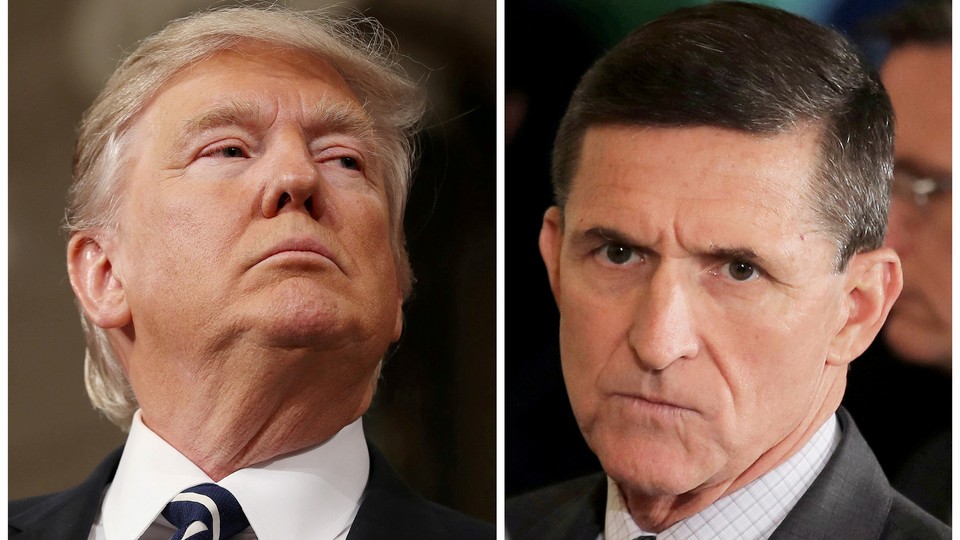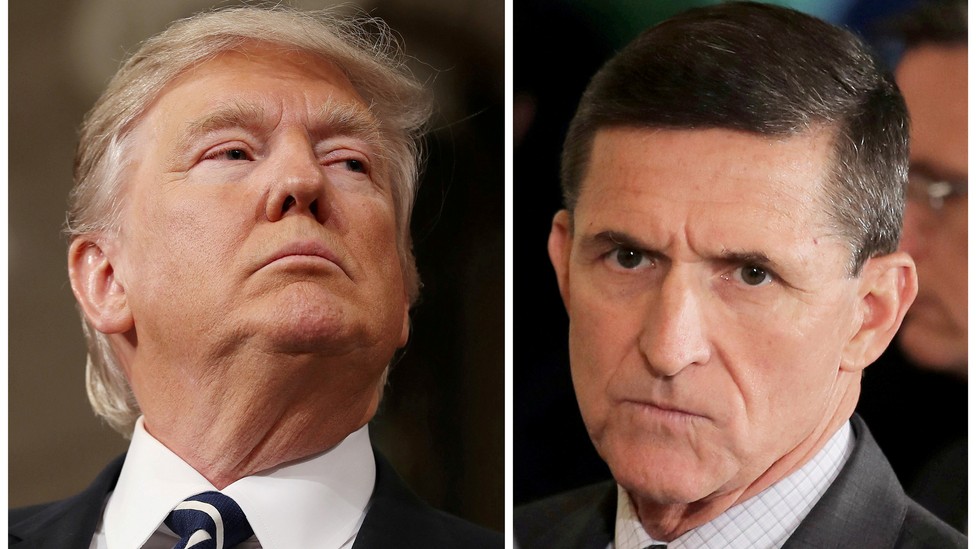 Special Counsel Robert Mueller is authorized to broadly investigate Russian meddling in the 2016 presidential election, but recent reports suggest he's focusing on a narrow period in the years-long saga.
NBC News reported on Monday that Mueller and his team are paying close attention to events between January 26, 2017, and February 13, 2017. That timespan stretches from the day Sally Yates, the acting attorney general at the time, notified the White House that then-National-Security Adviser Michael Flynn had made misleading statements to the FBI to Flynn's resignation 18 days later.
Earlier this month, Flynn pleaded guilty to lying to the agency. Now, the question turns to who knew what—and when—about his false statements. If, hypothetically speaking, the president knew Flynn had committed a crime when he purportedly urged former FBI Director James Comey to drop the agency's inquiry into Flynn on February 14, that could be used as evidence of intent when pursuing obstruction-of-justice charges. Below is an updated timeline to help contextualize this potentially crucial sequence of events in Trump's early presidency.
---
Before the 18 Days
---
Tuesday, November 8: Donald Trump is elected president of the United States.
Thursday, November 10: President Obama hosts President-elect Trump for a 90-minute meeting at the White House. During the meeting, Obama personally raises his concerns about Michael Flynn's job performance during his tenure leading the Defense Intelligence Agency. By then, it was assumed Trump would appoint Flynn, one of his top campaign aides and a former Army lieutenant general, to an administration post.
Thursday, November 17: Trump announces that Flynn will serve as his national-security adviser. The post does not require Senate confirmation.
Thursday, December 29: In retaliation for Russia's election meddling, the Obama administration expels 35 Russian diplomats, seizes two of Moscow's U.S. compounds, and sanctions top Russian government officials. According to filings from the special counsel's office, which were publicly released in December 2017, Flynn calls an unnamed senior official on the Trump transition team at Mar-a-Lago to discuss what he should tell Russian Ambassador Sergey Kislyak about the administration's stance on the sanctions. (Kislyak had contacted him the day before.) They and other members of the team at the president's Florida estate agree that they do not want Russia to escalate the diplomatic crisis.
After the initial call, Flynn speaks with Kislyak multiple times by phone and urges him not to exacerbate the situation. U.S. intelligence officials intercept the calls as part of their routine surveillance of foreign dignitaries.
Friday, December 30: Russian President Vladimir Putin announces that his government will not impose its own sanctions as payback against the United States. Trump praises Putin's move on Twitter shortly thereafter.
Great move on delay (by V. Putin) - I always knew he was very smart!

— Donald J. Trump (@realDonaldTrump) December 30, 2016
Friday, January 6: The U.S. intelligence community releases a 26-page report concluding that Russian intelligence agencies used cyberattacks and stolen documents to undermine Hillary Clinton's presidential bid and the American electoral process. Trump releases a bland statement asserting "there was absolutely no effect on the outcome of the election."
Thursday, January 12: Citing an unnamed senior government official, Washington Post columnist David Ignatius is the first to report about Flynn's December 29 calls with Kislyak.
Friday, January 13: Sean Spicer, the incoming White House press secretary, tells reporters that Flynn's conversations with Kislyak centered on logistics for a post-inauguration call between Putin and Trump. "That was it," he said, "plain and simple."
Sunday, January 15: Trump transition officials defend Flynn on the Sunday- morning political talk shows. Vice President-elect Mike Pence tells CBS's Face the Nation that the retired general "did not discuss anything having to do with the United States' decision to expel diplomats or impose censure against Russia" in his talks with Kislyak. Reince Priebus, the incoming White House chief of staff, tells NBC's Meet the Press that "the subject matter of sanctions or the actions taken by the Obama [administration] did not come up in the conversation."
Thursday, January 19: Deputy Attorney General Sally Yates, FBI Director James Comey, outgoing CIA Director John Brennan, and outgoing Director of National Intelligence James Clapper debate whether to brief the incoming president about the Flynn-Kislyak calls. Brennan, Clapper, and Yates are in favor of briefing Trump or White House officials; Comey opposes it since it could interfere in the ongoing investigation.
Friday, January 20: Trump is sworn in as the 45th president of the United States. Attorney General Loretta Lynch and other Obama administration Cabinet officials step down as part of the transition. At the Trump team's request, Yates stays to serve as the acting head of the Justice Department until the Senate can confirm Jeff Sessions, the then-Alabama senator who Trump nominated November 18 to be his attorney general.
Sunday, January 22: The Wall Street Journal reports that U.S. counterintelligence officials are scrutinizing Flynn's December 29 calls with Kislyak as part of the broader federal investigation into Russian electoral interference.
Monday, January 23: At his first full press briefing, Spicer tells reporters that Flynn assured him sanctions weren't discussed during the December 29 calls with Kislyak, relaying a detailed denial and alternative version of events. Upon learning this, Yates contacts Comey, who drops his opposition to briefing the White House about the calls.
Tuesday, January 24: FBI investigators interview Flynn at the White House about his talks with the ambassador. It's during this interview that Flynn lied to the FBI. Specifically, he told the bureau that he had not asked Kislyak to refrain from escalating the situation after the Obama administration imposed new sanctions, a point flatly contradicted by what U.S. officials heard during the call.
Wednesday, January 25: Yates receives "a detailed readout specifically from the agents that had conducted the interview" with Flynn, according to her later testimony before the Senate Intelligence Committee. Yates told lawmakers that she and her Justice Department colleagues "felt like it was critical that we get this information to the White House, in part because the vice president was unknowingly making false statements to the public and because we believed that General Flynn was compromised with respect to the Russians."
---
The 18 Days Begin
---
Thursday, January 26: Yates, accompanied by a senior career official from the Justice Department's National Security Division, meets with White House Counsel Don McGahn to discuss Flynn's interview. This is the first time that White House officials are made aware of the Justice Department's concerns.
According to Spicer, McGahn immediately briefs Trump after the meeting with Yates. Trump orders McGahn to review whether anything illegal had been done. "When the president heard the information as presented by White House counsel, he instinctively thought General Flynn did not do anything wrong, and the White House counsel's review corroborated that," Spicer later tells reporters.
Friday, January 27: McGahn invites Yates back to the White House for a second meeting, where they once again discussed the Justice Department's concerns. Yates later tells Congress that McGahn asked why the Justice Department cares when one White House official lies to another.
Later that night, Trump issues the first version of his travel ban, which freezes refugee admission into the United States and suspends visas held by nationals of seven Muslim-majority countries. The executive order takes immediate effect, causing chaos at major U.S. airports as international travelers are stranded mid-flight.
Monday, January 30: After multiple federal judges block the travel ban's implementation over the weekend, Yates issues a memo to Justice Department staff notifying them the department will no longer defend it in court. "At present, I am not convinced that the defense of the executive order is consistent with these responsibilities nor am I convinced that the executive order is lawful," she writes.
Hours later, the White House announces that Trump has fired Yates. Dana Boente, the U.S. attorney for the Eastern District of Virginia, becomes the top-ranking official at the Justice Department and says he will continue to defend the ban. In an unusually charged statement, the White House says that Yates "betrayed the Department of Justice by refusing to enforce a legal order designed to protect the citizens of the United States" and denounces her as "an Obama administration appointee who is weak on borders and very weak on illegal immigration."
Tuesday, February 7: Flynn tells The Washington Post that he did not discuss sanctions with Kislyak.
Wednesday, February 8: The Senate confirms Sessions to be the attorney general in a 52-47 vote. One day after Flynn's firm denial to the Post, a spokesman walks it back and tells the newspaper that Flynn "indicated that while he had no recollection of discussing sanctions, he couldn't be certain that the topic never came up."
Thursday, February 9: Pence learns about the Justice Department's concerns about Flynn for the first time, according to his press secretary, Mike Lotter.
Friday, February 10: En route to Mar-a-Lago, Trump tells journalists aboard Air Force One that he will "look into" news reports that Flynn discussed sanctions with Kislyak. "I don't know about that, I haven't seen it," he tells reporters. Flynn accompanies Trump on the trip and takes part in meetings with Japanese Prime Minister Shinzo Abe.
Monday, February 13: The Washington Post first reports that Yates had warned McGahn in January about Flynn.
Later that night, Trump announces Flynn's departure. In his resignation letter, Flynn says that he "inadvertently briefed the vice president-elect and others with incomplete information regarding my phone calls with the Russian ambassador."
Tuesday, February 14: At the president's invitation, FBI Director James Comey dines with Trump at the White House. During the dinner, Comey later told Congress, Trump urges him to drop the case against Flynn. "I hope you can see your way clear to letting this go, to letting Flynn go. He is a good guy. I hope you can let this go," Comey quotes Trump as saying. Three months later, on May 9, Trump fires Comey.