If Flynn Is Small Fry, Who's the Bigger Fish in Mueller's Net?
The former national-security adviser pleads guilty to making false statements, and is now cooperating with the special counsel's investigation.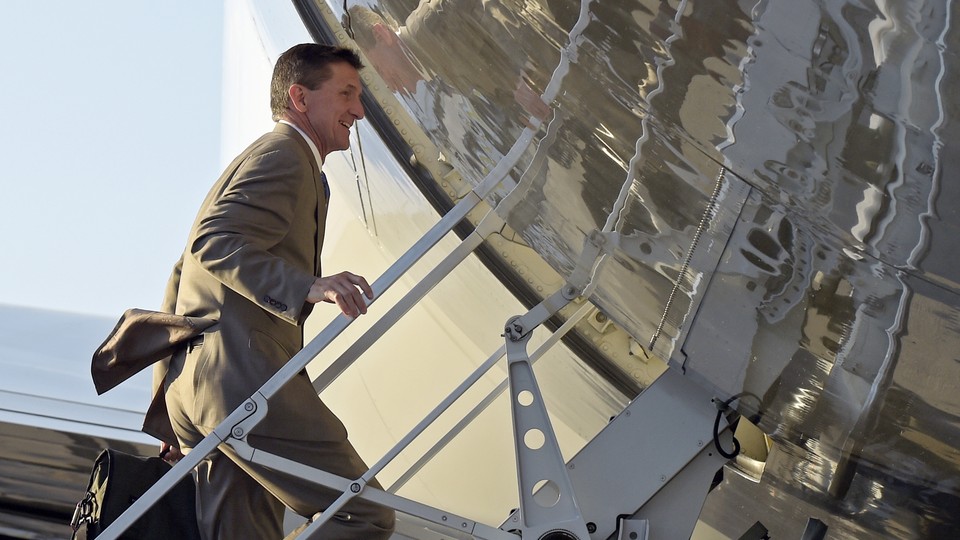 Updated on December 1 at 12:00 p.m.
Whatever is on President Trump's Christmas list, it didn't include Friday's news: Special Counsel Robert Mueller has charged former National-Security Adviser Michael Flynn with making false statements to the FBI about his conversations with then-Russian Ambassador Sergey Kislyak. Worse, Flynn pleaded guilty Friday morning at federal court in Washington.
It's an ironic turn for a man who first reached widespread national attention leading chants of "Lock her up!" about Hillary Clinton at the 2016 Republican National Convention.
And it is monumental news in the special counsel's investigation, dwarfing even the indictment of former Trump campaign chairman Paul Manafort. First, and most bluntly, it's notable because the former national-security adviser, the closest adviser to the president on the most sensitive issues of defense and national safety, is pleading guilty to a felony committed while he served as national-security adviser.
Second, the move puts Mueller's investigation inside the White House. As I wrote last month, a Flynn indictment filled the Trump team with particular dread, and for good reason. Before the Flynn charge, Mueller had charged two former campaign staffers with crimes committed outside of the campaign, and a low-level campaign staffer had pleaded guilty to lying to federal agents about his contacts with Russians during the campaign.
Flynn, in contrast, was a top adviser to the president in the White House before he was fired in mid-February, for lying to Vice President Mike Pence about his conversations with Kislyak. That made his tenure as national-security adviser historically brief. So far, the special counsel has released little information about the charges, but the two-page document indicates that Flynn's conversations with Kislyak concerned presidential policy. According to the special counsel, Flynn spoke to Kislyak asking him to refrain from responding to new sanctions imposed in the waning days of the Obama administration, and that Flynn asked Kislyak to delay or defeat a UN Security Council vote; he then lied about those conversations with the FBI.
The fact that Flynn was operating on behalf of the incoming government represents the first concrete case of Trump's presidential staff, rather than his campaign team, covering up contacts with Russia. Prosecutors said in court filings on Friday that Flynn called a "senior official of the Presidential Transition Team" on December 29, after being contacted by Kislyak, and was told that the transition did not want Russia to escalate the situation. Flynn then called Kislyak to request that Russia respond only in a reciprocal manner, which it subsequently did.
The filings also said that, on December 22, "a very senior member of the Presidential Transition Team" directed Flynn to contact officials from foreign governments about a pending UN Security Council resolution on the issue of Israel settlements, to find out where they stood and to persuade them to delay or defeat the resolution. Flynn made that request of Kislyak that same day, but Kislyak told him the following day that Russia would not oppose the resolution if it came to a vote. (It passed with 14 votes in favors, and only the U.S. abstaining.)
Third, the plea appears to corroborate reports that Flynn was working toward a deal in which he would plead guilty in exchange for cooperating with the government. That's also bad news for the Trump administration, because it indicates that Flynn knows something of value to the special counsel's investigation. Mueller's choice of lieutenants has suggested he is seeking to flip key witnesses in order to learn essential information, but so far that had only yielded George Papadopoulos, a previously little-known campaign aide. Flynn is a far larger catch. In fact, one might expect the national-security adviser to be near the top of the food chain, since he reports directly to the president. If Flynn is small fry, how many bigger fish are there, and who?
Fourth, it's notable that the charge against Flynn is lying to the FBI. That's because it has been more or less known since February that he did so. On February 16, three days after Flynn's forced resignation, The Washington Post reported both that Flynn had denied speaking with Kislyak about the sanctions in a conversation with FBI agents, and that intelligence intercepts indicated he was lying. The FBI interview took place on January 24; on January 26, then-Acting Attorney General Sally Yates spoke to White House Counsel Don McGahn, and in testimony in May she implied that she had informed McGahn that Flynn lied to FBI agents. The investigation into Flynn's alleged lying to FBI agents long-predates Mueller's appointment as special counsel in May.
In other words, Mueller charged Flynn with a crime that everyone knew he committed, and has known he committed for months. His quick plea, and the skeletal charging document, point to any number of other potential crimes, whether publicly discussed or not.
Certainly, there's a range of questionable conduct for Mueller to investigate. Like Manafort, Flynn retroactively filed under the Foreign Agent Registration Act for lobbying, in Flynn's case for work on behalf of Turkey that occurred during the campaign and ended (per Flynn) only with Flynn's November 2016 appointment as national-security adviser. The plea deal stipulates that Flynn made "materially false statements and representations" in his March 2017 FARA filings that disclosed this work, but those were not among the statements for which he was charged. That's at least one clear instance in which Mueller is aware of criminal misconduct which he has chosen not to prosecute at this stage of his investigation.
That's not all. According to reports and an account from former CIA Director James Woolsey, Flynn discussed a plot to kidnap Fethullah Gulen, the Turkish cleric living in self-imposed exile in Pennsylvania, whom the Turkish government accuses of fomenting a failed 2016 coup, and bundle him off to Turkey. Flynn also reportedly pushed a business plan on which he'd been a paid consultant after he entered the White House, a potential misuse of his office.
Flynn could also be in trouble for things he did before he was appointed national-security adviser. After leaving the military, Flynn was paid for trips overseas, including one to Russia for a fete celebrating RT, the Kremlin-backed news and propaganda outlet; at dinner, Flynn was seated with President Vladimir Putin. As former top brass, Flynn should have sought Pentagon permission before taking those trips; he also should have disclosed them when applying to renew his security clearance in 2016. Members of Congress allege that Flynn did neither.
These are only the incidents which have been publicly reported. Mueller may or may not know of other possible misdeeds.
The obvious question any time someone is caught lying to the FBI is, How could they have been so stupid? This is especially true in the case of Flynn, the former head of the Defense Intelligence Agency. As a decorated and accomplished intelligence officer, he should have known that conversations with the Russian ambassador might be surveilled, producing irrefutable evidence that he was lying. His decision to lie about such a black-and-white matter raises questions about whether he might have hoped to cover something up.
The plea once again raises questions about the president's judgment, both in hiring Flynn and afterwards. Flynn's firing from the DIA by President Obama for mismanagement ought to have been a red flag. The campaign did not effectively vet Flynn, failing to turn up the missing security-clearance disclosures. The New York Times reports that Flynn told the Trump transition team in January that he was under investigation for undisclosed lobbying on behalf of Turkey. Top White House officials deny they were informed.
Nor did Trump act swiftly to deal with Flynn's duplicity. Even after McGahn was apparently informed that Flynn had lied to the FBI, Trump did not force Flynn out until February 13—and then only after The Washington Post reported that Flynn had lied about his conversations with Kislyak. At the time, the White House said Flynn was forced out for lying to Mike Pence, and it also defended his character, even as it knew he'd lied to the FBI.
Once Flynn had been fired, the president pressured then-FBI Director James Comey to drop the investigation into Flynn, one of several incidents in which the president attempted to interfere in FBI probes. On May 9, Trump fired Comey, a decision he attributed to the Russia probe. Here, too, Trump's aggressive steps to defend Flynn seem to defy simple explanation. Flynn's plea could tie into a reported investigation into whether Trump obstructed justice by firing Comey.
Given the brevity of the public documents, there's little else to be gleaned at this point. Mueller's investigation has been highly disciplined about leaks, with little information reaching the public. There's no way to predict how soon information obtained from Flynn might reach the public or help to produce fresh charges. But the simple fact of Mueller nabbing Flynn now is enough to take a little merriment out of the president's Christmas.