How Doug Jones Will—and Won't—Shake Up the Republican Agenda
The Democrat's win in Alabama could scuttle the GOP's hopes of repealing Obamacare and scaling back safety-net programs. But he probably won't get to Washington in time to stop the tax bill.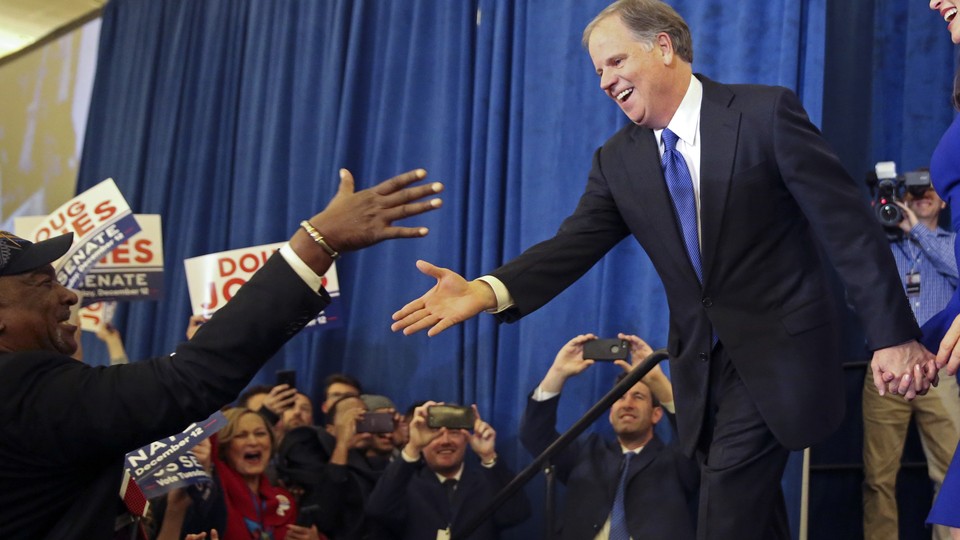 The election of Democrat Doug Jones to a Senate seat in Alabama could significantly curtail the Republican legislative agenda in 2018, dashing the party's hopes for scaling back spending on safety-net programs and fully repealing the Affordable Care Act.
But Jones likely won't get to Washington in time to slow or stop the GOP's most pressing priority: enacting a far-reaching tax bill before Christmas.
Democrats immediately called on Republicans to "hit pause" on the $1.4 trillion measure after Jones defeated scandal-tarred Roy Moore in deeply red Alabama on Tuesday. "Doug Jones will be the duly elected senator from the state of  Alabama. The governor didn't appoint him; he won an election," Minority Leader Charles Schumer said at a Capitol press conference. He pointed to the example Democrats set in early 2010, when they held off a final vote on Obamacare until after Republican Scott Brown took office following his upset special-election win in Massachusetts.
But senior Republicans on Wednesday were quick to tamp down any thought that Jones's win would scuttle their aggressive timeline for passing tax cuts that they set months ago. "I don't think so," Representative Kevin Brady of Texas, the chairman of the tax-writing House Ways and Means Committee, said on Fox News.
GOP leaders had anticipated the possibility of a Jones victory when they pledged to enact their tax bill before Congress left for its holiday recess. Under Alabama law, the secretary of state cannot certify the winner of the Senate special election until December 26 at the earliest and January 3 at the latest. Schumer said he was not calling for Jones to be sworn in immediately, acknowledging that state law left the governor no discretion in the matter.
Republicans currently have a 52-48 majority in the Senate, meaning they can lose up to two of their members on party-line votes. Once Jones takes his seat, that margin will fall to one. The GOP suffered just one defection, Senator Bob Corker of Tennessee, in the initial vote on the Senate tax bill last month. So if the remaining 50 Republicans stood behind the final version, it would have the votes to pass whether or not Jones is in the Senate because of Vice President Mike Pence's role in breaking a tie. But by waiting until January, the GOP would empower any single senator to hold up the bill with his or her demands.
Democrats faced a similar scenario in January 2010 after Brown won the Massachusetts seat that had been held by Senator Ted Kennedy until his death. The Republican's victory deprived Democrats of their 60-vote super-majority, and Senator Harry Reid, then the majority leader, announced that Democrats would wait until Brown's arrival to hold further votes on health care. But there was a key difference in the election: The health-care overhaul had been a central issue in the Massachusetts Senate race back then, whereas the Alabama election was far more a referendum on Moore's personal history than on the GOP tax bill. And in 2010, Reid's hand was forced by one of his own members, Senator Jim Webb of Virginia, who called for Democrats to wait for Brown to take his seat.
So far, no rank-and-file Republicans have issued a similar demand for patience. "I don't think an election should drive the timetable," Senator Susan Collins of Maine, whose vote on the final tax bill is up for grabs, told Politico.
Even if Jones can't halt the GOP's drive for tax cuts, he could have a much bigger impact on their agenda in 2018. Republicans had been eyeing another bid at repealing Obamacare early in the new year after their repeated failures over the summer and fall. But the loss of a Senate seat likely leaves them at least two votes short of the 50 they'd need to pass the most recent proposal from Senators Lindsey Graham of South Carolina and Bill Cassidy of Louisiana, which would have converted the law into a block grant and cut Medicaid. (Republicans likely will, however, have succeeded in repealing the law's individual insurance mandate as part of the tax bill.)
And both Trump and conservatives in the House have said in recent weeks that once the tax cuts become law, they would turn to welfare reform and try to enact work requirements and cuts to the food stamp program. House Speaker Paul Ryan has also said he's been working to persuade the president to go along with his longstanding desire to partially privatize Medicare, which Trump vowed to oppose on the campaign trail last year. Republicans were already facing a heavy lift to win support for trimming the social safety net during an election year. Jones's victory could extinguish those plans entirely.
What might Republicans do instead? Well, infrastructure could rise quickly up the agenda. The issue has a base of bipartisan support in Congress, and the White House is reportedly preparing a detailed proposal that has languished for nearly all of 2017.
Republicans are also holding out hope that Jones will want to work with them as he prepares for what will likely be a difficult reelection bid in 2020, when he might not be facing such an unpopular opponent in one of the nation's most conservative states. As a case in point, the last Democrat elected to the Senate from Alabama is the state's senior senator, Richard Shelby, who became a Republican in 1994 and hasn't faced a difficult challenge since. "I hope Senator-elect Doug Jones will do the right thing and truly represent Alabama by choosing to vote with the Senate Republican majority," said Senator Cory Gardner, the Colorado Republican who heads the party's campaign arm.
Yet Jones hardly seems like a senator ripe for conversion. Though he vowed to seek common ground with Republicans, he won an election in Alabama having never wavered on his support for abortion rights and after criticizing the GOP on taxes, health care, and other policy areas. He campaigned as a Democrat, and once he arrives in Washington, he is widely expected to vote like one.