Death Comes for Cardinal Law
The face of Catholicism's clergy sexual-abuse scandal is laid to rest in Rome—but his legacy still haunts the American church.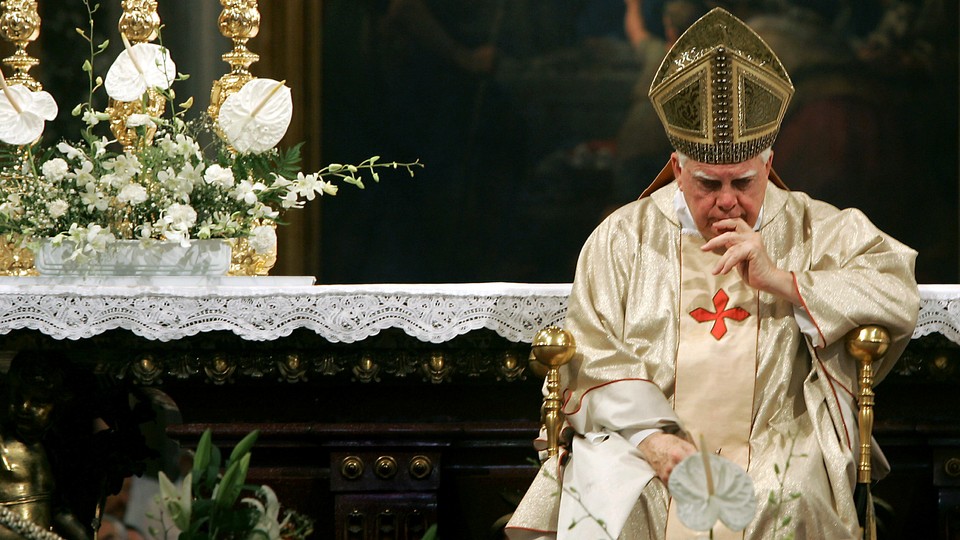 VATICAN CITY—Cardinal Bernard Law was laid to rest on Thursday far from Boston, the city of his highest ascent and most devastating failure. The American priest resigned his leadership of the archdiocese in 2002 when The Boston Globe revealed that he had covered up rampant clergy sex abuse of children. Just two years later, he was whisked to Rome, where Pope John Paul II made him the ceremonial head of one of the city's four major basilicas: Santa Maria Maggiore, or St. Mary Major in English.
It was a prestigious landing for the prelate who had come to symbolize the Catholic Church's worst scandal in at least a generation. After an illness, he died this week at 86. Even in death, he was given a ceremonious exit: a funeral mass at St. Peter's Basilica, attended by a coterie of cardinals and complete with a blessing from Pope Francis. The Church has taken steps to move past its legacy of clergy sex abuse over the last decade, but it still betrays moments of ambivalence like this, caught between the moral imperative to eliminate abuse and its reticence about sacrificing decorum or showing disloyalty to powerful clerics.
The crowd at St. Peter's was small. Ushers rolled away stacks of empty chairs just minutes before mass began, and even the rows up front weren't fully filled. Some people were there as Law's supporters: Callista Gingrich, the American ambassador-designate to the Holy See, told me that she and her husband, Newt, "are blessed to be here today. [Law] was a dear friend." Others were priests or nuns who were loosely acquainted with Law from his time in Rome: One told me he was there because he wanted to pray for the cardinal, carefully adding that Law "can be held up as a wonderful model of trust in divine love and divine mercy." An attendee told me he was afraid there might be protests, similar to ones held outside of Boston churches as the scandal broke 15 year ago.
When Law was appointed archpriest of the basilica in 2004, clergy-sex-abuse victims were outraged by what they saw as an attempt to smooth over the cardinal's wrongdoing. Michael Paulson, then a Boston Globe reporter, wrote that one victim's lawyer called it "a slap in the face." John Allen, a veteran Vatican correspondent, told Paulson it was an effort "to find a position in which [Law's] baggage would not bog things down … in part because some people [at the Vatican] think he got a raw deal."
More than a decade later, that still seems to be the case. "The articles I read this morning were really offensive," said one funeral attendee who knew Law but asked not to be identified out of fear of jeopardizing his current position. "The one from the Globe was terrible. It was the one where he put him in the same category as Harvey Weinstein." The early years of the clergy sex-abuse scandal "were a hard time for everybody," he said. But it was too bad that the scandal "overshadowed" the rest of Law's accomplishments, he added. "Everyone had great aspirations for him when he [started in Boston]. They felt he was a local boy, you know? Because he had a Harvard education."
This sentiment was echoed again and again in reactions to Law's death this week—the sense that great potential was lost in the sweep of the scandal. Cardinal Sean O'Malley, who took over Boston's archdiocese after Law stepped down, didn't attend the funeral in Rome, but he noted his predecessor's work on civil rights, ecumenism, and care for the poor in a statement. Francis Kelly, an American priest from Worcester, Massachusetts, worked under Law for years as the rector and president of a seminary in the Boston area, and told me at the funeral that they had a great working relationship. "He was supportive, kind, intelligent," Kelly said. "My memory of him is now very bittersweet. He's had these years over here, not able to do so much that he could have."
Yet, many critics felt that this sort of hagiography, including the pomp and circumstance of a full Vatican funeral, was inappropriate. James Martin, a Jesuit priest who writes for America magazine, tweeted that "every Catholic deserves a funeral Mass, but not every Catholic warrants a funeral Mass at St. Peter's Basilica … It is a stupefyingly obtuse symbol, which undercuts the church's mission to hold bishops accountable for their actions, particularly regarding the abuse of children." The United States Conference of Catholic Bishops began its statement on Law's death with information about reporting clergy sexual abuse, noting that it "will likely bring back painful memories for survivors."
Even O'Malley, who is usually reserved with the press, seemed uncomfortable with the funeral arrangements. "I understand the difficulty with that, and I understand how people are reacting to that," he told reporters at a press conference in Boston on Wednesday. "It's unfortunate that he's had such a high-profile place in the life of the Church, but I think going forward, that kind of decision would not be made. But unfortunately, we're living with the consequences of that." In the years since John Paul II gave Law his final appointment, "there's been enough growth and consciousness of this problem in the Holy See that this would not happen [again]," O'Malley added.
The Vatican has implemented a number of reforms to  prevent future abuse over the last two decades. And yet even under Francis, who has declared a "zero-tolerance" policy on sex abuse and called it "a sin that shames us," the Church has struggled to resolve the issue. Two past victims left the Vatican's commission on sex abuse, citing bureaucratic reticence about implementing reforms. The Church is currently navigating a massive case in Guam, where dozens of abuse allegations have been made against clergy, including Archbishop Anthony Apuron. And this summer, one of Francis's allies in the Vatican, Cardinal George Pell, returned to Australia to face criminal charges of sexual assault. For all the changes that have been put into place, the Vatican is still the same institution: slow-moving, process-oriented, and careful to protect decorum, even when it carries costs.
Francis fulfilled his role at the funeral on Thursday with a grim expression, reading the traditional liturgy for a cardinal's funerary mass in monotonous Latin. As he processed out of St. Peter's, the ornate domes that tower over St. Peter's tomb, the very foundation of the Church, filled with beautiful music—from choir rows filled with young boys.