What's Missing From Reports on Alabama's Black Turnout
Democratic Senate candidate Doug Jones will have to get significant numbers of black voters to the polls in order to win, but the state's voter suppression will make that a tough task.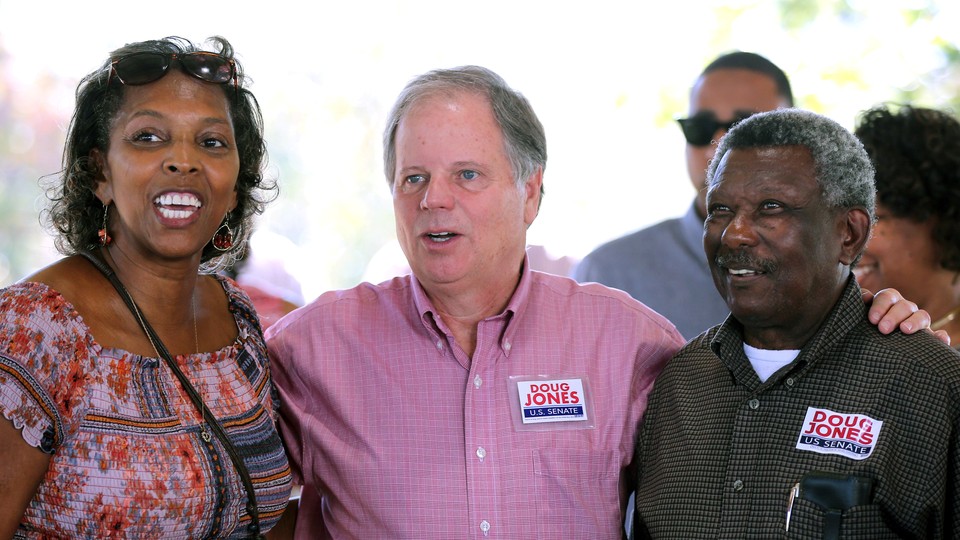 In order to understand democracy in the United States, take a moment to consider Alabama. In the good old heart of Dixie, the story of voting rights can be told just about from beginning to end. It was in towns and cities throughout the state where the civil-rights movement fought most fiercely for the ballot, among other things, and where 52 years ago Martin Luther King led the famous march from Selma to Montgomery that helped push through the Voting Rights Act of 1965. Throughout the state, black people organized for decades in order to finally acquire that most central American right. And they paid the price of the ticket in blood.
Yet, as Alabama's story today tells, the Voting Rights Act was not ironclad. As the cornerstone of the movement for the franchise, Alabama has also played the part of headquarters of resistance, a long legal and legislative guerrilla war against voting rights that culminated in 2013's Shelby County v. Holder case, one where officials in the Alabama county successfully sued for all of the former dominion of Jim Crow to be released from federal VRA oversight. That victory, and the structural barriers to voting erected in its aftermath, are a serious—and largely unacknowledged—impediment to Democrat Doug Jones's chances in the special election for the state's open Senate seat on Tuesday.
In that race, Republican Roy Moore is running not only against Jones, but against a mountain of allegations of sexual assault and harassment of several teenagers. According to the most recent Washington Post-Schar School poll, with renewed support from the national GOP, a presidential endorsement, and a powerful state machine behind him, Moore is keeping the race close, still only three points behind Doug Jones. A collection of other smaller polls actually show Moore pulling ahead in the last week. For Jones to win with such thin margins, he'll need to turn out black voters. But doing so will mean confronting the state's fraught history of voter suppression.
Part of the story of the Alabama special election is how resilient Moore has been with white voters. The Washington Post-Schar School poll shows him retaining the support of 63 percent of likely white voters in the state, including 57 percent of white women. While these numbers show that the onslaught of allegations of crimes against women have hurt him somewhat—recently, Republican presidential candidates in the state have garnered upwards of 70 percent of the white electorate—they also show that there appears to be nothing that can entirely stop the dominance of any GOP candidate with white Alabamians.
Jones's path to victory is less complicated than before, but it still relies on the same dynamics as any Democrat in Alabama. As headline after headline attests, he'll likely have to see decent turnout among the 26 percent of voting-age citizens who are black, and who largely live in the "black belt" of counties spanning the width of Alabama through the east and west of Montgomery.
That's easier said than done. While Alabama did have the fifth-highest black turnout of any state in the 2014 midterm elections, it's well-known that black turnout in midterms is much lower generally than it is in presidential elections. And while special elections vary widely in terms of turnout and racial dynamics, according to The New York Times, the Alabama secretary of state's office estimates that only about a million people overall will vote in Tuesday's election. That would be good for a paltry 26 percent overall, predictions that would follow an incredibly low 14 percent turnout for the Republican primary run-off, and speak to the general level of interest in the special election. They probably don't bode well for making big gains among black voters.
Recent nationwide trends don't really bode well for Jones's chances of getting black voters to the polls in Alabama either. While the Obama years saw strong returns of black turnout—and thus black electoral power—in the 2016 election, black turnout dropped for the first time in 20 years, effectively ending the strength of the "Obama coalition" in the process. While some of this drop-off has been attributed to disinterest, and some of it is certainly simply mean-reversion after the anomalous appeal of Barack Obama, the fact that black turnout dipped below even 2004 levels, and that the decline was especially steep among men, might indicate some other forces at work.
In the previous major special election, black voter turnout in the second round of voting in Georgia's Sixth District earlier this year plummeted as well, a decline that may well have ended Democrat Jon Ossoff's chances at gaining the seat. Things went better for Democrats in Virginia's elections last month, where black voters made up 20 percent of the vote share, keeping pace with their overall vote share from 2016 and ushering in a victory for Ralph Northam in the governor's race, and a shot for Democratic control in the state House. But notably, under Governor Terry McAuliffe, Virginia has been home to sweeping changes in voting law aimed at increasing minority turnout, including a strong campaign for the restoration of rights to people with felonies.
With Virginia as a model, much of the reporting on Jones's attempts has focused on the same old touchstones of black turnout. Is he doing enough appearances at black churches? Is his friendship tour with Congresswoman Terri Sewell enough to gain the ear of the black belt? Perhaps the groups that traditionally mobilize black voters have been defanged by Alabama's new campaign-finance laws. Maybe black voters just aren't energized by Jones, who—despite being a civil-rights hero for prosecuting the Klansmen who bombed the 16th Street Baptist Church in Birmingham—has seemingly tried to run without making major overtures to black voters, for fear of alienating rural whites. Or possibly, as The New York Times reports, a survey of 10 black voters in a strip mall indicates the black electorate just isn't interested in the race or aware of Doug Jones.
But these theories that mostly puzzle over a narrative of black disengagement obscure the fact that voting has always been burdensome for black people in Alabama, and that the state has made suppression the norm since Shelby County.
Alabama was one of the collection of Southern states that either passed or began enforcing new voter ID laws after the requirement for federal pre-clearance was effectively made null. While the state's requirement is not as strict as the well-publicized laws of some other states, and does allow voters to receive free voter-ID cards, the implementation of the law still appeared to be more about discrimination than anything else.
In 2015, state Republicans announced the closures of 31 DMV offices across the state, ostensibly in a cost-saving measure. But AL.com journalists Kyle Whitmore and John Archibald found that the closures were concentrated in the black belt, and that of the 10 counties with the highest percentage of nonwhite voters, the state closed DMV offices in eight, and left them without offices entirely, meaning those voters either had to travel long distances to other counties to get licenses or visit special registrar's offices in order to vote.
Facing pressure, the state relented on some of the closings, instead operating a handful of the offices for fewer hours, but a U.S. Department of Transportation investigation still found that "African Americans residing in the Black Belt region of Alabama disproportionately underserved by ALEA's driver licensing services, causing a disparate and adverse impact on the basis of race." In an agreement with DOT last December, the state did agree to expand the hours of some of the offices.
Still, the incident illustrates the structures in the state that have only been nourished post-Shelby County that uniquely limit black voters. Racial disparities in access to acceptable forms of voter ID are a common objection to such strict laws, but they can overlook broader systemic effects of the laws and their rollouts on turnout. A study of Kansas's strict ID law found that advertisement of the law alone decreased turnout, even as the law's actual effects on ballot accessibility further cratered turnout themselves. It's also just likely that implementing more restrictive voter laws chills faith in the system and turnout among people who've always been on the margins.
That last point is especially salient in Alabama, where officials have steadfastly refused to implement the kind of reforms that have continued the work of the Voting Rights Act and continually expanded black turnout over the years. Early voting, which has been a key factor for other states in increasing black turnout, is not permitted in Alabama. The state also doesn't have no-fault absentee voting, preregistration for teens, or same-day registration.* In all, it's harder to vote in Alabama than just about anywhere else, a dynamic that should tend towards cooling the turnout of people who've only been allowed to vote in the state for 50 years.
Until this year, the state retained a white-supremacist "moral turpitude" clause allowing registrars to block black people with felonies from voting. Although Governor Kay Ivey signed a bill in May reversing that rule, a federal court ruled that the state had no obligation to ever inform people with felonies that they could register to vote.
Alabama Secretary of State John Merrill—who has supported Moore even since the allegations—refused to invest any state resources on information or education after that reversal, and has also announced his opposition to automatic voter registration in DMVs, saying that the law "cheapen[s] the work" of civil-rights icons like Georgia Congressman John Lewis. And with some activists attempting to enforce that law and sign up ex-felons to vote, Moore wasted no time in blowing the dog whistle again, tweeting that "Democrat operatives in Alabama are REGISTERING THOUSANDS OF FELONS all across the state in an effort to swing the US Senate election to Doug Jones!"
Lewis is one of the few Democrats to stump for Jones in the months ahead of the election, but his presence on the trail should indicate that the black vote is still a struggle, and not one that begins or ends with a December special election. Alabama is but a case study in the renewed difficulties of getting black votes after Shelby County, and a survey of factors that go beyond "energizing" or "mobilizing" disaffected black people. Perhaps Jones will do enough canvassing in the black belt to eke out a victory this year, but the structural barriers to voting will likely remain, or worsen.
---
*This article originally stated that Alabama does not have online voter registration. In fact, the state began allowing online registration in 2016. We regret the error.