Is Immunity From Pre-Weinstein Allegations Finally Expiring?
Many men accused before Harvey Weinstein have managed to retain their posts, but the forced retirement of a Texas Republican breaks the trend.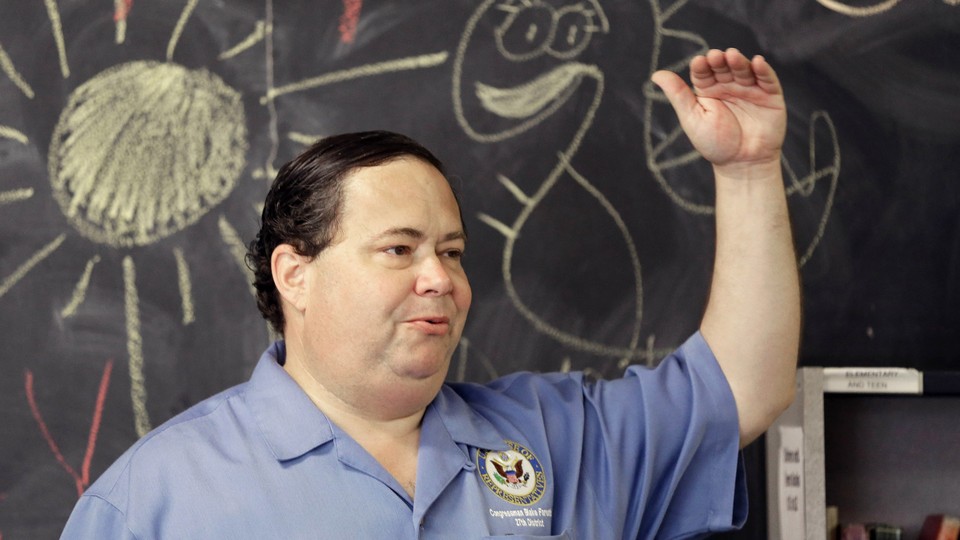 On the surface, Representative Blake Farenthold's arc this week is familiar: Politician is accused of bad behavior; politician is accused of even more bad behavior; politician announces he'll leave office.
In the case of the Texas Republican, that came after the series of scathing exposes in The New York Times and then CNN. The Times described an alcohol-sodden, sexually charged office in which "women would discuss which male lobbyists had texted them pictures of their genitals, and both men and women would talk about strip clubs and whether certain Fox News anchors had breast implants." CNN heard that Farenthold screamed at staffers, called them "fucktards," made rude comments about a staffer's fiancee, and left the staffer in severe pain with daily vomiting. By Thursday morning, Farenthold was announcing he wouldn't run for reelection, though he intended to serve out his term. (His ability to follow through will depend on whether further revelations emerge, and what sort of political pressure he receives—especially from other Republicans.)
But Farenthold's case is also significant for its deviation from the normal pattern. Thus far, a strange dichotomy has developed within claims of sexual harassment. The last two months have seen many women newly inspired to share stories of bad behavior, be it recent or two decades ago. The men they are accusing have in many cases been toppled, for sins ranging from groping and lewd comments to rape. Meanwhile, men who stood accused of harassment or abuse before the sudden downfall of Harvey Weinstein have, for the most part, managed to remain in positions of power. It is as though accusations B.H. (Before Harvey) are grandfathered in. Farenthold, however, breaks the pattern: Even though stories of sexual harassment surfaced as early as 2014, that didn't inoculate him.
Examples of this grandfathering effect abound. Within politics, the most glaring example is President Trump. It has become truism to note the dissonance between his continued tenure as president, despite having been recorded boasting about sexual assaults, even as other abusers are forced from office—sometimes over behavior that is at once unacceptable but also less serious than the allegations against Trump.
Trump is hardly alone, though. Clarence Thomas continues to enjoy his lifetime appointment at the Supreme Court, despite the allegations Anita Hill lodged against him during his confirmation hearings. Representative Alcee Hastings, a Florida Democrats, was known to have been sued for sexual harassment several years ago, though Roll Call only revealed the $220,000 settlement paid to his accuser last Friday. Bill Clinton was impeached for lying about his affair with Monica Lewinsky but survived office and has enjoyed a post-presidential career as a globetrotting elder statesman and grand old man of the Democratic Party. (Clinton's past behavior did play a role in his wife's loss in the 2016 presidential race, and while there is a move to reassess his legacy, it comes so late in his career as to be barely consequential.)
Outside of politics, there are plenty of other examples. Dylan Farrow, who has long accused Woody Allen of sexual abuse (and whose brother Ronan Farrow helped break the Weinstein story), wrote in the Los Angeles Times, "Why is it that Harvey Weinstein and other accused celebrities have been cast out by Hollywood, while Allen recently secured a multimillion-dollar distribution deal with Amazon, greenlit by former Amazon Studios executive Roy Price before he was suspended over sexual misconduct allegations?" Across entertainment, from R. Kelly to Casey Affleck, man accused of harassment or worse have kept their careers alive.
This division is peculiar. Why should it be that bad behavior only results in consequences if it is revealed since Weinstein? This is especially true because the allegations often refer to incidents that occurred B.H.—yet long after such behavior was clearly unacceptable. (One excuse offered for harassment is that social standards have changed; whether this argument is worthy of consideration or not, it does not apply here.) The practice of grandfathering in old revelations simply because they were publicly known before October has little logical basis.
That makes the Farenthold case interesting. It's not a pure test case. Farenthold had been under fire for the old sexual-harassment case (his former communications director Lauren Greene has recently described how she was ostracized and forced to leave politics after complaining about and suing him), and an embarrassing photo of Farenthold wearing duck pajamas and cavorting with scantily clad models emerged during his run for office, but it was the new reports that tipped him over into announcing his departure from Congress.
Nonetheless, it is the first indication that actions revealed B.H. might produce repercussions A.H. If the dam breaks, it could have a powerful effect in Washington and elsewhere. Most prominently, that's a danger for the president, who stands accused of sexual misconduct by at least 19 women, and who is currently being sued by one of them for defamation. A poll from the Democratic firm Public Policy Polling, released on Thursday, found that slightly more than half of voters believe Trump should resign because of sexual-harassment allegations. But it is not just Trump who might be affected—many men in Washington might have reason to worry if the Farenthold precedent continues. If so, the Texan's legacy would far outweigh his short, undistinguished tenure in Congress.