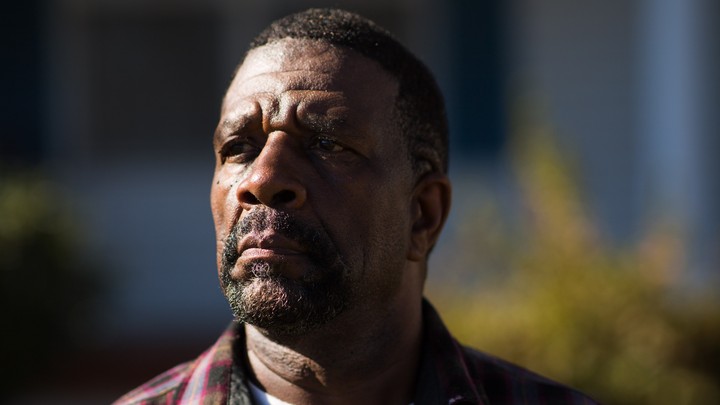 As voters went to the polls on Tuesday in Alabama's Senate special election, photographer Kevin Liles asked them about their choices. The state delivered a stunning upset for the Democratic Party, sending Doug Jones to the U.S. Senate rather than his Republican opponent Roy Moore. Although Moore was facing allegations of sexual misconduct, many analysts believed that the contest in this very conservative state was his to lose. What follows are brief portraits of Alabamians who cast ballots yesterday—mostly Jones voters, as Liles found Moore voters more reluctant to stand for a portrait.
—Adam Serwer
Rob Newton, 48
Real Estate Developer, Montgomery, Alabama
"I voted for Ron Bishop as a libertarian write-in candidate. This is the only way I can think to lodge a protest vote that would be noted. In other words, he's not going to win, but he's also not Roy Moore or Doug Jones. This sucks."
LaCheryl Cillie, 55
Pharmacist, Montgomery, Alabama
"Well looking at some of the cases he's [Jones] tried over the years, I was impressed with some of that. It's time for a change. I was particularly touched when he talked about how far behind we are in education the other things we [Alabama] are at the bottom of compared to some of the other states. So I'm looking for someone who can hopefully change some of that for us."
Craig Baab, 71
Nonprofit Lawyer, Montgomery, Alabama
"All the recent stuff [with Roy Moore] is obviously important, but I don't even get there. I go back to the fact that the chief justice of the state twice disobeyed a court order and then was then was removed from office. Twice. I don't care his views on other stuff, but this is someone who seriously sets an example."
Cedrick Bryant, 20
Student, Alabama State University
"I feel like Doug would make a really big change on taxes, I think he would help out HBCU schools, and I think he would do a great job with making our environment better. I believe in him and I think he can make a change."
Andy Gradyon, 28
Architect, Montgomery, Alabama
"I think Doug Jones is the most fit for our Senate seat. I'm not going to go into the reasons why I'm not going to vote for Roy Moore, I'll just say that Doug Jones is best fit."
Ronald Earles, 73
Pastor, Bulloch County, Alabama
"I'm voting for Roy … as far as that stuff that came out about him, it's just too convenient. They waited 40 years, until he was running for Senate. Then it comes."
Fred Rivers, 54
Maintenance worker, Union Springs, Alabama
"No realistic answer for him [Jones], but I heard all the stuff about Roy Moore. Been in office a couple times, been in and out. Why not give the other guy a chance?"
We want to hear what you think about this article. Submit a letter to the editor or write to letters@theatlantic.com.
Kevin D. Liles is a documentary, portrait, and commercial photographer based in Atlanta. He specializes in covering issues, politics, and sports in the South.