Will Roy Moore Win the Alabama Senate Race?
Polling has been all over the place in the final days of the race, making reliable predictions impossible.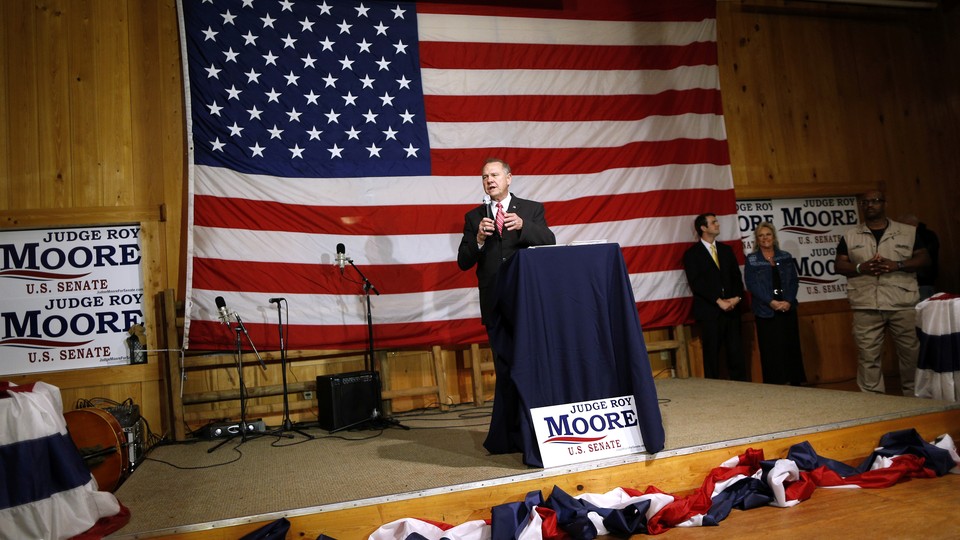 In Tuesday's Alabama Senate race, no one knows who will come out on top—and that's unusual in a reliably conservative state.
Thanks to a strange set of circumstances, the special election to fill the Senate seat once held by Attorney General Jeff Sessions has become a competitive race. Republican Roy Moore had been viewed as a strong favorite, but that changed when multiple women accused him of sexual misconduct when they were teenagers.
The allegations, which Moore denies, have shaken up the race and given Democrat Doug Jones a shot at winning, though Moore maintains a slight edge in polling averages. Pundits and pollsters now deem the Alabama special election "impossible to predict."
Special elections that take place in a year when midterms aren't held are difficult to poll under any circumstances. It's hard for pollsters to predict exactly who will show up to vote when they can't turn to past turnout data in comparable election cycles. The controversy that has engulfed the Alabama senate election as a result of the allegations against Moore adds even more volatility to the race.
"This race has almost every factor that makes polling tricky," said Margie Omero, a Democratic pollster and co-host of "The Pollsters" podcast. "We don't know what the electorate is going to be, and you have people trying different methodologies to try to figure out out. Some may prove to be better than others."
In the final days of the race, the polls have been all over the place. A Fox News poll reported that Jones had a 10-point lead among likely Alabama voters, while an Emerson College poll showed Moore with a nine-point lead over Jones. Fox News polled voters via both landlines and cell phones, while Emerson College's poll relied on landlines and an online panel. Individuals who only use a cellphone tend to skew younger, and are less likely to be white, which may account for why Jones fared better in the Fox News poll.
It's impossible to know for sure which model will more accurately predict the final outcome. "Different approaches to estimating the likely electorate in Alabama produce widely varying results," pollster Mark Blumenthal of online-survey platform SurveyMonkey wrote on the company's blog.
Another complication for pollsters is the fact that Alabama doesn't typically have competitive national races. Republican voters outnumber Democrats by roughly a 2-1 ratio in Alabama, and the state hasn't sent a Democrat to the Senate in more than two decades. A lot of veteran pollsters haven't spent time polling the state in the past because of that.
"Very few people poll Alabama since presidential, Senate, and gubernatorial races are rarely competitive there," said Patrick Murray, the director of the Monmouth University Polling Institute. "The more experience pollsters have in a particular state, the better placed they are to understand the contours of what turnout generally looks like in that state." Murray added that a combination of factors in the Alabama race means that "in terms of predicting turnout, pollsters are just throwing darts."
The Alabama special election first started looking seriously competitive after reports of Moore's alleged past sexual misconduct surfaced in November.
On November 9, The Washington Post reported an allegation from a woman named Leigh Corfman, who said that when she was 14 years old and he was 32 years old, Moore initiated sexual contact with her. Since then, more women have come forward with allegations against Moore, including a woman named Beverly Young Nelson, who accused Moore of sexually assaulting her in 1977. Moore has denied the allegations, calling them "ritual defamation."
After the allegations surfaced, Jones briefly surged in the polls, overtaking Moore in polling averages from mid-November until the end of the month. By around November 28, however, Moore had regained a lead. The RealClearPolitics polling average indicates that Moore has a lead over jones of just 2.2 points as of Tuesday morning.
A Democratic victory might be within reach if a critical mass of Republicans are turned off by the allegations against Moore and decide to sit the election out, and if Democrats turn out in higher numbers than they typically do in Alabama elections.
There is evidence that Democratic voters are more energized than Republican voters in the Trump era, but turnout has varied in the different special elections held to replace members of Congress who left to serve in Trump's administration.
In Georgia's special election in June, Democratic voter turnout was higher than it had been in the same congressional district during the 2014 midterm elections. In the Kansas special election held in April, the Democratic vote decreased relative to the past midterm cycle in the same congressional district.
Sensing the potential for a win, some national Democrats, like Senator Cory Booker,  have come to the state to campaign for Jones. That might not have happened if the race didn't look competitive. But the very fact that Jones is getting help from national Democratic figures could end up energizing Republican voters to get out the vote, especially in a hyper-partisan political environment.
Another factor that could boost Republican turnout: Trump has a higher approval rating in Alabama compared to how he's ranked nationwide, and the president is all in for Moore. At a rally in Pensacola, Florida, a city near the Alabama border, on Friday, Trump implored anyone listening to "get out and vote for Roy Moore."
"Republican base turnout might be depressed, but Republican voters might also end up rallying in support of Moore," Tom Bonier, the CEO of Democratic data firm TargetSmart said. "Each poll presents a different potential outcome in turnout. It's impossible to say which scenarios are more or less plausible, and therefore impossible to determine which polls are more likely to be predictive of the final outcome."
The Republican establishment has created further uncertainty by sending mixed signals about the race. The Republican National Committee pulled its backing for Moore in November after the allegations surfaced, only to resume support for the candidate in early December. Senate Majority Leader Mitch McConnell did something similar. McConnell called on Moore to "step aside" in light of the allegations in mid-November. In December, McConnell said the decision is up to the voters of Alabama.
A few high-profile Republicans have opposed Moore even in the final days of the race. Alabama Senator Richard Shelby said over the weekend that he could not vote for Moore and that "the Republican Party can do better." Senate Republican Cory Gardner said last week that the National Republican Senatorial Committee, which he chairs, would "never" support Moore. Gardner has said that if Moore wins, the Senate should vote to expel him.
If Democrats win the seat, it would be a major upset for such a deep red state. If Republicans hold onto it, the Senate GOP will have to grapple with the allegations against Moore. FiveThirtyEight's Nate Silver wrote on Monday that "Moore is favored" to win, but that "Jones's chances are probably somewhere in the same ballpark as Trump's were of winning the Electoral College last November (about 30 percent)." In other words, it could go either way.