Senate Democrats Call for Al Franken to Resign
They say the embattled Minnesota Senator should step down amid allegations of sexual misconduct.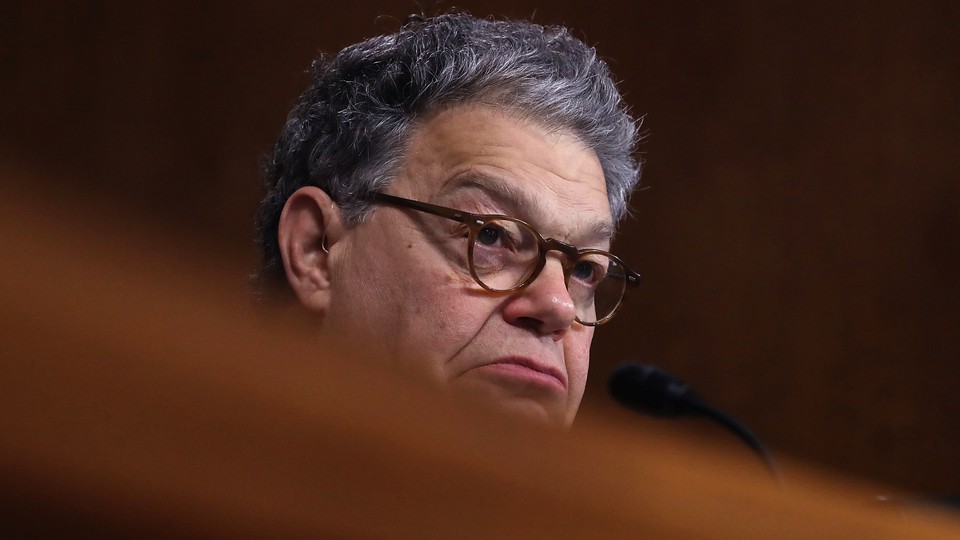 Democratic senators, starting with Senator Kirsten Gillibrand of New York, called on embattled Senator Al Franken to resign Wednesday as a result of the increasing number of sexual-misconduct allegations leveled at the Minnesota Democratic senator. Franken is expected to make an announcement on Thursday to address his political future.
Gillibrand's initial call for Franken's resignation has now been echoed by a long list of women Democratic senators, including Kamala Harris, Claire McCaskill, Patty Murray, Tammy Baldwin, Debbie Stabenow, Heidi Heitkamp and Elizabeth Warren.
Male Democratic Senators added their support to the calls on Wednesday, including the Senate's second highest-ranking Democrat, Dick Durbin and Senate Minority Leader Chuck Schumer. Senator Bernie Sanders, who remains an Independent but is a member of Democratic leadership, said he believes "the right thing" for Franken to do is resign. Democratic National Committee Chair Tom Perez also issued a call for Franken's resignation Wednesday afternoon.
The calls put enormous pressure on the Minnesota senator to resign. Capitol Hill is facing its own reckoning on sexual harassment allegations against powerful men. The calls for Franken's resignation come one day after Democratic congressman John Conyers announced his retirement on Tuesday amid sexual harassment accusations from former aides.
It's very likely that Franken will resign on Thursday, but the fact that he has not done so already after Senate Democrats turned against him signals reluctance. According to a person familiar with the conversations, Schumer has told Franken that he needs to step down, including in a meeting with the senator and his wife.
The Democratic and Republican Parties face a test in the current political climate over how to handle men within their ranks who stand accused of sexual misconduct. Both parties have been criticized as slow to respond to allegations. House Democratic Leader Nancy Pelosi did not immediately call on Conyers to step aside, and neither did Senate Democrats in the wake of allegations against Franken.
Still, there has been a clear difference between how the parties are handling allegations in their midst. The DNC, and top Senate Democrats, have now turned against Franken, while the RNC is continuing to support Alabama Republican Senate candidate Roy Moore, despite the fact that he has been accused of sexual misconduct toward teenage girls. Senate Democrats have also called for a Senate Ethics investigation into Franken's past conduct, an inquiry that the senator said he would cooperate with.
Many of the statements from Democratic senators on Wednesday focused on the idea that harassment of women of any kind must not be tolerated. Gillibrand posted on Facebook that it would be better if Franken "sent a clear message that any kind of mistreatment of women in our society isn't acceptable by stepping aside to let someone else serve."
In her statement, Murray, the highest-ranking Democratic woman in the Senate, wrote that "sexual harassment, or assault, or in any way using your power to demean women cannot be tolerated."
A growing number of women have come forward to accuse Franken of unwanted sexual contact, the latest a former Democratic congressional aide who spoke to Politico in an account published Wednesday morning. The aide, who remained anonymous, alleged that Franken tried to kiss her following a radio show taping in 2006, saying "it's my right as an entertainer," when she tried to evade his advances. Franken denied that ever happened, calling the allegation "categorically not true."
The accusations began last month, when Leeann Tweeden, a Los Angeles radio host, said that in 2006 Franken groped her while she was sleeping. "I felt violated," Tweeden wrote of the experience. "Embarrassed. Belittled. Humiliated." Since then, other women have made allegations against Franken.
Franken has since offered an apology to Tweeden and said that a photo, which Tweeden released showing Franken's hands outstretched toward her chest as she sleeps, "was clearly intended to be funny, but wasn't. I shouldn't have done it."
Additional reporting by Russell Berman