Senator Al Franken Will Resign Amid Sexual-Misconduct Allegations
Facing pressure from Democratic leaders to step down, the Minnesota Democrat said Thursday that he plans to step down "in the coming weeks."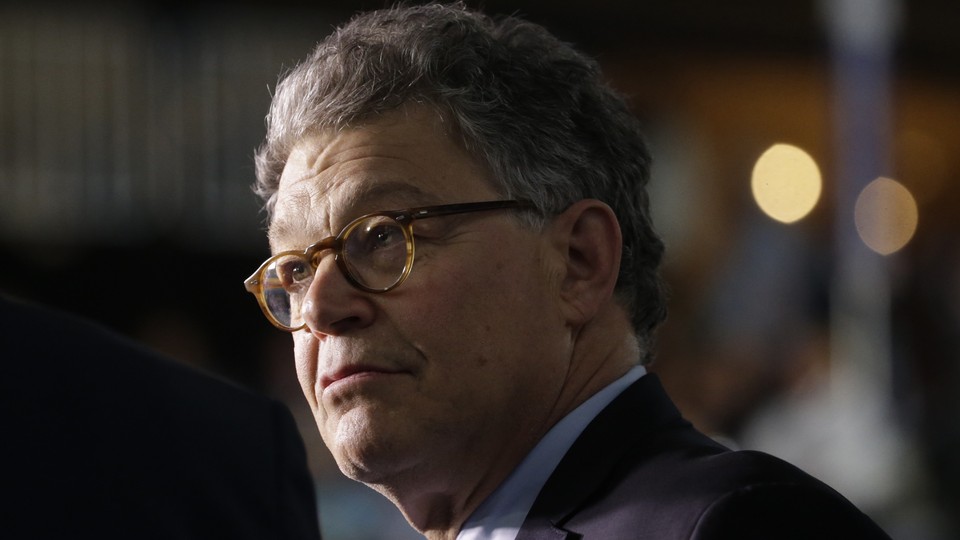 Democratic Senator Al Franken announced on Thursday that he will resign from Congress following multiple allegations by women who have accused him of sexual misconduct.
"Today, I am announcing that in the coming weeks I will be resigning as a member of the United States Senate," Franken said, adding that "serving in the United States Senate has been a great honor in my life," and that although he would be resigning his seat, he does not plan on "giving up my voice."
The decision comes a day after a majority of Senate Democrats, including Senate Minority Leader Chuck Schumer, called on Franken to resign. Senate Democratic women led by Kristen Gillibrand of New York were the first to come forward demanding Franken's resignation. Senate Democratic men soon joined in, and Democratic National Committee Chair Tom Perez did as well.
Congress is grappling with the national reckoning on sexual harassment of women by men in positions of power that is playing out in media, corporations, and in popular culture across the United States.
In his speech on Thursday, Franken said that a few months ago he believed the U.S. was entering "an important moment in the history of this country where we were finally beginning to listen to women about the ways in which men's actions affect them," but that he was "shocked" and "upset" when that he himself became a focus of that conversation.
The senator said that he wanted to be "respectful" of the women who came forward with allegations against him, but that he believes that "gave some people the false impression that I was admitting to doing things that I, in fact, haven't done."
Franken is the second Democratic member of Congress in the span of a week to step down in the midst of allegations of inappropriate behavior toward women. On Tuesday, Democratic congressman John Conyers announced his retirement after multiple women accused him of sexual harassment, though he denied wrongdoing.
More than a half-dozen women have alleged sexual impropriety by Franken in recent weeks. The floodgates opened last month when radio host Leeann Tweeden accused Franken of groping her while she was asleep in 2006.
Franken has tried to walk a fine line as more allegations have emerged from women who say that he groped or tried to kiss them without their consent. He has expressed regret and apologized for any offense he may have caused, while frequently saying that he either does not recall the incident unfolding the way it was described or at all. On Thursday, Franken said: "Some of the allegations against me are simply not true, others I remember very differently."
Minnesota's Democratic governor Mark Dayton will now have the opportunity to appoint a Democrat to fill the Senate seat until a special election can be held to replace Franken. Politico reported on Wednesday that Dayton is likely to tap Tina Smith, the current Minnesota lieutenant governor. On Thursday, Dayton said that he plans "to make and announce my decision in the next couple of days."
Franken initially appeared reluctant to step down, and hopeful that he could weather the political storm. At a press conference at the end of November, the senator said that while he was "sorry" and that he wanted to work to regain trust. But, he said, he was "gonna go back to work." Franken also said that he would cooperate with a Senate Ethics Committee investigation into the allegations.
After the initial allegations, however, more accusations continued to emerge. As that happened, frustration from Franken's fellow senators became more evident. On Tuesday, Democratic Senator Kristen Gillibrand said that she "believe[s] the women" who have made allegations against Franken, though she stopped short of saying he should step aside.
Then on Wednesday, Politico and The Atlantic both published accounts of women alleging misconduct by the senator.
A former Democratic congressional aide told Politico that  in 2006 Franken tried to kiss her, despite her attempts to evade him, saying at one point "it's my right as an entertainer." Franken called the accusation "categorically not true." In The Atlantic, Tina Dupuy wrote that Franken groped her in 2009 while the two posed for a photo. "We posed for the shot. He immediately put his hand on my waist, grabbing a handful of flesh. I froze. Then he squeezed. At least twice," she wrote.
By the end of the day on Wednesday, a majority of Senate Democrats had called for Franken's resignation.
The fact that Democratic leaders called on Franken and Conyers to leave Congress, and the lawmakers' subsequent decision to step down, will allow Democrats to draw a clearer contrast between their party and the Republican Party as the Alabama Senate special election looms. Republican candidate Roy Moore has been accused of sexual misconduct with teenage girls, though he denies any wrongdoing. Moore has the support of the RNC and of President Donald Trump, who faced multiple allegations of sexual misconduct during his own campaign for president.
Franken drew attention to the allegations against Trump and Moore in his departure speech on Thursday. "I, of all people, am aware that there is some irony in the fact that I am leaving while a man who has bragged on tape about his history of the sexual assault sits in the Oval Office and a man who has repeatedly preyed on young girls campaigns for the Senate with the full support of his party."
In his speech, Franken attempted to define his legacy in the Senate in opposition to the allegations that brought down his congressional career. "I have used my power to be a champion of women, and I have earned a reputation as someone who respects women," he said. "I know in my heart that nothing I have done as a senator, nothing, has brought dishonor on this institution."