Why Liberty University Kicked an Anti-Trump Christian Author Off Campus
Jonathan Martin was removed by armed campus police officers and told never to return.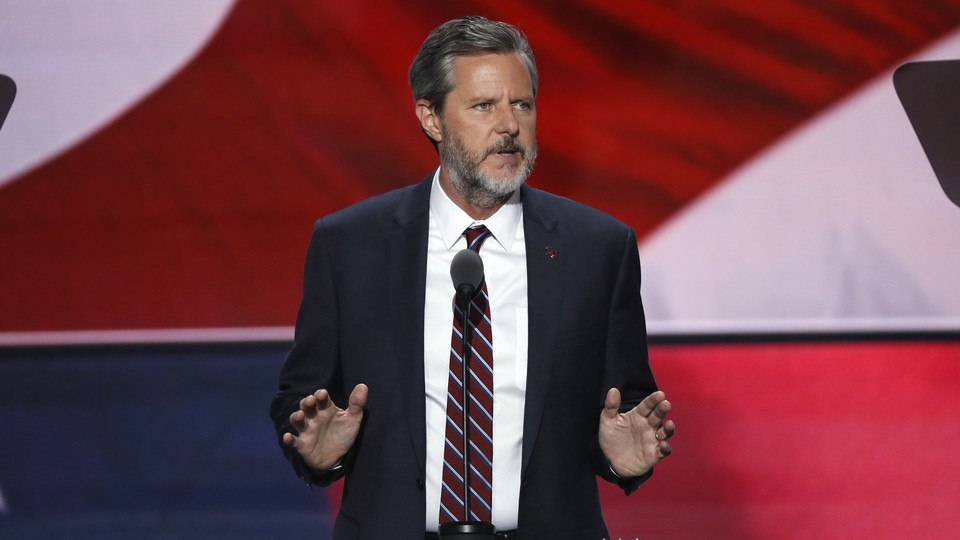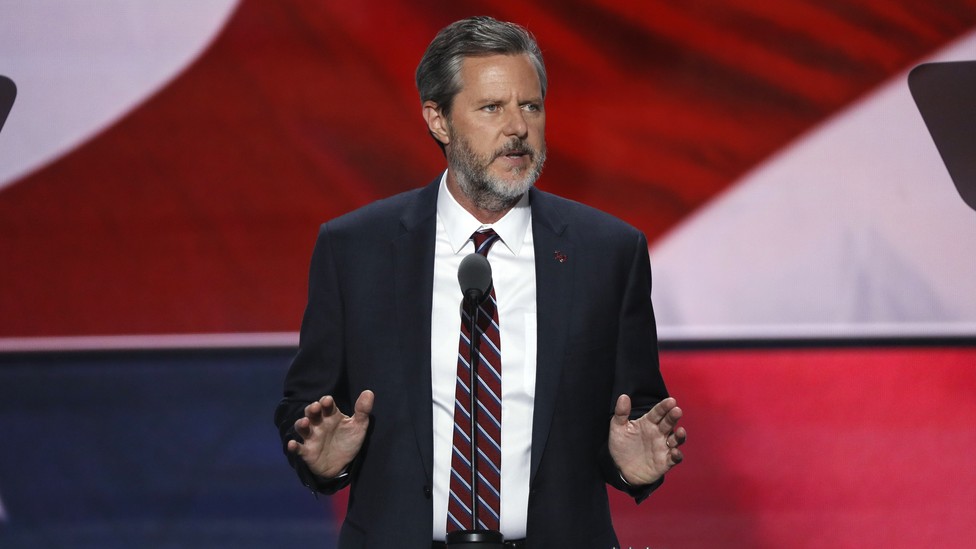 Jonathan Martin, a prominent anti-Trump Christian author, was escorted off the grounds of Liberty University by campus police officers Monday night. He was told to never return or he would be arrested for trespassing.
Liberty has been known for its conservative politics since it was founded in the 1970s by Jerry Falwell Sr., a prominent figure on the religious right. Its current president, Jerry Falwell Jr., has taken campus politics to new levels with his unfailing support of Donald Trump, a man he's called a "dream president" for evangelicals.
He has also demonstrated intolerance for those who criticize the president. It was this behavior, culminating in a report that Falwell was teaming up with Steve Bannon to oust "fake Republicans," that prompted Martin to travel to Lynchburg, Virginia, on Monday. His goal was to meet with students and alumni to organize a prayer gathering in protest of the school and its leader's political activity.
Falwell Jr. denies he was silencing Martin. It was merely about safety, he said. In an email, he told me members of the Liberty community are allowed to engage in peaceful protest and debate, but "Mr. Martin is not a student, faculty member, or employee." Those outside of the Liberty community are required to organize events according to "facility use protocols" to ensure safety and order, but he said Martin did not follow these. The gathering, Falwell said, was little more than a publicity stunt:
It may be possible that Jonathan Martin knew his unauthorized event would ultimately not be permitted to occur on the private property of Liberty University but he simply hoped to garner more attention to his cause by having his efforts stopped. So be it. The judgment was made that it was safer to stop the event before it started than to attempt to turn away an unknown number of people who traveled to Liberty's campus. Either option likely gives Mr. Martin's cause the publicity he apparently seeks. The University cannot be concerned with whether its actions provide additional oxygen to either side of a debate but rather must be concerned about safety and security of its campus.
Martin was on campus as a guest of Johnnyswim, a band performing at Liberty.  Martin told me that he was backstage in the green room when campus police officers arrived. Amanda Ramirez, one of Johnnyswim's two lead singers, confirmed that they invited him to attend and informed university officials that he would be joining them. She said she was "shocked" by the college's "overboard" behavior. On Twitter, the band called the university police's response "a ridiculous act."
Several staff and faculty members told me they fear sanctions should they publicly disagree with Falwell; none agreed to be named. But they claimed that Falwell Jr.'s growing political advocacy has been accompanied by a clampdown on speech on Liberty's campus.
Like Trump, Falwell has taken a number of divisive positions, undeterred by broader disapproval. When Falwell became one of the first major evangelical leaders to endorse Donald Trump for president, one of the school's longtime donors, Mark Demoss, resigned from Liberty's board of trustees. Falwell shrugged it off.
Last year, an editor at The Liberty Champion, the college's official newspaper, tried to publish an article critical of Trump's Access Hollywood comments. Falwell, the editor alleged, stepped in and spiked the article.
In August, Falwell praised President Trump's controversial remarks after the Charlottesville white supremacist rally. More than 500 alumni responded with a campaign to mail back their diplomas. Falwell called the campaign "nothing but a joke a publicity stunt."
In 2015, I had been invited to give an alumni lecture at the school, but was abruptly disinvited weeks before the event took place. In a telephone conversation at the time, Falwell Jr. explained that my disinvitiation was the result of a column I had authored that was critical of Hobby Lobby, a company owned by the Green family, which has donated millions of dollars to the school in years past.
"You don't seem to remember who your friends are," Falwell told me. "So we'll continue to keep an eye on you and if things change on your end, we'll reevaluate."
Liberty is a private university, so I don't have an inherent right to speak there. And Martin doesn't have a right to use its property for his protest. But these kinds of crackdowns undermine Liberty's claim to be a nationally competitive and non-partisan university with a commitment to the free exchange of ideas.
"Liberty treated me like a criminal, which gets right at the heart of the cancer of the Trump phenomenon and its evangelical supporters," Martin told me. "One of the reasons that so many evangelicals are drawn to Trump is because we have a lot of authoritarian leaders ourselves. We're drawn to these kinds of leaders because we've formed our people in this way."
Martin says he "absolutely" plans to return to Lynchburg to finish what he set out to accomplish. In fact, he said he feels emboldened by what transpired: "What happened last night reiterated the very reason I wanted to organize something to begin with."
Conservative Christians often complain about so-called liberal "snowflakes" being intolerant of differing views on secular campuses. The question for leaders like Falwell is whether they are willing to do unto others as they would have others do unto their fellow Christians.