Why It's Difficult for Former Inmates to Become Lawyers
State bar associations often have ambiguous character requirements that preclude their admission.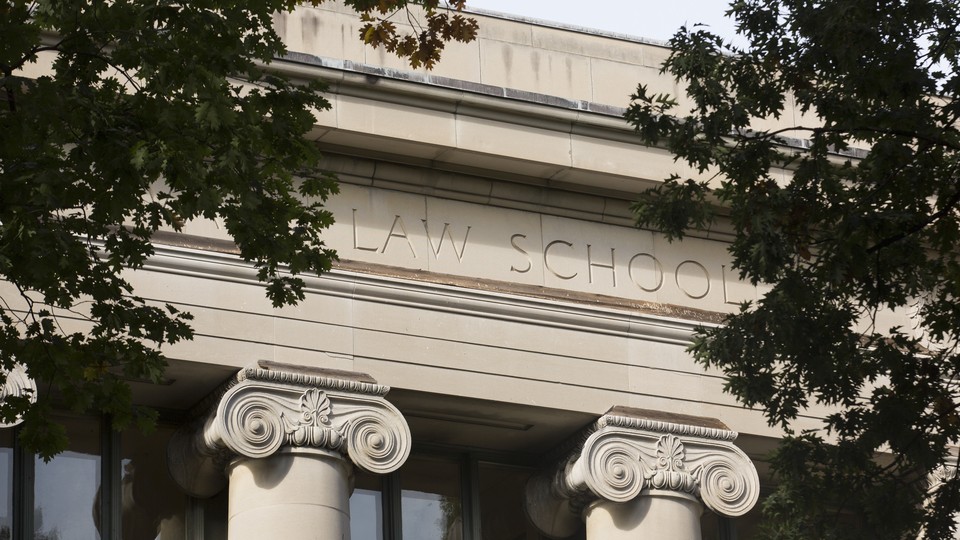 In August 2014, 15 months after she left prison, Tarra Simmons began her law degree at Seattle University. Just before she graduated this past summer, demoralizing news arrived: Her application to the Washington state bar had been rejected because of her past criminal convictions, and she wouldn't be allowed to take the bar exam.
"Individuals serve time incarcerated. One would think once they'd done that, we would welcome them back into society and facilitate their reentry," Annette Clark, dean of Seattle's law school, told me in an interview. "Because these are folks we need—I think we need Tarra Simmons as a lawyer."
Simmons' experience is common for aspiring attorneys with criminal records. In many states, they routinely have their applications delayed or rejected because of requirements that they demonstrate good moral character and fitness to practice law. In theory, and understandably, these policies are intended to protect the public from corrupt representation. That's the Washington bar's argument for keeping them in place: "Clients put a huge amount of trust and responsibility, unchecked, into the hands of their lawyers," the bar's chief regulatory counsel told me.
But the rules nevertheless create collateral punishments that can endure years after a person's sentence formally ends and can hinder professional achievement among those who have already shown a capacity for rehabilitation. Reformers argue that even the most exceptional candidates have difficulty meeting state bars' high and often ambiguous standards, shutting out potential lawyers who may know the legal system better than their peers.
There are similar restrictions throughout the working world. Members of the "ban the box" movement campaign to remove the common checkbox on employment forms that prompts applicants to disclose whether they have a criminal record. And Deborah Rhode, a Stanford Law School professor, estimates that nearly 30 percent of the American workforce must obtain an occupational license, which also typically has good-character requirements.
As with bar associations' rules, these restrictions are ostensibly well-intended. But their relevance isn't always clear. They apply to a variety of jobs depending on the state—from architects and midwives to radiographers and florists—regardless of whether a person's crime is connected in some way to their chosen profession. Criminal records have influence on college and graduate-school admissions, too. In one recent high-profile case, Michelle Jones, who served 20 years in prison for her son's murder, was initially admitted to Harvard's history Ph.D program, but was ultimately rejected when department officials raised flags about her background.
Simmons, a 40-year-old from Bremerton, Washington, has extensive experience with the lasting consequences of a criminal record. In 2001, she was given an eight-month sentence in county jail for felony assault charges; her roommates severely beat up a man who had sexually assaulted her, Simmons and her lawyers told me. In 2011, she was sentenced to 30 months for drug delivery, drug possession, and possession of a gun, which police found in the trunk of her rental car. Simmons had become addicted to methamphetamines after her father's death in 2010, and she shoplifted, gambled, and sold prescription drugs to fund her drug use. "It was just a downward spiral from there," she said. "I used for 10 months almost every day." September marked six years since she stopped taking drugs, and she now attends a daily monitoring program.
Starting with her first conviction, Simmons' record repeatedly disqualified her from employment, housing, and the ability to volunteer at her children's school. Her home went into foreclosure when she was in prison and she declared bankruptcy following her release. After leaving prison in May 2013, Simmons applied to more than 100 different jobs, including positions as a call-center operator and a nurse. She has her bachelor's degree in nursing and for 11 years had worked in hospitals and homes as a registered nurse, but her license was put on probation because of her 2011 conviction.
Eventually she secured a part-time position at Burger King, where she worked for about five months before becoming a receptionist for a property company. Soon she was applying to law school. "They would tell me: 'We would like to hire you, or we would like to rent to you, but we can't because of your criminal record,'" Simmons told me. Since graduation, she has worked for the Public Defender Association, a justice-reform organization based in Seattle.
Her inability to find employment—and to repay financial debts that had accumulated while she was in prison—led her to consider becoming a lawyer. "I just felt in my spirit: If I'm going through this, there are probably thousands of other people going through this and it is not fair," she told me. "That's what led me to law school, to try to change the laws to help people who have made mistakes, changed, and deserve second chances."
Simmons graduated magna cum laude this July, having won two awards from her university and a prestigious national legal fellowship. She is also part of two Washington state governor's councils on prisoner reentry. "Her accomplishments are extraordinary," members of the state bar's character and fitness board noted in a dissenting opinion accompanying their colleagues' assessment. "It is as if she flipped a switch in about 2011 [when she went to prison], wherein she truly set out to become a different person."
The majority of the board members, however, said that not enough time had passed since Simmons' conviction to show a "consistent and proven pattern of positive conduct that outweighs her years of misconduct." (Her bankruptcy, too, was an aggravating factor.) After months of preliminary hearings and briefs filed by her lawyers and civil-rights organizations, the state Supreme Court is slated to review the board's original 6-3 vote Thursday and issue a final written decision in the coming months. If the justices uphold Simmons' rejection, she will have to wait one year before she can reapply to the bar.
All states have some form of fitness standard for bar applicants, and Washington—which requires that the person prove through "clear and convincing evidence" they meet its requirements—is by no means the most severe. In Kansas and Texas, former inmates are blocked from applying to the bar for five years after completing a felony sentence. In Mississippi, there is an outright lifetime ban for most felony crimes. In Connecticut, there is an automatic presumption that a felony record makes someone unfit to practice and, as in Washington, the burden is on the applicant to prove otherwise.
But advocates and lawyers I spoke to say that proving one's fitness can be difficult. According to Washington's rules, applicants must show they meet the state's standards pertaining to "honesty," "fairness," and "trustworthiness." Yet there aren't any concrete guidelines for doing so, nor is there state-documented precedent showing how others successfully demonstrated rehabilitation—omissions that advocates and lawyers said make the process opaque.
"It is pretty traumatic to have the bar dredge up every bad thing you have ever done," said Shon Hopwood, one of Simmons lawyers. "You have to rebut all of that, and you have no idea what your chances are ahead of time. You spend all the time working hard in law school, never knowing if you are actually going to become a lawyer—and that is just hard."
Hopwood was sentenced to 12 years in prison for robbery after he stole more than $200,000 from multiple banks at gunpoint. He was released early in 2008, unanimously accepted to the Washington bar following a character hearing in 2014, and recently became an associate professor at Georgetown University's law school. He told me that the admissions process in Washington, as elsewhere, is inconsistently applied. "To be honest, [Tarra] had a more compelling case [than me]," he said, given her history since leaving prison, the severity of his crime, and the length of his sentence. "The process for [state bars] deciding these things is so arbitrary. They ask for a preponderance of evidence that you've been rehabilitated, but none of them prescribe what rehabilitation actually means."
Jean McElroy, the chief regulatory counsel for Washington's bar association, disagrees. She told me that "the process is pretty clearly laid out" and that the admissions requirements balance a responsibility to vet potential lawyers with giving applicants a fair hearing. "Anything I have seen that is a criticism of our system, for the most part, has been based on either an unclear understanding of how the process works or looking at older law that is no longer applicable," she said.
McElroy told me there are up to two dozen character hearings each year, but that not all involve applicants with a criminal history. There are 14 factors, ranging from academic misconduct to misconduct in a workplace, that can be invoked to deny admission. McElroy called the ability to practice law a "privilege" and said the rules ensure that people in roles of public trust "exercise good judgment and conduct [themselves] with a high amount of integrity and trustworthiness."
Simmons' case has prompted some law professors to push for loosening restrictions. So has another, more high-profile case in Connecticut, where Dwayne Betts, a Yale Law School graduate (and former Atlantic contributor), was initially rejected from the bar because of a 1996 conviction for armed robbery and carjacking. The decision was reversed in September and he was sworn in earlier this month. "I don't think your credentials should have to be as extraordinary as his [to gain admission]," James Forman Jr., a professor at Yale Law and Betts' friend, told me. "I would hate for there to be a 'Dwayne Betts test,' where if you have a criminal record, the only way you will get in is if you have a 4.0 [GPA] and get into the most elite law school in America."
People with criminal records often don't consider applying to law schools, because they see the legal profession as out of reach, said Debbie Mukamal, who heads a research institute at Stanford Law School. She sees a need for a "domino effect" of reforms that normalize former prisoners becoming lawyers, create mentorship and scholarship opportunities, and actively recruit them to law schools. "What we're all realizing is that individuals who have gone through those life experiences can make some of the best attorneys," Clark told me. "They know what it's like. They have credibility. They oftentimes come with a great deal of passion and compassion."
If the state Supreme Court overturns her rejection, Simmons plans to spend her career representing other former inmates. If not, she wants to continue advocating for changes to policies that impede their reintegration. She told me she anticipates her convictions will keep trailing her no matter what.
"People do change, and I don't think any judge is sentencing people to a lifetime of punishment unless they're actually giving them a life sentence," she said. "But that is the way we are treated in society. [Formerly incarcerated] people just know that they are part of a permanent underclass for the rest of their lives."