Why Is Ty Cobb So Optimistic About the Mueller Probe?
President Trump's lawyer thinks the special counsel will conclude his work shortly after Thanksgiving and clear the president.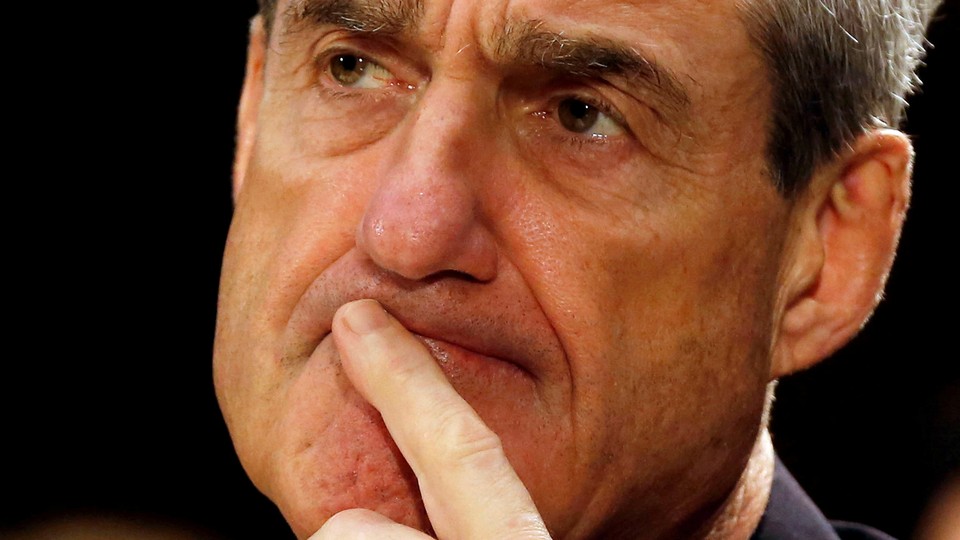 This week is a time for being thankful, and the president has both instructions for others and his own thanks to give. Whatever difficulties special counsel Robert Mueller is causing the White House, administration staffers were reportedly relieved that former National-Security Adviser Michael Flynn has thus far escaped indictment. Furthermore, Trump attorney Ty Cobb believes the investigation is nearly complete.
"It is my hope and expectation that shortly after Thanksgiving, all the White House interviews will be concluded," Cobb told CNN, and The Washington Post reports that he's telling West Wing staffers that the investigation overall will conclude soon, exonerating President Trump.
That's a long way from the conventional wisdom, especially since the indictments of Paul Manafort and Rick Gates and guilty plea from George Papadopoulos late last month. Each of those looked like a bad sign for the Trump administration: the first two because they suggested Mueller was trying to flip Manafort, and was carefully delving into financial crimes, and the second because Papadopoulos's admissions, alongside testimony from Carter Page, further confirm that at least some members of the Trump campaign were indeed colluding with the Russian government.
But Cobb's view is rather different. According to the Post, his interpretation has convinced some White House staffers, as well as, crucially, the president. Where does he get his optimistic take, and could he be right?
First, and most importantly, no one knows. The Mueller investigation is, as I have noted, a black box that invites but seldom confirms widespread speculation. Each step and non-step is hotly analyzed, but Mueller himself and his aides have been extremely tight with information. (Papadopoulos, for example, was arrested in July and pleaded guilty in early October, but no one knew about it until it was unsealed on October 30.)
That said, perhaps Cobb knows something that everyone else (excepting the Mueller team) doesn't. He is, after all, better positioned than most people. Besides, the investigation is already moving faster than many observers predicted, and interviews with high-ranking officials often come toward the end of a process. Indeed, CNN says Mueller is getting ready to interview top White House aides. Cobb also told the Post that Trump aides who have already spoken to investigators have come away feeling good.
Certainly, the general antipathy to the Trump administration in many elite sectors, including the press, the legal establishment, and career government workers, is likely to mean that in the absence of reliable information from inside the Mueller probe, the people commenting on and reporting on the investigation will interpret new developments in ways that are unfavorable to the president. The possibility that Trump himself, and maybe also family members like Donald Trump Jr. and Jared Kushner, might escape the probe unscathed seems underpriced in the public discussion.
That said, there are reasons to doubt Cobb's rosy perspective. The Post writes, "People close to the investigation, however, say a tidy and quick conclusion is unlikely, and would defy the pattern of most special counsel investigations in recent history." In addition, outside legal experts say that despite Mueller's speed so far, there's little reason to think he's close to wrapping up. Mueller has built a large team of high-flying lawyers, said Bruce Green, a professor at Fordham University's School of Law who worked on the Iran-Contra investigation, and it's hard to imagine he would have gathered that firepower and that they would have left their jobs if they didn't expect a longer investigation with greater fireworks that what has come so far.
The aggressive approach to Manafort, including an unusual indictment under the Foreign Agent Registration Act, suggests that Mueller's team hopes to either flip Manafort or make an example of him. A quick conclusion would be a surprise because of the figures who are so far apparently untouched by the investigation. Flynn, for example, appears to be just as vulnerable to FARA prosecution as Manafort. ("Witnesses questioned by Mueller's team warn that investigators are asking about other foreign contacts and meetings that have not yet become public, and to expect a series of new revelations," the Post reports, with questions focusing in particular on Flynn.) Trump Jr. and Kushner have a maze of Russian contacts that remain various degrees of unexplored—from the June 2016 Trump Tower meeting to Trump Jr.'s DMs with Wikileaks to Kushner's post-election contacts with then-Ambassador Sergey Kislyak and the state-owned Vnesheconombank.
Some recent stories suggest Mueller is only expanding his reach, rather than tying things together ahead of a neat conclusion. The Wall Street Journal reported last week that Mueller in mid-October requested Russia-related documents from a range of Trump campaign officials.
Trump himself could still be in the hot seat, too. ABC News reports that Mueller has requested a wide range of documents from the Justice Department related to Trump's firing of FBI Director James Comey. That move suggests continued interest not just in aides, but also in whether the president might have obstructed justice in his dealings with Comey. Cobb told the Post he thought the new matters would not "unduly extend the inquiry."
It's possible, though, that Cobb is simply wrong. He previously said that he expected Mueller to be done by Thanksgiving. He's also sometimes a bit unaware—such as when he loudly complained about the White House counsel in earshot of a New York Times reporter at a popular D.C. eatery.
There's a third possibility: Cobb doesn't have a much better sense of where things are going than anyone else who's not on Mueller's team. He has seen that Trump is impatient and sometimes bad-tempered with lawyers; Marc Kasowitz, who preceded Cobb, was moved aside when he appeared ineffectual. Cobb might reason that it's important to keep Trump calm, both for his own sake and for Trump's. A fidgety Trump might make the rash decision to fire Mueller, placing himself in much greater jeopardy than he is already, just as his decision to fire Comey in what appears to have been a fit of pique over the FBI's Russia investigation led to Mueller's appointment. If Cobb's words are able to soothe Trump's nerves for the time being, that's one more thing each of them can be thankful for.