Why Congress Has Done Nothing on Guns
The energy in the firearms debate remains on the side of inaction.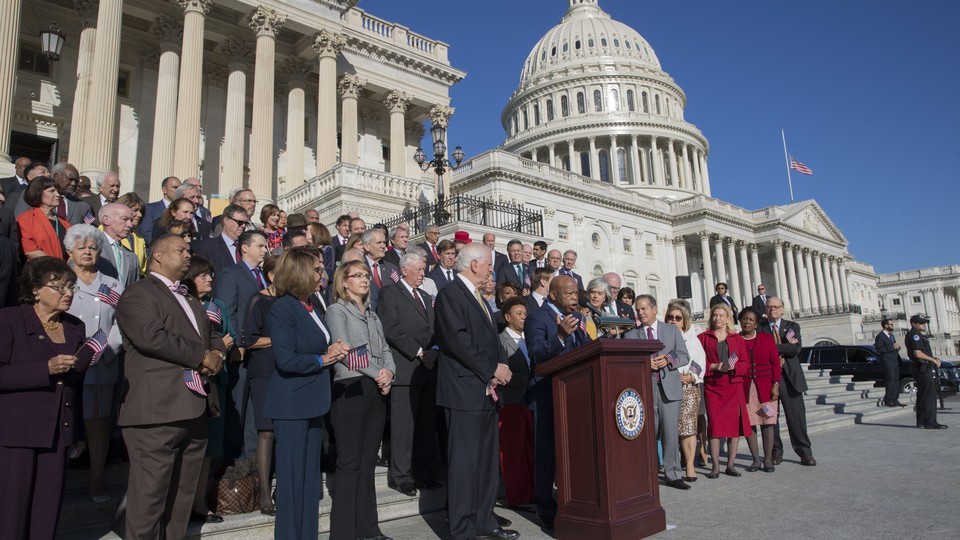 In the weeks after Representative Charlie Dent signed on to legislation that would have banned bump stocks following the massacre in Las Vegas, the moderate Pennsylvania Republican was "besieged" by responses from his constituents.
These were not thank-you calls.
The vast majority of people contacting Dent were angry that he had endorsed even a modest restriction on the use of guns, he told me in a phone interview on Monday, a day after a man identified by police as Devin Kelley killed 26 men, women, and young children at a church in Sutherland Springs, Texas. It was the third mass shooting in the last 18 months in which more than two dozen people were killed.
The bipartisan bill Dent co-sponsored would not have banned assault weapons or restricted the sale of guns to anyone, nor would it have expanded the use of background checks. The legislation would merely have outlawed a device that allows a gun to fire at a much higher rate of speed—to, in the description of the National Rifle Association, "allow semi-automatic rifles to function like fully automatic rifles." A bump stock was what helped Stephen Paddock mow down hundreds of concert-goers from his elevated perch in the Mandalay Bay Resort and Casino on October 1, killing 59 of them. In the days that followed, everyone from Democrats to top Republicans to even the NRA came out in favor of more tightly regulating bump stocks, if not banning them entirely.
But in the month since, Congress has taken no action on bump stocks or any other gun-related matter. The committees with jurisdiction have held no public hearings. Following the NRA's lead, Republicans called on the Department of Alcohol, Tobacco, Firearms, and Explosives to look into bump stocks rather than tackle the issue themselves.
In short, nothing much has happened, and the feedback that Charlie Dent received helps explain why.
Polls have consistently shown broad public backing for additional regulations on guns, including more than 90 percent support for universal background checks. But, as Dent told me, "one side has historically been more energized." And while advocates for gun control often focus on the millions of dollars that the NRA spends on campaign contributions and TV ads as the biggest obstacle to congressional action, the group's success may owe just as much to the army of grassroots activists that amplify its message to lawmakers.
"There's a certain very vocal constituency of individuals who are convinced that at any moment, their gun is going to be ripped away from their hands by the federal government," said Kris Brown, the co-president of the Brady Campaign to Prevent Gun Violence. "They will call, and they'll call about just about anything that the NRA gets them worked up about."
Though the NRA called for regulating (not banning) bump stocks after the Las Vegas shooting, it opposed action by Congress. Instead, it put the onus on the ATF to revisit a ruling it made during the Obama administration that the devices were not covered by either the Gun Control Act or the National Firearms Act. In turn, House Speaker Paul Ryan and other Republican leaders in Congress asked the ATF to look into the issue, effectively shelving the legislation Dent supported, which was introduced by Representative Carlos Curbelo, a Florida Republican, and Seth Moulton, a Massachusetts Democrat. The agency has yet to reply, Moulton told me.
"When they do is the time for [Ryan] to take up the legislation," Moulton said.
It's unlikely that Congress will move that quickly, if at all. In the House Judiciary Committee, Democrats have complained that Chairman Bob Goodlatte of Virginia, a conservative Republican, has denied their requests to hold hearings on gun violence. The same is true in the Senate. In a statement, Goodlatte said he has been in contact with ATF about bump stocks and that the bureau will be briefing members of the Judiciary Committee on the issue this week. "While there is still much to learn about what happened in Las Vegas, the use of bump stocks in that horrific tragedy is extremely concerning," he said. "As chairman of the House Judiciary Committee, I am committed to looking at the regulations dealing with bump stocks to see if they need improving."
Kelley, the gunman in Texas, did not use a bump stock, but lawmakers are already examining whether he slipped through the cracks of the background-check system. Authorities said he was punished and ultimately discharged from the Air Force for "bad conduct" after he assaulted his wife and child, The New York Times reported. For years, gun-control advocates have fought to tighten laws restricting domestic abusers' access to weapons. "The biggest red flag that points out a potential mass shooter is a history of domestic violence," said Shannon Watts, the founder of the advocacy group Moms Demand Action. The Air Force and the Department of Defense said late Monday that they had ordered reviews of the handling of Kelley's case after determining that his conviction for domestic assault was not entered into the national background-check database. Without that error, Kelley likely would have been prohibited from buying a gun.
Congressional opponents of new gun laws argue that preventing the mass tragedies that have proliferated in recent years is essentially a futile endeavor. "It's hard to envision a foolproof way to prevent individual outrages by evil people," Senate Majority Leader Mitch McConnell reportedly said on Monday in Kentucky.
Dent, who is retiring at the end of next year, said that he's still committed to bump-stock legislation even if his more conservative colleagues are not. "There are just a lot of members who believe that any change to the law as it relates to firearms is tantamount to allowing the camel's nose under the tent," he told me. "I don't abide by that." Dent said he believes the majority of his constituents support the ban, even though they don't contact him in the same numbers.
Ultimately, that dynamic—the disparity between the number of Americans who support more regulations and the number who lobby Congress and base their votes on limiting regulations—is what advocates of gun control are trying to flip. "We know that we have the vast majority of Americans on our side on this issue," Brown said. "What has to happen, though, is they need to become as vocal about this issue and as active on this issue as the small minority is on the other side."
The prevalence of truly shocking tragedies may be changing the politics of gun laws. But, Brown said, it'll likely take at least another election to see a result. The Brady Campaign and other groups are pushing candidates to not only voice their support for gun control among their policy positions, but to make it a priority of their campaigns as well. "I do think things are shifting," she said. "I'm not sure I'd use the word 'tipping point.' But I think 2018 will be a very critical year. And we'll be watching."