What Happens When a School Stops Arresting Kids for Throwing Skittles
Officials in Louisiana have embraced a much softer approach to school discipline than they did just a few years ago. And suspensions are down dramatically.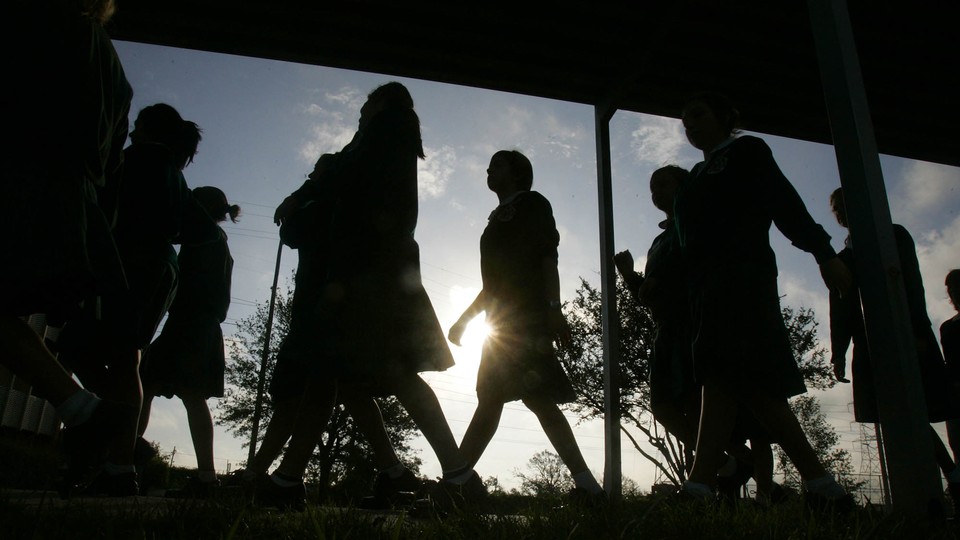 There's been a fight at Marrero Middle School. Two sixth graders traded insults during football practice, someone threw a punch, and soon enough they were on the ground with a ring of students egging them on.
A few years ago, a fight like this might have ended with someone being suspended, or even arrested. But over the past year and a half, the New Orleans-area middle school has rebuilt its entire approach to discipline.
Now, the two boys are sent to John Kulakowski, a teacher who splits his time between English class and leading sessions known as restorative circles. He pulls a few desks together in a circle and starts asking questions, staring intently into each student's eyes as they speak. What happened? Who was affected? How did it make you feel?
This is restorative justice, an alternative approach to punitive discipline that's gaining traction in schools and courts across the country. The concept is meant to redefine infractions from "a breaking of rules to a breaking of relationships," said Troi Bechet, founder of the New Orleans nonprofit Center for Restorative Approaches. Bechet's group trains schools, offices, and other communities in restorative practices.
Such an approach might seem expected when dealing with disciplinary infractions among school kids. But it hasn't been, especially not in Marrero.
Marrero is part of Jefferson Parish, which knits together the diverse suburbs surrounding New Orleans into the largest school district in Louisiana. The parish became emblematic of the national school-to-prison pipeline a few years ago, after the Southern Poverty Law Center filed a federal complaint alleging the school district was arresting African American students at a vastly disproportionate rate, often for crimes like "being an ungovernable juvenile" or "interfering with an educational facility."
In one particularly high-profile incident in 2015, a black Jefferson Parish eighth grader was arrested and handcuffed in front of his class while taking a social-studies test. He spent six days in a juvenile-detention center before he saw a judge. His crime was throwing Skittles at another student on the school bus the day before.
The Skittles arrest drew national scrutiny. In response to the attention, the school district came up with a new discipline plan featuring restorative justice. The handbook now gives students the right to request a restorative circle before a suspension and offers schools guidance in how to use restorative techniques. The district also contracts with CRA to facilitate circles or train staff in restorative practices for any school that wants them.
Decades of zero-tolerance policies have convinced many school administrators that the only way to make schools safe is to kick misbehaving students out through suspension, expulsion, or arrest. This has had far-ranging consequences, particularly for students of color. Black students are nearly four times more likely to be suspended than white students. That, in turn, makes them much more likely to drop out. Research also suggests the risk of arrest doubles when students are suspended or expelled from school.
"Incarceration and punishment [are] not cancelling out the problem," said Christina Conforto, the principal of Marrero Middle School.
Restorative justice is not just a different approach; it's also a radical shift in understanding wrongdoing in the first place. Whereas most components of the American criminal-justice system are based on a retributive view of  justice that aims to curb and punish violations against law or social contract, restorative justice sees conflict as a natural component of living in a community. Its goal is not to shun offenders, but to strengthen the community and "repair the harm" while keeping everyone's dignity intact.
"Rules are important. They keep us safe. They give us boundaries," said Lauren Trout, a restorative-justice facilitator with the Jefferson Parish district attorney's office. "But when rules are broken, what's ultimately happened is somebody's been hurt. Because we're not in relationship to rules and laws—we're in relationship to one another."
When applied to criminal justice, some studies have found that restorative approaches produce higher victim-satisfaction rates and lower recidivism rates than the traditional justice system does.
A core tool of restorative justice is the restorative circle, a nonjudgmental space for everyone who was affected by the incident to express themselves and come to a resolution. In the school context, that can include parents and teachers.
At the end of a circle, participants come up with an agreement to repair the harm. They might decide someone needs to post an apology on Facebook, or a resolution could be as simple as a promise to say hello to each other in the hallway.
"Middle school … is a very dramatic place," Conforto said. "There's always drama. It just became very clear that we couldn't suspend our way to a calm campus." She said some teachers needed convincing that this approach is not just an easy out for kids.
"Staying home for three days is an easy solution. That's a vacation," she told them. "What is a harder solution is to sit there amongst your peers and their parents and your parents, and be made to take responsibility for what you did wrong. Being made to make amends, and have to make a contract, and have to apologize and shake hands in front of everybody? That is much more difficult than to stay home for three days."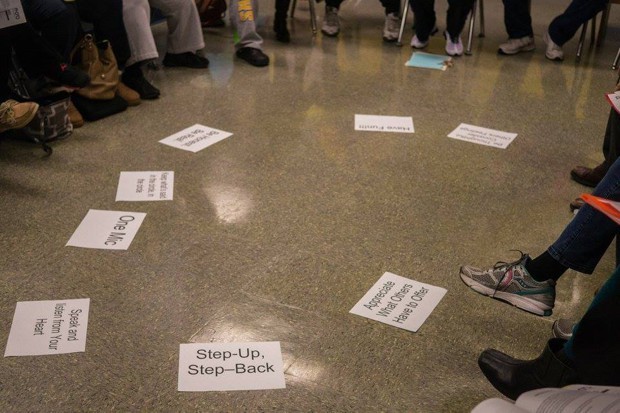 Before he became a facilitator, Kulakowski also had his doubts. "I was very skeptical at first," he said. He thought kids would simply go through the motions of talking about a fight and then go back out and start fighting again. But then kids started asking him for circles before fights broke out. "I realized that once we did it right, it really worked," he said.
Since Marrero decided to commit to restorative approaches in August 2016, suspensions have dropped by 56 percent. Conforto reports that they're seeing fewer fights overall. Other schools that have embraced the "whole school" training have also seen declines in out-of-school suspensions, data from the Jefferson Parish school district show.
But creating and sustaining a restorative culture takes a great deal of work and commitment, Trout said.
"The goal of restorative practices is not to reduce suspension rates," she said. "The goal of restorative practices is to create cultures and climates in which people feel connected to each other."
To that end, Kulakowski doesn't just hold restorative circles after an incident has happened. Teachers and students will come to him if they sense a problem brewing so he can de-escalate the situation with a preventative circle before conflict occurs. He visits classrooms to talk about bullying and explain the circles. He even facilitates circles between teachers. In the first year of the new approach, Conforto also required teachers to hold at least one community-building circle a month.
And teachers have been trained to have restorative conversations in their classrooms.
"That can be a five-minute conversation with a student," Trout said. "What do you think could be needed to repair the harm? What can I do to assist you? What are we going to do to make it right?"
More school systems across the country are experimenting with restorative justice. Many are touting reduced suspensions and higher graduation rates. But implementation of the philosophy differs region by region, and results can vary dramatically depending on training and resources. The fluidity of the concept also makes it difficult for researchers to develop an objective standard or quantitative metric that can measure success. Because restorative justice is so new in American schools, research into its effectiveness is still relatively limited. The informal consensus suggests that the schools with the most sustained success have incorporated restorative-justice principles into their overall philosophy, rather than as an add-on program or disciplinary tactic.
Only a handful of the 86 Jefferson Parish schools besides Marrero have adopted the whole-school approach. Many schools are more interested in devoting their limited resources to improving test scores or reducing class sizes. Some will call Trout in to facilitate circles every so often. But Trout said bringing in an outsider to put out fires isn't nearly as effective as having a regular presence on campus like Kulakowski, who can build close relationships with the students before an incident happens.
"A lot of teachers say, 'That sounds really great, [but] there's no time for that,'" Trout said.
Marrero had to shift resources to create Kulakowski's facilitator position: "We have large classes and stuff because he's not teaching four periods of the day," Conforto said. And without more buy-in across the whole school system, the district's progress has been uneven.
Data obtained by SPLC show that while arrests are steadily declining since the new discipline plan was introduced, black students in the parish are still being arrested at a much higher rate than their white peers.
Trout said more district funding should be allocated for permanent restorative-practices faculty. But even Trout's position is precarious: She is funded by a federal School Climate Transformation Grant that will expire in a couple years, and it's not clear what will happen after that.
Despite the resource limitations, Trout said the change in mentality is most important. "In schools that are having that paradigm shift and are buying into that different way of thinking, restorative practices don't feel like one more thing to do," Trout said. "It just feels like a different way of being."