How Alabama's Election Laws Keep Moore on the Ballot
After multiple allegations of sexual assault and harassment of minors against Republican Senate candidate Roy Moore, a complicated set of elections laws and rules is being used to keep his hat in the ring.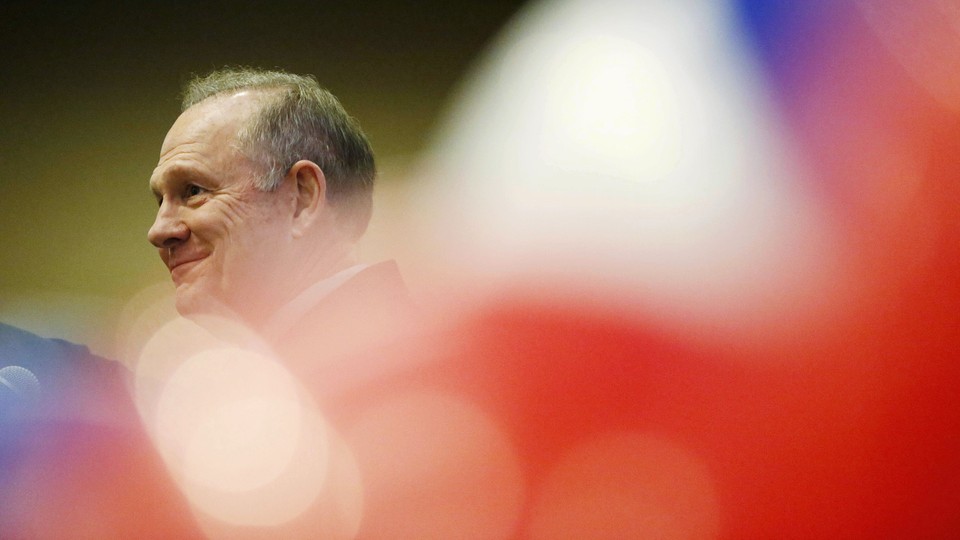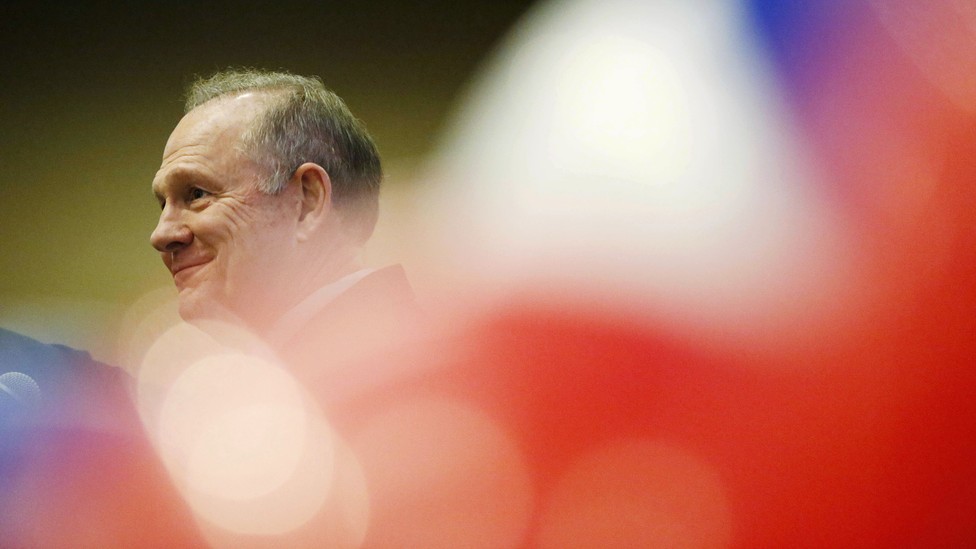 Why can't Alabamians be rid of Roy Moore?
The abundance of allegations against the Republican nominee for the state's open U.S. Senate seat are damning. There's the November 9 allegation from Leigh Corfman in The Washington Post that Moore, the former Alabama Supreme Court judge, sexually abused her when she was 14. There are allegations from several other women around Gadsden, Alabama, that Moore sought their affections while he was in his 30s and they were teenagers, allegations Moore has not flatly denied. There is also Beverly Young Nelson, who claims Moore attempted to rape her when she was 16, and who provided proof that Moore, then 30, signed her high-school yearbook.
Then there are reports from several named sources around the town that Moore's flirting with teenagers was "common knowledge," confirmation of that common knowledge from a former colleague,  and a story from the New Yorker that Moore had been banned from both the Gadsden Mall and YMCA for pursuing teenage girls as an adult.Yet, if the Alabama special election for that Senate seat were held today, Moore would still be on the ballot as the Republican-endorsed candidate, and recent polling shows that even now victory against Democratic opponent Doug Jones wouldn't be a surprise.  Moore himself has shown no signs that he is willing at all to even consider stepping aside, telling FoxNews's Sean Hannity last week that "I don't remember dating any girl without the permission of her mother," and that the allegations were a coordinated smear against his campaign.
A complicated labyrinth of Alabamian election laws makes it difficult to force Moore out or replace him with another Republican candidate, and accordingly, Republicans in the state appear to be in no hurry to force him to step aside. As Talking Points Memo reports, the Alabama Republican Party's central steering committee plans to meet this week to discuss Moore's nomination, which only they can withdraw. What they'll do is anyone's guess, but after being hollowed out by scandals involving former governor Robert Bentley, who resigned in April, and swirling investigations and controversies involving Jeff Sessions, the current U.S. Attorney General and former senator, it seems any decision will lead to chaos.
According to Alabama state law, it's now too late to even remove Moore from the ballot, even though he could still lose the party's nomination. Governor Kay Ivey could move the special election back in order to allow Moore's name to be scrubbed from the ballot, a move that some strategists and commentators have championed as a way to give the party time to field a candidate, but on Saturday Ivey shut the door on that plan. "The governor is not considering and has no plans to move the special election for U.S. Senate," the governor's spokesperson told CBS News.
It's also pretty much too late to turn to Luther Strange, the current acting Alabama junior senator and the man who lost to Moore in the 2017 primary, for help. According to a memo drafted by Strange himself when he was state Attorney General in 2014, the state's "sore loser" law passed in 2006 specifies that a candidate who was officially in the primary ballot after the 76-day cutoff "may not thereafter appear on a subsequent ballot representing any other party, or as an independent candidate, or as a minor-party candidate."
The "sore loser" law is complicated: While some experts believe it doesn't or cannot apply to presidential ballots, the most recent court precedent on the issue actually comes out of a federal district court in Alabama. For the 2016 Senate election, which the incumbent Shelby won, the court ruled that Alabama Secretary of State John Merrill had been in the right when he barred independent candidate Rocky De La Fuente from the general-election ballot, since De La Fuente had run in the primary as a Democrat.
Merrill, who has reaffirmed his support of Moore pending investigation of the allegations, clarified that rule to me, saying that "the sore loser rule doesn't really apply here, because only two candidates made the ballot on time." If the election were postponed, then the sore-loser law would come into effect for candidates trying to make it on the ballot in time. Regardless, Strange could not be swapped in for Moore as the Republican candidate or run as an independent, but could still receive certified votes as a write-in candidate.
There seems to be some contention over what would happen if Alabama Republicans withdraw their nomination from Moore. According to Richard Winger, editor of  Ballot Access News, "it's all kind of moot if Roy Moore doesn't want to resign. In that case, it's a simple matter. There's no state that would allow the party to replace a candidate that won the primary and didn't want to quit."
But Merrill told me that that wouldn't be the case if the state GOP decided to withdraw its nomination from Moore in this case. "If you look at our code, then you would see that if Judge Moore disqualifies himself, or secondarily, if the Republican Party renounced his nomination," Merrill says, "there's no way that they can actually change the ballot, but what that would mean is if Judge Moore got the most amount of votes in either one of those scenarios, then our election would be considered null and void."
If Moore does at some point decide to withdraw from the race, although Alabama law is unclear on what happens, Winger says that the 1990 governor's race in Minnesota provides some precedent on what to do. In that race, Independent-Republican Party gubernatorial candidate Jon Grunseth faced allegations of sexually abusing minors, and withdrew just a week before the general election. Two days later, the state supreme court ruled that Arne Carlson, the state auditor who'd lost to Grunseth in the primary, could take Grunseth's place on the ballot. Carlson won the election.
Before that election, Carlson was the face of a vibrant write-in candidacy, but in Alabama, the idea of supporting a write-in campaign itself is further increasing the entropy within the state GOP.
That's even as leading Republicans in the Senate, including Majority Leader Mitch McConnell and Texas Senators Ted Cruz and John Cornyn called on Moore to step aside, fellow Alabama Senator Richard Shelby told Moore to "consider" dropping out, and Colorado Senator Cory Gardner, the leader of the National Republican Senatorial Committee, even called on the Senate to expel Moore should he win the seat.
Moore still has many defenders in Alabama who don't seem to care all that much about the allegations. Aside from the more predictable conspiracy theorists and "allegations are just allegations" types, there's a heavy contingent of people who have expressed their support even in the event of the allegations being proven entirely true. Alabama Bibb County Republican chairman Jerry Pow told Toronto Star reporter Daniel Dale that he'd vote for Moore even if Moore had committed crimes. Alabama State Auditor Jim Zeigler affirmed his support, and in a bizarre quote likened the alleged abuse to the Christian Holy Family.
On Sunday, in an interview with the Alabama Political Reporter, Alabama Republican Party Chairman Terry Lathan said that "it would be a serious error for any current elected GOP official or candidate to publicly endorse another party's candidate, an independent, a third party or a write-in candidate in a general election."
Lathan went even further, appearing to threaten fellow Republicans who bucked the party line by citing the state GOP's right to deny access on the ballot to any candidate who even publicly supports the campaign, write-in or otherwise, of a candidate for another party. It's unclear if that rule on ballot access, which reserves unspecified rights to denial of access for infractions other than supporting Democratic or third-party candidates, would apply to say publicly supporting Strange or a write-in campaign from Sessions. Lathan also told Al.com on Monday that it's "very unlikely" that the steering committee will take the nomination and their individual endorsements away from Moore.
Even if the Alabama GOP lets down its firewall against write-in candidates, Moore still probably holds the edge. Merrill has said that there's no precedent for a viable write-in candidacy in the state's history, and there've been three total write-in candidates to win Senate races in national history, including one seat for a special two-month term in California in 1946. The two other names on the list are South Carolinian Strom Thurmond and Alaska Senator Lisa Murkowski, who won the 2010 general election as a write-in after losing the Republican primary as an incumbent. Although Strange is keeping his options open, a write-in candidacy would be a long-shot at best.
The bottom line is that Moore, even facing a half-dozen allegations of abuse and assault, is pretty much in the driver's seat, and both his state party and Alabama's byzantine election laws are keeping it that way. For a state party and two years of politics ruled by scandal and misconduct, all signs point to more confusion and the continuing presence of Roy Moore, regardless.