Democrats' Narrow Path to Winning the House
The party's suburban sweep in Virginia and New Jersey offers one template for 2018. But Democrats will have little room for error if they don't expand their coalition.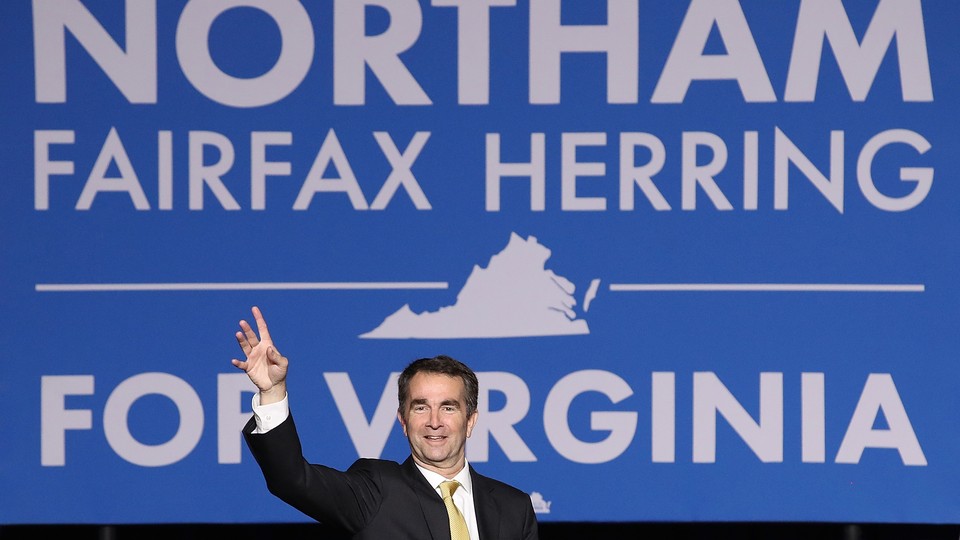 The Democrats' "coalition of transformation" flexed its muscles Tuesday to deliver a resounding repudiation of Donald Trump and crystallize the risk the GOP has taken by allowing him to redefine the party in his image.
But despite the party's sweep in Virginia, New Jersey, and scattered other local races, the results also showed that Democrats are unlikely to solve all of their electoral problems without regaining more ground with the competing "coalition of restoration" that flocked to Trump in 2016.
In that way, the elections of Ralph Northam and Phil Murphy in governors' races in Virginia and New Jersey, respectively—as well as the historic Democratic victories in the Virginia state House elections—showed the party a clear, suburbs-centric path toward recapturing the U.S. House in 2018. But those contests also hinted that Republicans could still narrowly repel Democrats by defending their redoubts in small-town, exurban, and rural America.
The "coalition of transformation" is the phrase I've applied to the modern Democratic voting base that's mostly clustered around the nation's major metropolitan centers: minorities, Millennials, and college-educated whites, especially women. These voters, who generally express optimism about the demographic, cultural, and economic changes remaking American life, provided Democrats with insurmountable margins on Tuesday that reflected their intense antipathy toward Trump.
For months, Republican strategists, and even some Democratic ones, have argued that because Trump is such a unique figure, voters unhappy with him were less likely to take it out on other candidates from his party than they'd been with previous presidents. Tuesday's results exploded that idea. In both the Virginia and New Jersey gubernatorial races, exit polls found a clear majority of voters disapproved of Trump's job performance—and that in both contests about 85 percent of those dissatisfied voters backed the Democrat. That result fits squarely in the range typical of House and Senate elections over the past two decades. In other words, it clearly signaled to congressional Republicans that they will be bound to Trump more than they hoped or expected in future elections.
The soaring wave of discontent translated into solid turnout and crushing margins for Democrats in their key voter groups, all of which have expressed intense resistance to Trump in polls. Although they declined in number from last year's presidential race, Millennials slightly increased their share of the vote in both states compared with the 2013 gubernatorial races there. Sixty-nine percent of those young people gave their votes to Northam, and 75 percent gave their votes to Murphy. That's a chilling trend for Republicans, given that more Millennials will be eligible to vote than baby boomers in 2018 and 2020. Turnout among African Americans, Latinos, and other minorities was also solid. In both states, Democrats carried roughly four out of five non-white voters.
But the principal engine of the Democratic sweep was a suburban tsunami in white-collar communities in Northern Virginia, Northern New Jersey, and even the suburbs of Seattle, where Democrats convincingly captured a state Senate seat that flipped control of that chamber to them. Those results will surely unnerve every U.S. House Republican holding a well-educated suburban seat.
"Tonight, college-educated white voters … collectively stood up and said, 'Enough,'" said Jesse Ferguson, a former communications director for the Democratic Congressional Campaign Committee. "If I was a Republican representing a suburb, I wouldn't be able to sleep tonight because there's a storm brewing."
Four years after Republican Chris Christie carried almost two-thirds of whites in New Jersey with at least a four-year college education, Murphy won 52 percent of them. In Virginia, Democrats had won between 42 percent and 45 percent of college-educated whites in each of their recent victories there, including Barack Obama's in 2012, Governor Terry McAuliffe's in 2013, Senator Mark Warner's in 2014, and Hillary Clinton's in 2016. But Northam blew past them to capture 51 percent of college-educated whites against Republican Ed Gillespie.
That emphatic shift undoubtedly reflected a backlash against Gillespie's turn toward Trump-like themes of cultural confrontation on so-called "sanctuary cities" and Confederate monuments. But it also quantified how much of a potential burden Trump poses for the GOP among those well-educated voters: Fully 58 percent of Virginia's college-educated whites said they disapproved of his job performance in the exit poll.
Not only did white-collar voters shift toward the Democrats, but they also registered their discontent in astonishing numbers. Northam won populous and affluent Fairfax County by about twice as many votes as McAuliffe in 2013 and Warner in 2014—and, incredibly, by even more than Obama in 2012. Northam bested the McAuliffe and Warner margins by 50 percent or more in Arlington and Alexandria counties just outside of D.C. Just as important, the stampede toward the Democrats extended to suburban Richmond counties, including Henrico and Chesterfield, where the GOP had remained much stronger than in Northern Virginia. It also extended down the ballot to the state House of Delegates. Democrats not only captured several open seats, but they also defeated enough Republican incumbents holding suburban seats to create a dead-even split in the chamber, pending recounts.
"In these urban areas, Trump has taken over the Republican brand, like it or not," said former Republican Representative Tom Davis, whose district was in Northern Virginia. "The immigrant [policy], his language, his rhetoric—everything is tailored here to that white, non-college[-educated] base in everything he does. He just has no appeal to those suburban people, either personally or politically."
But Democrats on Tuesday made much less progress cracking the competing Republican coalition, which revolves around older, blue-collar, non-urban, and evangelical whites who generally express anxiety about demographic, cultural, and economic change. Even amid Gillespie's lopsided defeat, he still held 72 percent of non-college-educated whites and nearly four in five white evangelical Christians. He also improved on the GOP's margins from 2013 in many rural southwestern counties. And 15 of the 16 state House seats that Democrats captured came in districts that Clinton carried, noted Geoffrey Skelley, the associate editor of the political publication Sabato's Crystal Ball.
A suburban recoil from Trump in places like New Jersey; the Philadelphia suburbs in Pennsylvania; and Orange County, California, can propel Democrats to the brink of a U.S. House majority: Eighteen of the 23 House Republicans holding seats that Clinton carried in 2016 represent districts with more white college graduates than the national average. And Republicans hold another 30 House seats with higher-than-average numbers of white college graduates where Clinton improved over Obama's showing in 2012. Tuesday's blowout is also likely to encourage more retirements among House Republicans in white-collar districts, increasing Democratic opportunity. Still, relying only on white-collar places would leave Democrats very little margin for error. Because the coalition of transformation is so centralized in the largest urban areas, it is better suited for winning the White House than either the House or the Senate (and even that advantage cracked with Trump's Electoral College win).
Tuesday's Democratic sweep illuminated the long-term threat the GOP has accepted by allowing Trump to define the party in a manner so toxic to the demographic groups and metropolitan population centers that are growing in the electorate. But Democrats will still be traveling a narrow path in 2018 if they can't regain more ground in Trump country than they did this week.