I Used to Run the Immigration Service—and Trump's Refugee Policy Is Baseless
A former director of the USCIS, the son of Cuban immigrants, argues that admitting refugees is in the best interest of the United States.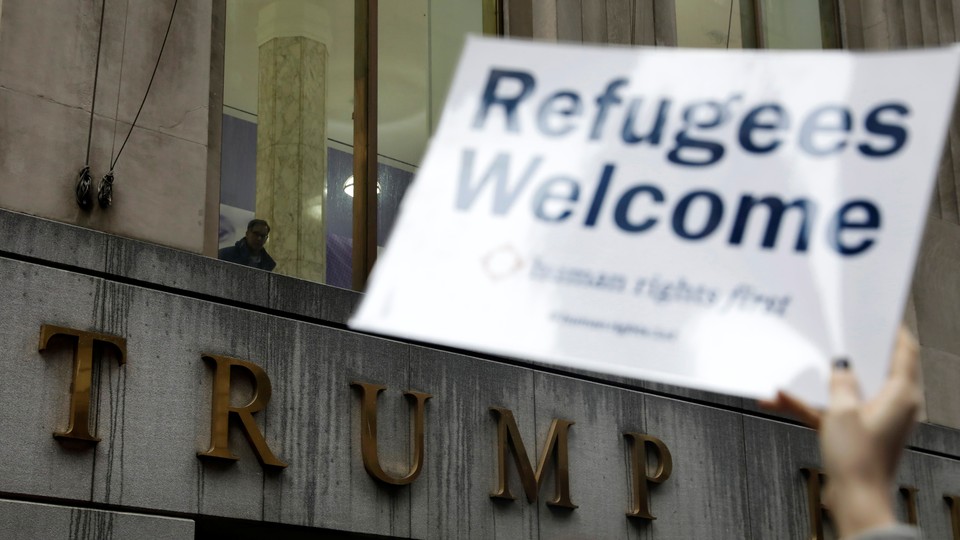 When President Trump signed the first travel ban in January, he inched closer toward fulfilling his campaign pledge to institute "extreme vetting" of refugees seeking to enter the United States. Last month, he delivered on that promise, announcing new security procedures that will make it much harder for refugees from selected countries to be admitted to the country.
The travel ban provided the government 90 days to review vetting procedures. The order, issued last week, resumed the resettlement of refugees, with the exception of 11 countries, most of which are predominantly Muslim. These new procedures hardly come as a surprise given the president's defense of his previous bans, which have been mired in legal challenges, but it also falls in line with the administration's position to reduce the number of refugees in the United States altogether: In September, the administration set the refugee admissions cap for fiscal year 2018 at an unprecedented low of 45,000, suggesting that the United States should favor resettling refugees with a "likelihood of successful assimilation and contribution" to the country. The administration also had earlier implemented a comprehensive ban on travel to the U.S. by nationals of several of the countries, in particular Syria, with the highest numbers of applicants for admission as refugees.
The Trump administration argues that these new security measures, and those that came before them, will make America safer. But, based on my experience as the former director of U.S. Citizenship and Immigration Services, the vetting procedures that are already in place are strong enough to identify any problematic history of an applicant.
During the fiscal years coinciding with my tenure as head of USCIS, the Obama administration resettled nearly 280,000 refugees. We had a multi-layered array of tools and resources at our disposal to determine whether applicants qualified as refugees, as defined by the United Nations refugee agency, and to ensure that their case did not raise national security concerns. To do so, the agency's procedures included repeated inquiries of multiple intelligence databases, collecting extensive biographic and biometric information, and interviews by specially trained officers briefed on relevant regional conditions.
The Trump administration, however, has painted a picture of refugees who, if admitted, will threaten American life—yet time and time again, I learned the stories of refugees who contributed to it: The young man from war-torn Syria who came to the United States, where, despite missing years of schooling, slowly built a successful catering business; the Muslim Marines who came to the U.S. as refugees and now serve or have served with distinction; and a 10-year-old Iraqi boy whose command of the English language—while still in Turkey awaiting admission to the U.S.—was already as good as that of the classmates he would soon join in Michigan.
These stories are not uncommon. Those who have spent time in the State Department's refugee resettlement centers around the world would recognize that. During my visits, I met people not that different from us, who are ready, willing and able to start their lives over in the United States given the chance. I saw parents sitting in English classes while awaiting refugee interviews, and entire families attending cultural orientation classes to learn American customs, business practices, and U.S. geography and history.
Resettlement organizations are also critical in the process. They, in partnership with local social service organizations across the country, empower refugees to become self-sufficient within a year of their arrival. By helping individuals build stable and secure lives in the United States, these organizations, such as HIAS and Lutheran Immigration and Refugee Service, make certain that newly-arrived refugees can fully participate in their communities—economically, socially, and politically.
Welcoming those facing persecution is woven into the fabric of who we are as Americans. The fears now expressed about refugees are not new, but in the past, a brave and compassionate America dismissed those fears. In a speech before the House Judiciary Committee on August 10, 1964, no less mainstream a figure than the president general of the Daughters of the American Revolution warned of "a collapse of morale and spiritual values if non-assimilable aliens of dissimilar ethnic background … overturn the balance of our national character."
My parents and three of my grandparents, all of whom migrated from Cuba, went on to launch successful businesses in the United States, and raise children who attended college and then graduate school. There's no reason to think that the current generations of refugees seeking safe haven will be different. Assuming otherwise leaves me with a disheartening but unsurprising conclusion—these policies have been invented out of thin air. Nothing supports the idea that refugees have "assimilated" and "contributed" any less than the millions upon millions of immigrants who for decades have been seeking the American dream. It is also in our country's best interest—national security included.