Trump Extends a Presidential Pardon for Fowl Behavior
The most remarkable thing about the traditional turkey pardon was how smoothly it went.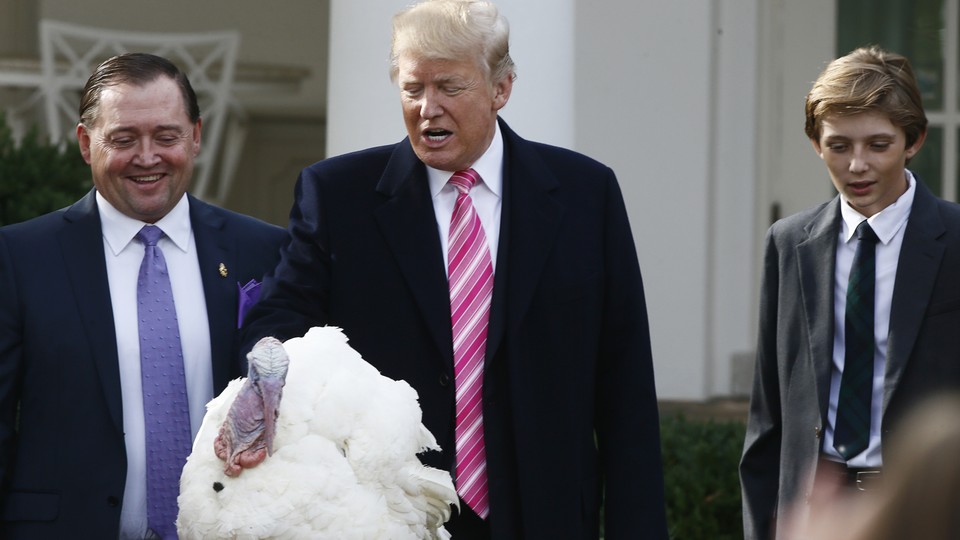 On Tuesday afternoon, everyone on the White House grounds appeared to be enjoying themselves.
The air was crisp, the three-piece military band lively—greeting reporters with a smooth rendition of Van Morrison's "Moondance"—and the turkeys delighted to see another day.
The annual pre-Thanksgiving pardoning of two turkeys was this year in the hands of President Trump, who took to the task with obvious satisfaction.
"I feel so good about myself, doing this," Trump said while stroking Drumstick, the large white turkey who was the recipient of one of Trump's pardons on Tuesday. (Wishbone, the other turkey who will be allowed to live out its remaining days at the "Gobbler's Rest" enclosure at Virginia Tech, was pardoned in absentia; every year two turkeys receive the pardon, though only one is granted its reprieve publicly. Both turkeys were guests at the Willard Hotel ahead of the ceremony.)
Trump appeared to revel in the beneficence he was able to bestow upon Drumstick, who, he said before the pardoning, "is going to be very happy." Drumstick, who weighs 36 pounds, could be heard to gobble several times, perhaps in excitement, before the pardoning began.
The annual turkey pardoning is sometimes a slapstick affair—think, for example, of one of the exonerated turkeys pecking George W. Bush in 2001—and Trump's own history with fowl is complicated. During a photo shoot for Time in 2015, Trump found himself beleaguered by an irritable bald eagle who mussed his coiffure and tried to peck him when he reached close to the bird.
But this Trump-poultry interaction went off seamlessly. Was it because Trump asked for consent before touching Drumstick ("Am I allowed to touch it")? Was it because of his complimentary attitude towards Drumstick's impressive girth ("That's a big bird. How heavy is that bird? Thirty-six pounds. That's a big bird.")? Was it because Trump felt on terra firma due to his recent pardoning of Sheriff Joe Arpaio? Trump noted that the roots of the tradition date back to the Harry Truman administration—but that Truman did not grant the bird a pardon. "He was a tough cookie," Trump said. "Today, I'm going to be a much nicer president."
Trump has done much to alter Americans' image of the presidency, and his regard for the pomp and circumstance of the office is low. But the turkey pardon this year was a moment in which everything seemed perfectly, well, normal.
Looming over the affair, though, as is now the reality for this White House, was the ambient threat of Special Counsel Robert Mueller's investigation into Russian meddling in the election, which has inched closer to Trump's inner circle after former campaign chairman Paul Manafort and his deputy Rick Gates were indicted earlier this month. Trump has reportedly asked his lawyers about his options for pardoning aides, family members, and even himself, alluding to these possibilities publicly in a tweet in July.
Trump joked about his pardoning authorities at the turkey ceremony, suggesting that he had explored options for reversing Barack Obama's pardon of last year's turkeys, Tater and Tot, who now live in Virginia.
"As many of you know, I have been very active in overturning a number of executive actions by my predecessor," Trump said. "However, I have been informed by the White House Counsel's Office that Tater and Tot's pardons cannot under any circumstances be revoked. So we're not going to revoke them. So Tater and Tot, you can rest easy."
As the ceremony wound down, at least one member of the press had kept their eye on the larger picture.
"Are you going to pardon any people?" a lone reporter, Steven Nelson from the Washington Examiner, shouted from the back.