Trump's Oddly Quiet November 8
The first anniversary of his election found the president not at a raucous rally—but halfway around the world, tightly scheduled, and scarcely tweeting.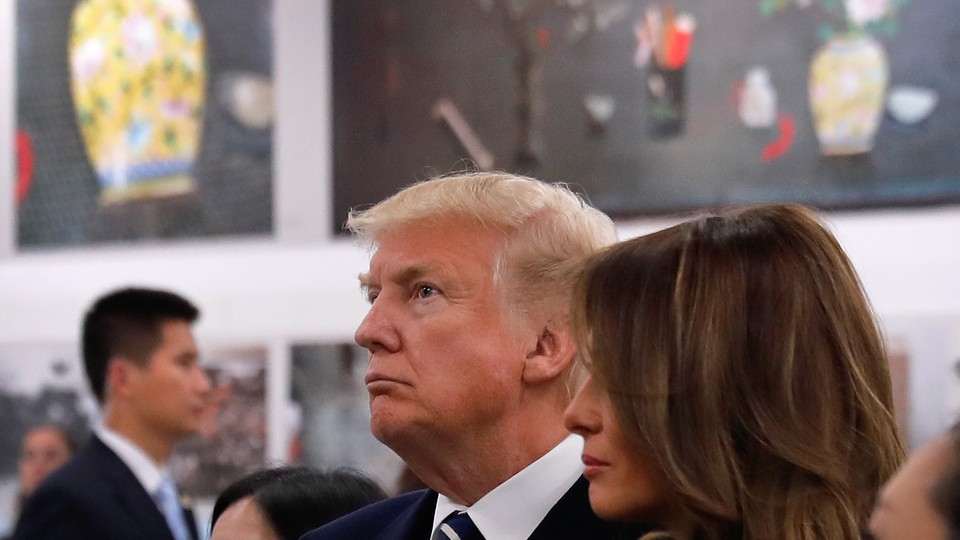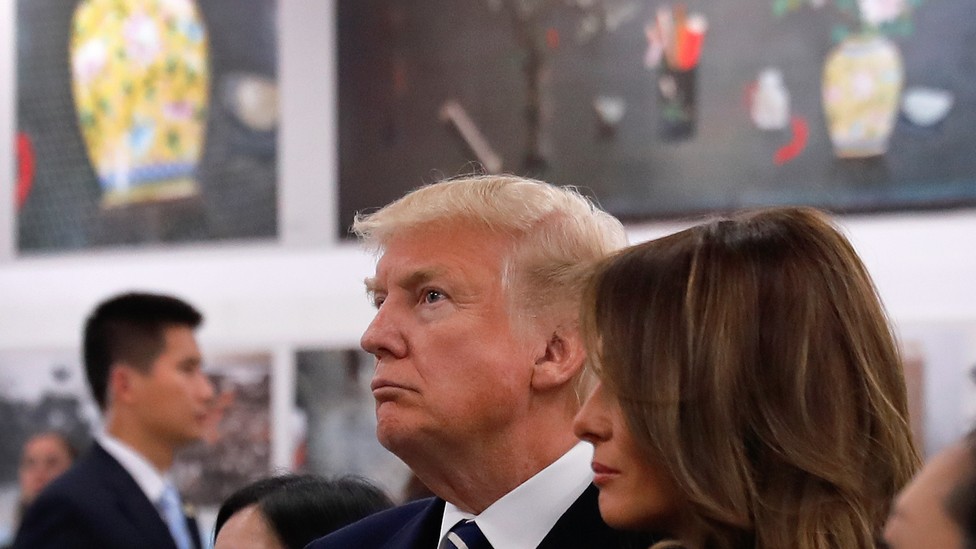 The moment had all the makings of an epic presidential meltdown. It was the eve of Donald Trump's election anniversary, and Republicans were getting pummeled in races across Virginia, New Jersey, and New York. Pundits on TV and Twitter were blaming the party's struggles on Trump's deep unpopularity, and some were predicting a cataclysmic wipeout in next year's midterms.
Under normal circumstances, such a perfect storm of political defeat and perceived disrespect likely would have occasioned a Trumpian tantrum. And, indeed, there were hints of that in a tweet the president wrote (embracing his new 280-character limit) Tuesday night distancing himself from Virginia's vanquished Republican gubernatorial candidate: "Ed Gillespie worked hard but did not embrace me or what I stand for. Don't forget, Republicans won 4 out of 4 House seats, and with the economy doing record numbers, we will continue to win, even bigger than before!"
But beyond that, Trump has held his tongue. It helps that he's 7,000 miles away from Washington.
If there has been one perfectly predictable pattern in the year since Trump was elected, it may be the way his status anxiety always flares up—whether in the form of angry outbursts, or outlandish provocations—when he's approaching a milestone of some kind. It is when moments of recognition or triumph are met with insufficient celebration that this president seems to lash out most bitterly.
As I've written before, this pattern can be traced back to the 2016 campaign season. Trump formally accepted the Republican nomination for president, and then spent the next week fighting with Gold Star parents and grumbling that Hillary Clinton had not adequately congratulated him on his primary victory. He won the election, and then immediately became so defensive about his popular-vote total that he started championing a conspiracy theory about widespread voter fraud.
The pattern continued after Trump arrived in the Oval Office. When he was sworn in, he seethed about the size of the crowd at his inauguration. When he approached his 100th day in office, he vented on Twitter about the unjust reviews he was getting from historians and pundits (while White House aides scrambled to find last-minute "accomplishments" that he could tout).
So it might have been reasonable to expect he'd celebrate the anniversary of his election in the same manner. Imagine a raucous rally somewhere in Michigan or Wisconsin—thousands of red-hatted die-hards cheering along as Trump relives his glorious victory over Hillary Clinton, maybe indulging in a few nostalgic lock-her-up chants, and then launching into a diatribe against unfair reporters, or unjust judges, or unfaithful Republicans in Congress.
But it hasn't happened. This time—whether by a happy accident of scheduling, or an impressive feat of handling by White House aides—the president is spending his one-year milestone in Asia. So far in Trump's young presidency, overseas trips like this one have had a restraining effect on him. He is on a more tightly controlled schedule than usual, with less time to stew between speeches, ceremonial duties, and world-leader meetings. All the travel gives him less access to cable news, and the time difference means he is sleeping through much of the news cycle, unable to set the media agenda for the day with a morning tweetstorm.
That's not to say Trump has been the perfect paragon of presidential decorum in Asia. There have been signs on this trip that he is eager to slip his leash. During a speech to the South Korean National Assembly, he made a strange and gratuitous reference to his election victory ("exactly one year ago today, I celebrate with you") and also took the opportunity to hype his golf course in New Jersey.
But with Trump overseas, America and the many "haters" that reside on its shores have been spared the kind of high-profile spiral into presidential resentment that has become a national tradition in our politics over the past year. Well, almost spared.
On Wednesday afternoon, Trump tweeted a photo of himself posing on Air Force One with a handful of the aides who still remain from his campaign. "Congratulations to all of the 'DEPLORABLES' and the millions of people who gave us a MASSIVE (304-227) Electoral College landslide victory!"
It was 2:17 a.m., Beijing time. But it sounded just like something Trump might have said himself.