The Tragedy of President Trump's Tribalism
Dividing Americans into groups of winners and losers almost always backfires.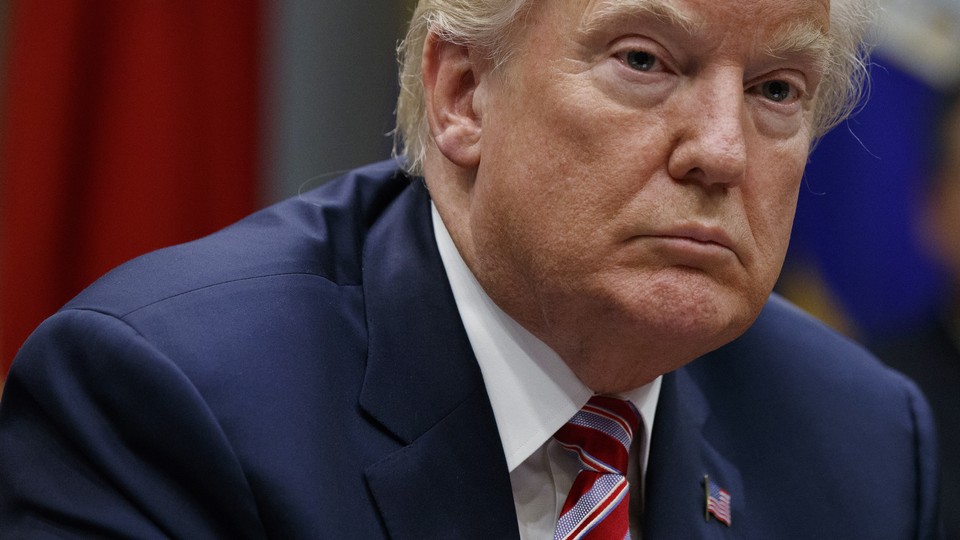 Although in dramatically different ways, Tuesday's terrorist attack in New York and the Republican tax plan scheduled for release Thursday raise the same jagged question: In the Donald Trump era, is it possible for a deeply divided America to sustain any shared interest or common purpose?
The country obviously faced difficult divisions long before this president was elected. But he's operated in a uniquely tribal fashion that has ominously, and even deliberately, widened those divides. In office, he has abandoned any pretense of seeking to represent the entire country. How deep a crevice he digs may turn on how much, if at all, the Republican congressional majorities resist his divisive tendencies.
Since announcing his presidential campaign, Trump has prioritized what I've called the "coalition of restoration": the primarily older, blue-collar, non-urban, and evangelical whites who combine unease about America's demographic and cultural change with anxiety about their place in an evolving economy.
Since January, Trump has repeatedly moved to show his coalition that he will resist the changes they fear. That impulse has been evident in his serial travel bans targeting mostly Muslim countries; his attempt to bar trans soldiers from the military; his forgiving reaction to the white-supremacist violence in Charlottesville, Virginia; and his support for preserving Confederate monuments.
Trump displayed a similar instinct following the New York attack, appealing to fear of the assailant's Muslim background. In a flurry of tweets on Tuesday evening, Trump immediately denounced, as a "Democratic" invention, the "diversity lottery" immigration program that allowed the attacker to live in the United States. Leave aside that George H.W. Bush signed the lottery program into law, or that all Senate Democrats (along with 14 Republicans) supported ending it during the 2013 debate over comprehensive immigration reform. The key is that Trump's reaction betrayed two central components of his political identity: his instinct to view any crisis more as an opportunity to divide than to unite, and how reflexively he portrays immigrants as a threat.
Trump is far from the first Republican tugged toward that dark star. But the party has sent mixed signals about how far it will follow him. On the one hand, this year's attacks from Virginia gubernatorial candidate Ed Gillespie on so-called "sanctuary cities" and the Central American gang MS-13 have set a template for Trump-like anti-immigrant messages that many Republicans are likely to adopt in the midterms. On the other, Trump has struggled to build momentum for a bill to cut legal immigration in half, and he's had trouble unifying congressional Republicans behind his demand for a border wall (which faces majority public opposition).
On immigration, Republicans appear genuinely divided—mostly by geography, partly by ideology—over how closely to join Trump in targeting whites most uneasy about the new arrivals. That hesitance is understandable given that, by 2020, minorities are likely to constitute a majority of all Americans under age 18.
But on taxes, congressional Republicans are placing an equally narrow bet. With Trump's intermittent support, the GOP is advancing a tax plan aimed at a few voters at the pinnacle of the income pyramid. Although the numbers may change somewhat in the new House plan, the most comprehensive nonpartisan analysis of the GOP's original blueprint found that it would shower fully four-fifths of its benefits on the top 1 percent of earners by 2027.
By diverting so much federal revenue to that one group, Republicans are ensuring future conflict with others. That lopsided allocation leaves them offering only small tax cuts to working-class voters, as well as possible tax increases to many upper middle-class families already recoiling from Trump's behavior and cultural agenda. Their plan ensures they will pursue deep cuts in domestic discretionary programs that invest in the productivity of the increasingly diverse future generations—including programs in education and scientific research. It also means they will face growing demands from their fiscal hawks to cut entitlements, which benefit the predominantly white older population whose votes underpin their electoral coalition.
The tragedy of all this tribalism is that Trump is forfeiting the opportunity to build wider consensus around real challenges. Demonizing immigrants instills a bunker mentality—one that only makes it more difficult to devise reasonable means to combat domestic radicalization, or identify the undocumented immigrants who present genuine risks of violence and crime. (It doesn't help that Trump and congressional Republicans further diminish their credibility by sublimating the national interest in combating gun violence to the tribal interest of gun owners who oppose limits on possession.)
The tax bill's economic tribalism is equally myopic. To fund the payroll taxes that will support Social Security and Medicare during their retirement, older white America needs more of diverse younger America to reach the middle class. The best way to ensure the elderly's long-term financial security is to invest in the lives of those future generations who will fund the programs sustaining future retirees. And that requires preserving tax revenue and limiting entitlements in order to free up funds.
No matter the issue, policies that resist tribal separatism and balance the interests of all Americans almost always have the best chance to succeed—and, for that matter, to pay political dividends.