The Shadow Government Working to Save Obamacare From Collapse
With the Trump administration refusing to promote open enrollment for the Affordable Care Act, a cadre of former Obama officials steps in to fill the void—with an assist from the ex-president himself.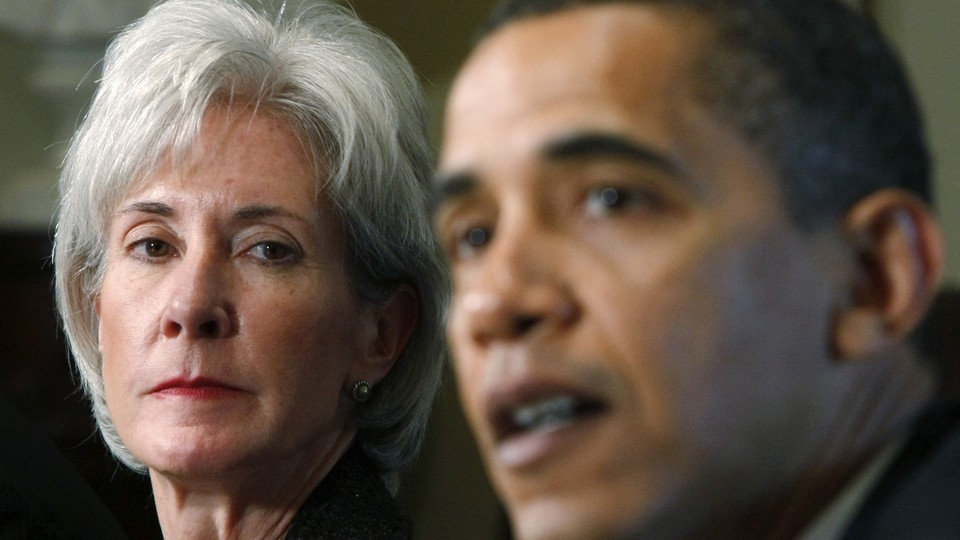 On the first day of open enrollment for insurance coverage under the Affordable Care Act for 2018, senior administration officials did what you'd expect: The president directed Americans to a government website and encouraged them to sign up, the health secretary conducted media interviews to promote the law, and others coordinated outreach with volunteers and nonprofits across the country helping people pick out the right plans.
Only these officials don't actually run the government anymore. They're merely trying to rescue a health-care law the current administration has left for dead.
So instead of Donald Trump, it was Barack Obama using what remains of his bully pulpit to urge people to visit HealthCare.gov on Wednesday. And it was Kathleen Sebelius and other former leaders of the Department of Health and Human Services getting the word out that Obamacare is very much alive and open for business. If there's a shadow government in the U.S. right now, this is it.
"Everybody's doing what they did before. We're just doing it on the other side of the wall," said Lori Lodes, co-founder of Get America Covered, an advocacy group that former Obama administration officials started last month to promote the six-week open-enrollment period that began on Wednesday. Lodes ran outreach for the exchanges as the head of the office of communications for the Centers for Medicare and Medicaid. Her partner in the effort is Joshua Peck, who served as chief marketing officer for HealthCare.gov.
Lodes said she would not describe their group as a shadow government, but she readily concedes they are trying to fill gaps created by the Trump administration, which slashed Obamacare's public outreach budget by 90 percent, chopped the enrollment period in half, and is refusing to run television ads encouraging consumers to sign up for coverage. Democrats see the move as part of a broader campaign to undermine through administrative neglect—or worse—a law that Republicans in Congress have been unable to repeal legislatively. "This is a very systematic effort to shut down the various avenues that have been open to consumers to ask questions, get information, try and access health insurance," Sebelius, who served as HHS secretary from 2009 until 2014, said in a phone interview. "It's really very difficult," she told me, to see the yearlong effort "as anything other than fundamental sabotage."
The primary concern is that the Trump administration's inaction, along with the president's insistence on declaring the law already "dead" and "gone," will depress enrollment so much that the insurance exchanges will collapse under their own weight. Market analysts already expect a significant drop-off from the 12.2 million people who signed up for plans last year, and the former Obama officials want to keep enrollment as stable as possible. "What could happen is more insurance companies leave the market, and the people who stay decide they have to raise rates even higher," Sebelius said.
Insurers and health-care analysts have blamed instability caused by the Trump administration on rising premiums as company exits left many counties in the U.S. nearly bare. For months, the president wavered on whether he'd continue making subsidy payments to insurers under the law before deciding last month to cancel them. Yet because of the law's complex subsidy structure, some consumers may actually pay less because of the decision, but it may not be with their current plan. "Shopping this year is hugely important," Sebelius said.
On Wednesday, there was a stark contrast between the near silence of the Trump administration and the coordinated promotional efforts led by Obama, senior Democratic lawmakers in Congress and the states, and outside advocacy organizations. Aside from a pair of tweets from the official HHS account, there has been little high-level attempt to broadcast the start of open enrollment. Indeed, the only comments Trump made on health care Wednesday was to urge congressional Republicans, as part of their forthcoming tax bill, to repeal the Obamacare mandate requiring individuals to buy insurance at all. During a speech to a conservative group on Wednesday, Acting HHS Secretary Eric Hargan said the administration was "committed to making this year's enrollment as consumer-friendly as possible." But, he added, the administration's ability to do so was limited by the law's "flawed rules."
The Trump administration previously said that unlike its predecessor, it would not set an enrollment target for 2018. "It's important to remember that Obamacare enrollment was in decline before President Trump took office," HHS spokesman Matt Lloyd said in a statement. "The previous administration inflicted heavy damage on the individual market—premiums doubled, insurers dropped out of the individual market in droves, millions of Americans saw their plans canceled because Washington didn't approve of them, and millions more paid billions in fines to avoid the kind of coverage Obamacare dictated. That's not evidence of a healthy, competitive market nor one that is best serving individuals and families."
The advocates trying to counteract Trump are enlisting celebrities like Alyssa Milano and Bradley Whitford, the former "West Wing" star, in a promotional and fundraising campaign. The goal, Lodes said, is not only to bolster open enrollment now but to raise upwards of $5 million for a national TV ad buy during the crucial final weeks in December, when most sign-ups occur. And the key to that effort may be Obama himself, who recorded a minute-long video with a message he delivered annually as president. "Spread the word to make sure everybody knows that it's time to get covered at HealthCare.gov," Obama said in a video recorded in Chicago, with Lake Michigan as a backdrop. "Because this country works best when we look out for one another."
The former president has tread carefully in public during his first year out of office, speaking out on issues like health care and immigration only on occasion, and without directly criticizing his successor. "President Obama was happy to lend his time and his voice to this year's enrollment efforts—now, as a private citizen," Obama spokesman Katie Hill said. "His name may be on it, but the ACA is not about President Obama: It is about the millions of Americans who gained the security and peace of mind of health insurance—and the millions more who are benefiting from upgrades like free preventive care, such as mammograms and vaccines, and improvements in the quality of care in hospitals that averted nearly 100,000 deaths."
Whether Obama will make further appearances promoting enrollment in his namesake law is unclear. He remains sensitive to the desire of his critics to use him as a foil in the battle over the ACA, according to people familiar with his thinking, which is one reason why he generally kept a low profile during the congressional repeal debate. Nor does he want to be seen as a shadow president or a leader of the resistance. Lodes said that if Get America Covered does raise enough money to run television ads, it's likely the commercials will feature "real people" talking about their experience getting health coverage as opposed to the former president.
Democrats, however, may be in a no-win situation when it comes to open enrollment. If the outside advocacy campaign fails to prevent a significant drop in sign-ups, Trump will seize on the figures to claim the law has collapsed. On the other hand, a successful effort might raise the question of whether government-funded outreach was necessary in the first place and discourage the Trump administration from restoring its cuts in future years. "No, no," Lodes told me when I brought up this possibility. "The government has a job to do. There is no way that is going to make up for what the administration refuses to do."
Yet the next six weeks will set up an interesting test: For years, Democrats insisted that the Affordable Care Act was not the government-run health system that Republicans so often claimed it was. Now, as the Trump administration steps back from fully carrying out a law on the books, they're getting a chance to prove it.