The Phantom Czar
Having Kellyanne Conway, a pollster, take point on the fight against opioids reveals a great deal about the seriousness of the White House's effort.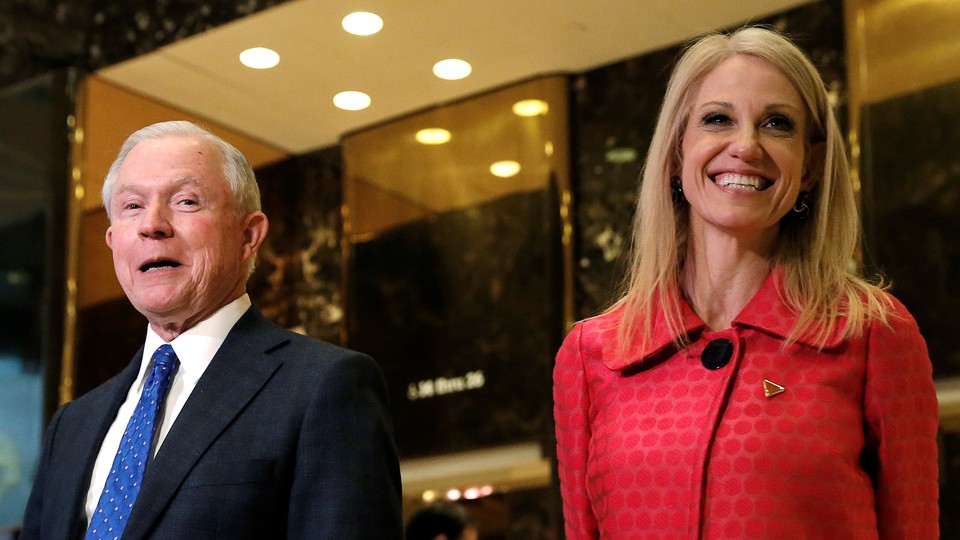 On Wednesday, Attorney General Jeff Sessions announced the Trump administration's latest actions to combat the surge of deaths from opioid addiction.
They did not add up to big news. An additional $12 million in grants to local law enforcement. An internal restructuring of the Drug Enforcement Agency. An order to the 93 U.S. attorneys to designate one staff member as their office's opioid coordinator.
The script for the otherwise ho-hum event contained praise for President Trump's leadership and a thank-you to the senior-most White House aide in attendance. "I want to thank Kellyanne Conway for being here today. The president has made this a top priority for his administration—including every senior official and cabinet member—as her presence here today can attest."
No news there either. Until Sessions decided to insert an apparently on-the-spot improvisation of his own. Trump, Sessions said off-the-cuff, had detailed Conway "to coordinate and lead the [anti-opioid] effort from the White House."
Those words did make news. "Trump's Counselor Kellyanne Conway is now Leading His Opioids Strategy," headlined Buzzfeed at 5:19 p.m. Other media sources quickly followed: "Conway will oversee opioid epidemic response, Sessions said," wrote Axios. "Kellyanne Conway is now America's Opioid Czar," announced New York.  "Kellyanne Conway chosen as Trump's 'opioids czar," blared the The Washington Examiner.  "Three Things We Know About How Kellyanne Conway Will Handle Being Opioid Czar," offered Quartz.
The Washington Post, more cautiously, omitted Conway from its headline about the event, but did write in the body of the story: "Kellyanne Conway, one of President Trump's top advisers, has been tasked with overseeing White House initiatives to combat opioid abuse, Sessions said. She attended the announcement Wednesday, standing off to the side."
On Thursday, The Daily Caller reported that Conway had told them there is no czar, and that Sessions had been referring to her informal role as the White House's point person on the crisis.
It would not be a crazy thing for the White House to task an official to coordinate work on the opioid crisis. The tragic surge of fatalities raises issues that cross departmental lines: law enforcement, mental health, Medicaid administration, prescription-drug regulation, and international relations. The harrowing problem also requires close cooperation between the federal government and the states.
Complex portfolios like that have been managed by special offices within the Executive Office of the President since the 1930s. The people who head these offices have been nicknamed "czars" since the early 1970s, when President Nixon tasked former Colorado Governor John Love to run the White House office on energy policy. Under Presidents Nixon, Ford, Carter, Reagan, Bush, Clinton, and Bush, there have been also been "drug czars," "inflation czars," and "AIDS czars" among many, many others.
In the past, these czars have been selected for one of two principal reasons: outstanding knowledge of the underlying policy issues or shrewd understanding of the bureaucratic processes of government. President Obama's first cybersecurity coordinator, Howard Schmidt, had worked for 40 years in the field of information security. He had previously served as chief of information security at Microsoft. He chaired the critical infrastructure protection board for President George W. Bush. Nixon's drug czar, Daniel Patrick Moynihan, may have lacked such specialized understanding of narcotics enforcement—but no student of government has ever better understood how bureaucracies function or fail to function.
Kellyanne Conway is neither of those things, obviously enough. A pollster before she joined the Trump campaign, she has emerged there as its most brazen and shameless cable-TV talker.
It's very difficult to imagine what relevant assets Conway could bring to the opioid czar job, even if it existed.
Despite Glenn Beck's ominous warnings back in the Obama days, when he darkly depicted Obama's "czars" as lawless all-powerful gauleiters, what matters is the office, not the head. No czarship, no czar.
There is no opioid office within the White House for Conway to head. There is an Office of National Drug Control Policy. Trump has not appointed a director. His first nominee, former Representative Tom Marino, withdrew on October 27 after The Washington Post and 60 Minutes publicized his long career in Congress of working to cripple DEA enforcement against narcotics distributors. The office remains headless all these weeks later, despite Trump's language of "national emergency."
The Trump administration has no opioid policy, beyond just continuing to arrest people who violate the (lax) existing drug laws. Throughout, Trump has treated the opioid tragedy as a messaging challenge, not a real-world disaster that calls for a real-world response: pretend to care while doing nothing, because the administration lacks the competence and capacity to do something. The idea that it would seek to appoint as head of the Office of National Drug Control the single member of the House of Representatives who did most to worsen the opioid crisis had a beautiful fitness to it.
So maybe after all Kellyanne Conway would be the right person for the "opioid czar" job. Trump's concern for opioids is a cruelly deceptive fiction. And who propagates cruelly deceptive fictions more persistently and brazenly than Conway?