Trump Plays Musical Chairs in the Cabinet Room
In reportedly replacing Secretary of State Rex Tillerson with CIA Director Mike Pompeo, the president once again opts to move around aides rather than bring in fresh blood—or address underlying problems.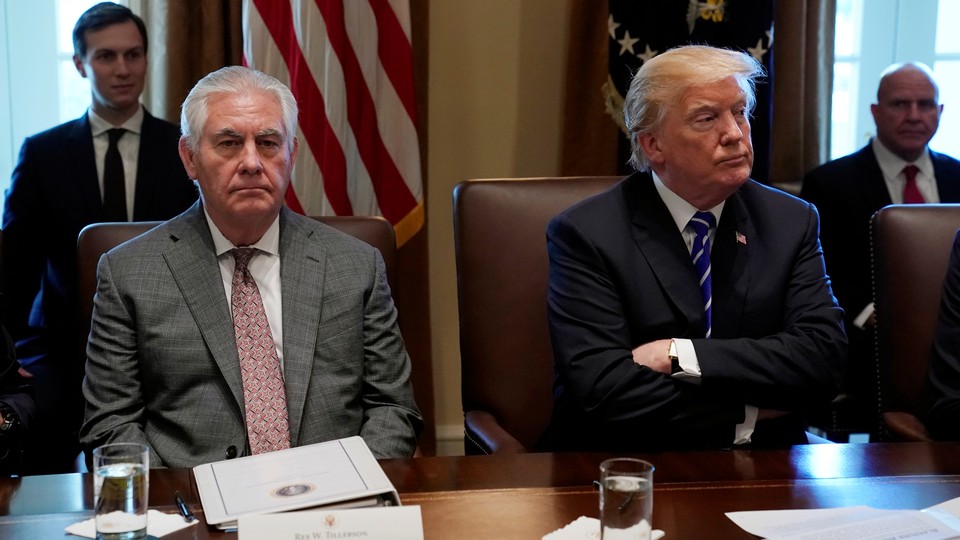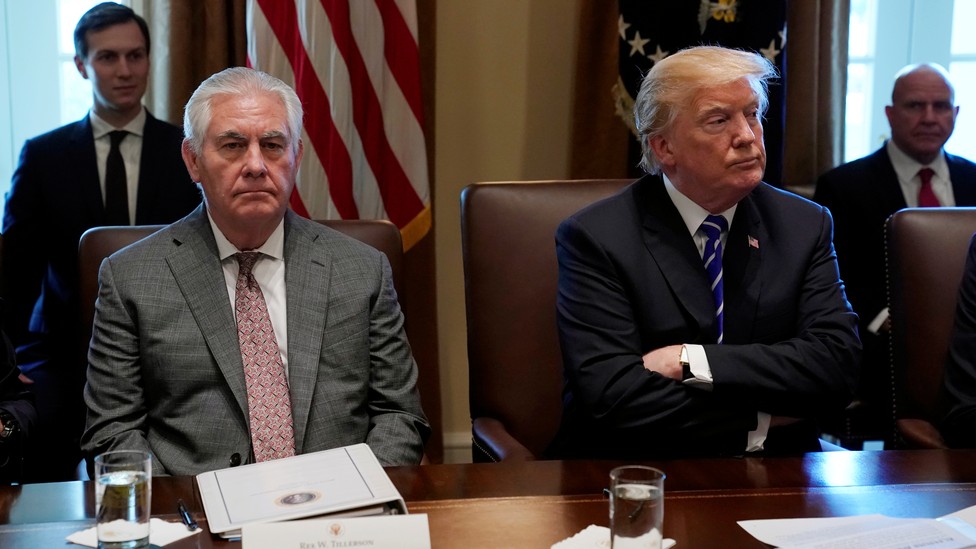 Rexmate! The king is dead—or at least out of a job.
That's according to The New York Times, which says President Trump has decided to remove Secretary of State Rex Tillerson and replace him with CIA Director Mike Pompeo. The timing of the move is newsworthy, but Tillerson's demise has long been expected, given repeated conflicts between Trump and Tillerson, a loss of faith in the secretary within the halls of the State Department, and Tillerson's evident dissatisfaction with the job, including reportedly calling the president a "moron."
The Times reports that Senator Tom Cotton, an Arkansas Republican, is the frontrunner to replace Pompeo.
Assuming the report proves true, it will bring an end to Tillerson's short, tumultuous, and largely ineffective term, which followed a long and successful career at ExxonMobil. Tillerson was not part of Trump's campaign team, and never appeared to have an ideology similar to the president's, but as Jason Zengerle noted in October, Trump was impressed by Tillerson's mien and asked him to take the secretary job at their first meeting in December. But Tillerson's term proved a disaster, beset by problems both internal and external.
On the foreign stage, his instincts quickly came into conflict with the president's. Trump is a brash, impulsive player with little regard for history or fact, while Tillerson is a cautious and process-oriented manager. Trump repeatedly undercut the secretary, on issue after issue. He allowed other members of the administration to contradict Tillerson on dealing with Syria. He dismissed Russian interference in the election, despite Tillerson's affirmations of it. In a diplomatic standoff between Qatar and Gulf states led by Saudi Arabia, Trump publicly undercut Tillerson's Qatar-friendly stand. When it emerged that the State Department was speaking to North Korea through a back channel, Trump condescendingly slapped Tillerson down in a tweet:
I told Rex Tillerson, our wonderful Secretary of State, that he is wasting his time trying to negotiate with Little Rocket Man...

— Donald J. Trump (@realDonaldTrump) October 1, 2017
The constant interference and Trump's tendency to create international crises on a weekly basis wore on Tillerson, who multiple outlets confirmed called Trump a "moron" at a meeting over the summer. When the comment was publicly revealed in October, Tillerson refused to confirm or deny it, but insisted things were going well. In fact, the reverse is true. Tillerson will leave Foggy Bottom without a single diplomatic achievement, which means Trump has none either.
Meanwhile, Tillerson was busy losing the confidence of his troops. He'd been greeted with optimism—diplomats hoped that after two high-flying, ambitious secretaries (Hillary Clinton and John Kerry), Tillerson's managerial talent could bring needed reform. They were quickly disappointed. He was chilly and distant from State Department staff, pushed out several top career diplomats, and failed to defend the department against budget cuts pushed by the White House. He also pursued a drastic reorganization, bringing in outside consultants, and inside expertise bled out. As early as March, my colleague Julia Ioffe was describing a deserted and demoralized State Department. This week, two decorated career diplomats, Nicholas Burns and Ryan Crocker warned in an op-ed that the Trump administration threatens "to dismantle a great foreign service just when we need it most."
Still, Trump was slow to push Tillerson out, preferring to undercut him at every turn. In part, that is Trump's style—he seldom actually fires anyone—and in part it reflects that, as an aide told Zengerle, "Losing a chief of staff in the first year is a big deal, but losing a secretary of state is an even bigger one."
If Trump does choose Pompeo to replace him, it would reflect the president's preference for shuffling aides around. He replaced Chief of Staff Reince Priebus with Homeland Security Secretary John Kelly; shuffled Dina Powell to the National Security Council; made longtime aide Hope Hicks communications director; and appointed Mick Mulvaney, the head of the Office of Management and Budget to head the Consumer Financial Protection Bureau on a interim basis.
There are several reasons for this. In Pompeo's case, it's much easier to get the Senate to confirm someone to a post if they've already been confirmed to another one. It doesn't require finding new people, nor does it require vetting them, which has been a consistent problem for this White House. It reflects Trump's deep-seated dislike of novelty. Moreover, it avoids a recruiting problem: So many qualified candidates for the secretary job have either been disqualified by past criticism of Trump or don't want to work with him. Given the chaos of the administration, the president's treatment of Tillerson and other Cabinet members, and the looming Russia investigation, it's much easier to rearrange the deck chairs than to ask someone else to leap aboard a listing ship.
Pompeo, an Army veteran and former U.S. representative from Kansas, has reportedly impressed Trump during his brief time in Langley. But promoting him to Foggy Bottom will require finding a new CIA director. The Times says Tom Cotton is the top choice. Cotton, also an Army veteran and neoconservative, has been an unlikely but staunch ally to the White House, and as a senator would likely sail through the confirmation process. The White House could also safely rely on his seat being filled by a fellow Republican.
Still, a Cotton nomination might be a curious move for Cotton himself. The Arkansan is young and ambitious, with presumed designs on a White House run someday, and he's been in the Senate for less than three years. Leaving so soon would appear to be a diversion from his path, although one former CIA director—George H.W. Bush—later became president.
Finally removing Tillerson should eliminate some friction from the administration; clearly, neither man is happy working with the other. But it creates a need for two new Senate confirmations at a time when the chamber is already booked up with tax reform and a looming funding crisis. Moreover, while Trump may have more natural chemistry with Pompeo, the biggest problem in American foreign policy today isn't the nation's top diplomat but a president who doesn't think before he speaks and has a penchant for feuding even with America's closest allies. Replacing the secretary of state just means giving that headache to someone new.