The Ignorance of Mocking Mormonism
It's precisely the beliefs of Latter-day Saints that critics dismiss as strange which produce the behaviors those same critics often applaud.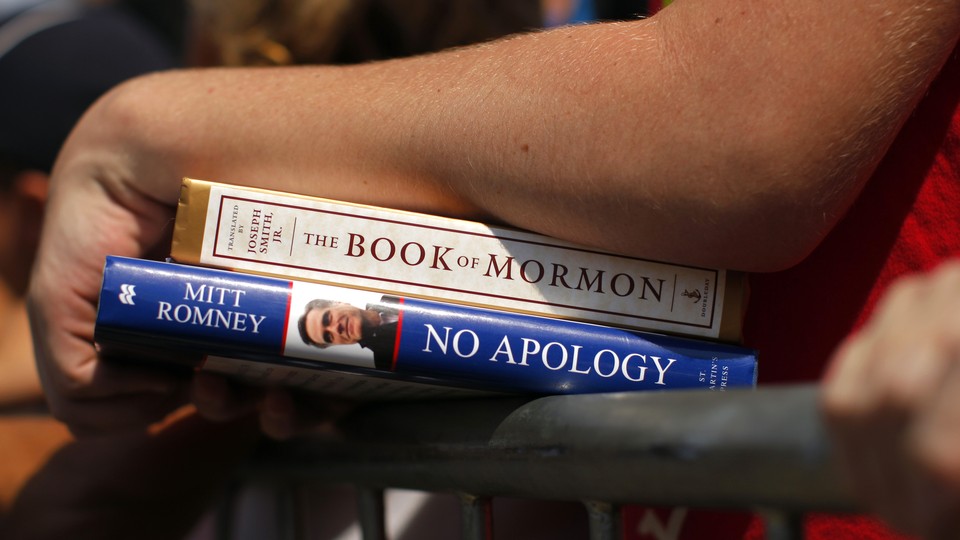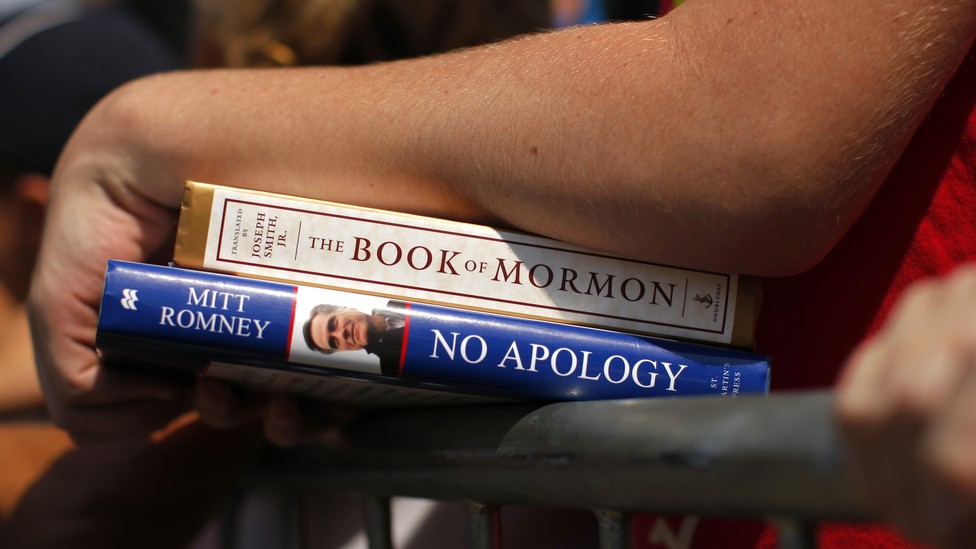 "What the Mormons do, seems to be excellent," according to Charles Dickens's 19th-century journal Household Words, "what they say, is mostly nonsense."
Since the days of Dickens, Mormons have been occasionally portrayed as virtuous despite their "strange" beliefs. Yet, those who study Mormonism closely often come to appreciate that distinct Latter-day Saint behavior is strongly tethered to distinct Latter-day Saint theology.
Writing in The Atlantic this week, Kurt Andersen praises members of the Church of Jesus Christ of Latter-day Saints or Mormons for their "sincere commitment to leading virtuous lives" while simultaneously snickering at their "extreme and strange" beliefs.
There is, of course, a long and rather ignoble tradition of simultaneously praising and mocking Mormons. In the throes of World War II, President Franklin Roosevelt sent off a friendly missive to Winston Churchill and his wife. Roosevelt noted his "very high opinion of the Mormons" while also taking the opportunity to poke fun at Mormon polygamy, which had officially ended in 1890.
FDR's ribbing was playful, but Missouri's extermination order against Mormons in the mid-19th century was not. Nor was the federal confiscation of LDS Church property or the proposed immigration ban against Latter-day Saints in the late-19th century.
Religious minorities can be prone to taking offense too easily. And a persecution complex helps no one. But neither does trading in casual Mormon mockery. "You'd be surprised," Harvard Law School's Noah Feldman once observed, "by how many people pride themselves on having no prejudices at all but preserve a little place in their heart for this kind of soft anti-Mormon prejudice."
Even after Governor Mitt Romney's bid for the presidency brought immense media attention to the LDS Church, the Pew Research Center found that barely half of Americans understand that Mormonism is a "Christian faith."
And while 7 or 8 percent of Americans say they wouldn't vote for an otherwise qualified black, Hispanic, or female presidential candidate, fully 18 percent of Americans still say "they would not vote for a well-qualified presidential candidate who happens to be a Mormon." The figure is "virtually the same as the 17 percent who held this attitude in 1967." Mormons today would evidently fare better than, say, an atheist or Muslim candidate, but the remarkably persistent numbers since 1967 are telling.
Latent anti-Mormon bias may seem harmless enough—after all, Mormons are reluctant to call others out on it. (Instead of picketing The Book of Mormon musical, for example, the Mormon Church bought advertisements in Broadway playbills that say things like, "You've seen the show, now read the book.")
The liberal television personality Lawrence O'Donnell even admitted, after an on-air rant about Mormon founder Joseph Smith, that he wasn't worried about any negative consequences since "Mormons are the nicest people in the world. … They'll never take a shot at me."
There are, meanwhile, consequences for Mormons.
A federal judge told me recently of an Ivy League law professor who sent him a letter of recommendation for a Mormon student, observing that in general Mormons are solid workers but tend to lack "intellectual imagination." The professor did not know that the judge on the receiving end was himself a Mormon. The same professor sent a similar letter sometime later on behalf of a different Latter-day Saint student. The letter again contained the same caution about the Latter-day Saint's lack of "intellectual imagination."
A separate Ivy League student—now a tenured professor at a prestigious university—similarly recalled the shock on one of his professor's faces when the professor discovered that this student was a Mormon. The noted scholar remarked that he didn't think Latter-day Saints took "ideas seriously."
Criticism about another's beliefs is hard to separate from judgments about a person's worth or intellectual capacities. But, ironically, it is often the very beliefs that Andersen and others criticize that have produced the pro-social Mormon behaviors so often praised. As The Atlantic's McKay Coppins observed in partial reaction to Andersen's piece, "I'm not so sure those 'ridiculous supernatural beliefs' can be so easily separated from the values/principles/'righteousness' showcased in Mormon life."
This isn't to suggest that beliefs or truth claims are off-limits from scrutiny or rigorous debate. Rather, it means that the link between behavior and belief should prompt greater engagement with actual religious teachings, instead of straw man caricatures. It means trying to understand why a belief that seems implausible on its face is believed and lived by otherwise rational individuals. It means seeking to understand what it is about that given belief that tends to produce virtuous behavioral outcomes.
The late-Catholic theologian Stephen Webb observed that "mocking Mormonism is one of the last frontiers of verbal lawlessness to be untouched by the vigilante powers of political correctness."
He asks: "What other group is ridiculed equally by Christians and secularists—and not just any kind of Christian or secularist but the most fervent and hard core?"
Andersen, for his part, seems to have genuinely meant to applaud Mormon politicians like Senator Jeff Flake, Evan McMullin, and Mitt Romney for being among the first Republicans to condemn Alabama politician Roy Moore after allegations surfaced this past week that the would-be septuagenarian U.S. senator lecherously pursued teenage girls while in his early 30s.
But lest Andersen be perceived as overly soft on the Saints, he made sure to take a passing shot at what he calls Mormonism's "sci-fi" heaven with its promise of a "personal planetary fiefdom." Setting aside the questionable characterization of LDS doctrine (as a life-long Latter-day Saint I've never once been taught in a church meeting that heaven involves a "planetary fiefdom") it may well be true that imitation is the sincerest form of flattery, but mockery is almost certainly America's most consistent form of initiation. The Catholics got The Sound of Music; the Jews got Fiddler on the Roof, and, well, the Mormons got South Park on stage.
Not unlike The Book of Mormon musical, Andersen's musings aim to initiate rather than alienate, to praise rather than punish. But what Andersen fails to appreciate is that it's precisely the pro-social beliefs of Mormons—the eternal nature of families, obligations to the poor and oppressed, accountability to God, the importance of clean living, and the value of self-reliance and personal agency—that result in specific shared behaviors and actions by the likes of Flake and Romney.
The British public intellectual Alain de Botton's book Religion for Atheists: A Non-Believer's Guide to the Uses of Religion similarly seeks to appreciate the good of religion without accepting what he believes are unpalatable theological claims. But as Rabbi Lord Jonathan Sacks eloquently observed in a conversation with de Botton: "Matters of the spirit live on the basis of obligation or ... [divine] command. Unless you hear a command [or] an obligation that comes from beyond you … you will not be able to generate sustainable [behavior]." For the religious, behavior is an extension of belief, of divine command—it's a system of obligations rooted in metaphysical truth claims about the world and universe.
As much as South Park or Andersen desire to decouple behavior from belief, the reality is that, in the words of the columnist David Brooks, "Vague, uplifting, nondoctrinal religiosity doesn't actually last. The religions that grow, succor and motivate people to perform heroic acts of service are usually theologically rigorous, arduous in practice, and definite in their convictions about what is True and False."
If Andersen honestly wants more politicians like Flake and Romney, it might help to be a bit less dismissive of religious belief, and a bit more curious in understanding why it seems to work.