'The High Holy Day of MAGA'
On the first anniversary of the election, Steve Bannon—unchastened by Tuesday's results—preached the Gospel of Trump to an approving Michigan crowd.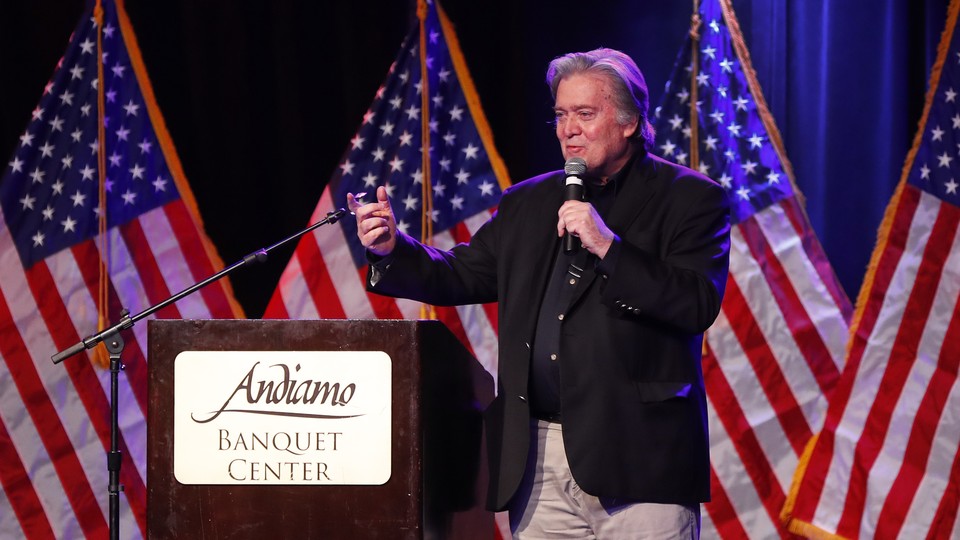 WARREN, Mich.—Macomb County is the kind of place that has become a familiar totem of our current politics: a blue-leaning county in middle America that flipped from Barack Obama in 2012 to Trump in 2016.
It's the kind of place that Republicans had in past years written off, and which holds special symbolic value for people like ex-White House chief strategist and campaign CEO Steve Bannon, who gave a speech at a local Republican Party dinner here on the anniversary of the election. Or, in Bannon's words, "the first anniversary of the high holy day of MAGA."
But the speech came at an awkward time for Bannon and the movement he spearheads, a day after Democrats won a large number of state-level elections. One year in, Trumpism is at a crossroads. Virginia's gubernatorial election was a particularly ominous sign for the GOP. Ed Gillespie, a former lobbyist and Republican National Committee chair, lost decisively to his Democratic opponent after almost-but-not-quite reinventing himself as a Trumpist candidate. That followed a surprisingly narrow win over his primary opponent Corey Stewart, a dyed-in-the-wool Trumpist whose most notable accomplishment last year as Trump's Virginia chairman was being fired after organizing a protest of the RNC. Gillespie never figured out what kind of candidate he really was. In an era in which all Republican candidates are to some extent defined by Trump, he fell flat with Virginia voters.
Bannon had been bullish on a Gillespie win and had even offered to campaign for him—a suggestion that Gillespie rejected. (Gillespie also kept distance from Trump himself, who accused him after the fact of "not embracing me or what I stand for.") Bannon told The New York Times earlier this week that Gillespie had "rallied around the Trump agenda."
"Trumpism without Trump can show the way forward," Bannon said.
Bannon and his fellow travelers have cast Gillespie's loss not as an indication that Trump is toxic, but as a cautionary tale about what happens when you don't hug Trump tightly enough. They have pointed out that Gillespie wasn't their first choice to begin with.
"I think it's really fucking hilarious that the McConnell people are running around trying to pin this on us when it was their candidate in the primaries," said one Bannon ally. "It's true that towards the end we tried putting lipstick on a pig, but that's always a difficult thing to do."
Stewart, who is planning to run for Senate in 2018, told me Gillespie's defeat shows "how important it is to support the president and have a strong message, and not do what Ed Gillespie did which is basically to have no message. He ran away from the president and the Republican base stayed home because of it."
Stewart pointed out that Jill Vogel, the Republican candidate for lieutenant governor whom Bannon praised as a "fire-breathing populist", outperformed Gillespie (though she still lost). The Bannon ally said Vogel had met weeks ago with Bannon and his team and had told them that she was concerned Gillespie would drag down her numbers.
Bannon's attitude toward Gillespie shifted quickly after Tuesday. Breitbart called Gillespie a "swamp creature" and Bannon briefly addressed the Virginia result during his Michigan speech after about 20 minutes of play-by-play reminisces of the 2016 election. He portrayed the loss as an unfortunate but not surprising defeat of an establishment squish in an increasingly liberal state.
Calling Gillespie a "good man" but "more of an establishment guy" than Stewart, Bannon said "Virginia is a blue state now. One of the things that the Gillespie campaign shows is that you can't fake the Trump agenda. You have to go all in." Bannon said he hadn't been comfortable with how much time Trump spent campaigning in Virginia, which he lost to Hillary Clinton by five points.
But Republicans outside Bannon-world think Tuesday's results may herald a wider backlash at the ballot box against the party's embrace of Trump, particularly in suburban areas. An energized Democratic base came out in droves to vote in Virginia, a sign of the opposition's commitment to its cause and its level of energy heading into 2018.
"That suburban vote is scary," the Republican pollster and data analyst Chris Wilson, who worked on Ted Cruz's presidential campaign, said in an email. "If it were just VA, we could put it down to federal workers and contractors, but it happened in PA and elsewhere too.  If you're a GOP incumbent in a heavily suburban, college-educated district, I think you're worried today and rightfully so."
And the tide swept over down-ballot races as well.
"Usually I think the pundits and some in the media overreach by trying to draw huge national conclusions from an individual race," the Republican consultant Terry Sullivan, Marco Rubio's former campaign manager, told me. "But what happened in Virginia on Tuesday wasn't just one race it was across the ballot. The huge Democrat gains in the House of Delegates are a much better indicator of the prevailing political winds, than the top of the ticket. The losses for down-ballot Republicans are going to be more indicative of voting by party versus for an individual candidate as they are less well known."
"You could debate what is causing the headwind for Republicans but you can't debate that there is one," Sullivan said.
Though Trump's core supporters have shown they will stick with him no matter what he does or doesn't do, he is broadly unpopular, with his national approval ratings hovering in the 30s for much of his presidency so far (and lately hitting new lows). But he was unpopular during the campaign, too, and still won, by turning out votes in places like Macomb County where Democrats didn't see a threat.
Many from the Trump campaign and the White House have become more famous than your average political hack, but none more so than Bannon. Bannon travels in a celebrity-like bubble, arriving at the venue in Warren in a convoy of SUVs accompanied by an entourage of employees and surrounded by security guards. He had spent most of the day holding meetings in a nearby Holiday Inn. Bannon and his crew went into a small room with fresco-style murals on the wall off the main event floor at Andiamo, an Italian restaurant and venue in Warren, where he took photos with attendees of the VIP reception and wrote down notes for his speech. His signature Orvis waxed jacket was handed off to Breitbart London editor Raheem Kassam, who then passed it on to Andy Surabian, Bannon's political adviser.
After rarely speaking publicly in the White House, Bannon has warmed to the spotlight in recent weeks, giving a series of speeches all over the country—in Alabama for Roy Moore, at the California Republican Party convention, and in a session about Qatar at the Hudson Institute. Bannon has developed what is essentially a stump speech aimed at promoting his intra-party insurgency against Mitch McConnell and the establishment; he is positioning himself as a kingmaker in the 2018 cycle, giving his blessing and funding from his Mercer-backed political network to insurgent candidates trying to unseat Republican incumbents. He is appearing at a dinner in New Hampshire on Thursday and at the Citadel in South Carolina on Friday, as well as at the Zionist Organization of America dinner on Sunday in New York. He has begun to do more television, as well, though so far mostly confined to Sean Hannity's Fox News show, and is making frequent appearances on Breitbart's satellite radio show.
Bannon exhorted those in the crowd to not wallow in reminiscing over Trump's victory—notwithstanding a nostalgic "lock her up" chant that broke out in the audience at one point—and to keep their eye on the ball: "2018 is fast approaching, and I mean like today," he said, warning that there would be "some dark days in front of us, some defeats in front of us."
Lessons from the defeat on Tuesday only go so far. Not every state is Virginia, and next year's Senate races are mostly taking place in states that are more amenable to the president.
"Trump won Michigan; he didn't win Virginia, so it's different," said Michigan Attorney General Bill Schuette, who is the establishment favorite in the state's gubernatorial election in 2018. Schuette met with Bannon on Wednesday. "We're gonna win Michigan in 2018 as well." Many in the crowd wore pins for Schuette's primary opponent Patrick Colbeck, a conservative state senator.
"My campaign's about bridges to all segments of the Republican Party, and I said very forthrightly I'm thrilled to have the endorsement and support of President Trump," he said.