Trump's Odd Feud With LaVar Ball
In demanding fulsome personal praise for helping get three UCLA basketball players out of jail, the president again conflates his personal role and his duties as president.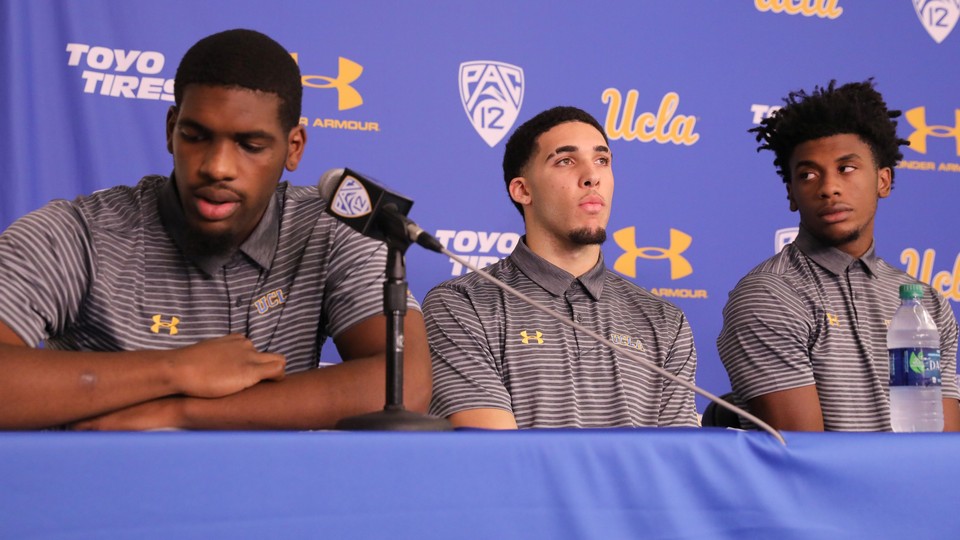 On one side is a divisive, hot-tempered patriarch with three prominent children; he's gotten where he is in large part thanks to winning a genetic lottery. A consummate salesman, verging toward snake-oil levels, he sells products at a markup thanks to the name they bear. After years of ups and downs, the last 18 months have seen him finally reach the pinnacle of success, along with a generous dollop of hatred.
On the other is LaVar Ball.
From the moment that LiAngelo Ball—UCLA basketball player, son of LaVar, and brother of NBA rookie Lonzo—was arrested in China for shoplifting from a Louis Vuitton store in Hangzhou, a collision between LaVar Ball and Donald Trump, two of the most outrageous, larger-than-life, and controversial figures in the contemporary United States, neither of whom can ever just let anything go, seemed inevitable. Now it's erupting just in time for Thanksgiving break, ensuring that neither sports nor politics is safe family-conversation material, and again showing how Trump conflates himself and the American state.
With Trump visiting China at the same time, he procured the release of the three UCLA basketball players who had been detained for shoplifting, including Ball. He then promptly demanded a public display of gratitude:
They did thank the president. Then he called for more thanks:
That was enough for LaVar Ball.
When ESPN asked him Friday about Trump's role, he replied, "Who? What was he over there for? Don't tell me nothing. Everybody wants to make it seem like he helped me out."
Sunday evening, the president took advantage of his newly bestowed 280-character limit for a riposte:
That's a lot to unpack.
First, it's another classic example of Trump picking a fight with black athletes or public figures. As with his occasional battles with NFL and NBA players, the president has evidently calculated that attacking prominent black figures is good for buttressing support with his base. (Indeed, Monday morning he also jabbed at Raiders running back Marshawn Lynch; you would think their shared hatred of press conferences would bring the two men together.)
Second, there's something strange about the idea that five to 10 years is an appropriate punishment for shoplifting.
Finally, there's Trump's overall handling of the matter, which demonstrates once again the ways in which he conflates his own role as the American head of state with the government itself, personalizing all presidential actions in an unusual way.
Though his tweet demanding it was gauche, Trump was not wrong to want thanks for helping get the men free. By all accounts they made a serious error of judgment, and should be thankful for being released without further consequences. But let's not overstate the effort involved. New York Times managing editor Joe Kahn, a former longtime China correspondent, pointed out that the government was probably eager to ship the men out:
Moreover, freeing Americans locked up overseas—both those who are wrongly imprisoned and those who have done something stupid—is a basic function of the American government. Sometimes that just means an ambassador making a phone call; sometimes it means sending Bill Clinton or even Dennis Rodman as an envoy.
Ari Fleischer, the former George W. Bush White House spokesman, argued Trump was being arch in his comments.
"This tweet is a perfect example of Trump critics taking him literally but not seriously," Fleischer tweeted. "LaVar Ball was ungrateful to the man who saved his son from Chinese prison. Did Trump really mean he'd leave them in prison? I doubt it. Was LaVar ungrateful? Yes."
Fleischer is almost certainly right that Trump wouldn't have left the men in jail. His neediness for praise is notable in its own right, though. He insists that he be personally and lavishly thanked for carrying out his responsibilities as president.
Time and again, Trump has blurred the lines between his own personage and his duty as president. This was made manifest in the firing of James Comey. In sworn testimony, Comey said Trump requested loyalty to himself, a demand that made the then-FBI director uncomfortable. After Comey's firing, Kellyanne Conway said the president "expects people who are serving in his administration to be loyal to the country and to be loyal to the administration." My colleague Peter Beinart added, "He sees no distinction between the two."
When Puerto Ricans complained about slow and inadequate response to Hurricane Maria, Trump took any criticism of the federal government as an attack on him, personally. When pressed about the lack of appointments to upper-mid-level executive branch jobs, Trump responded that "the one that matters is me. I'm the only one that matters, because when it comes to it, that's what the policy is going to be."
He's doing the same thing with the basketball players. Even discounting for bluster, it's strange for the president to be joking about leaving Americans in overseas jails, and strange for him to seem so personally invested in the case. Even worse, since neither Trump nor LaVar Ball habitually pass up opportunities to grab headlines, the nation is probably in for several more days or weeks of this.