The Failure of New York's Bail Law
The state has "one of the best and most impressive bail statutes in the entire country." Trouble is, in the most populous city, the courts don't actually follow it.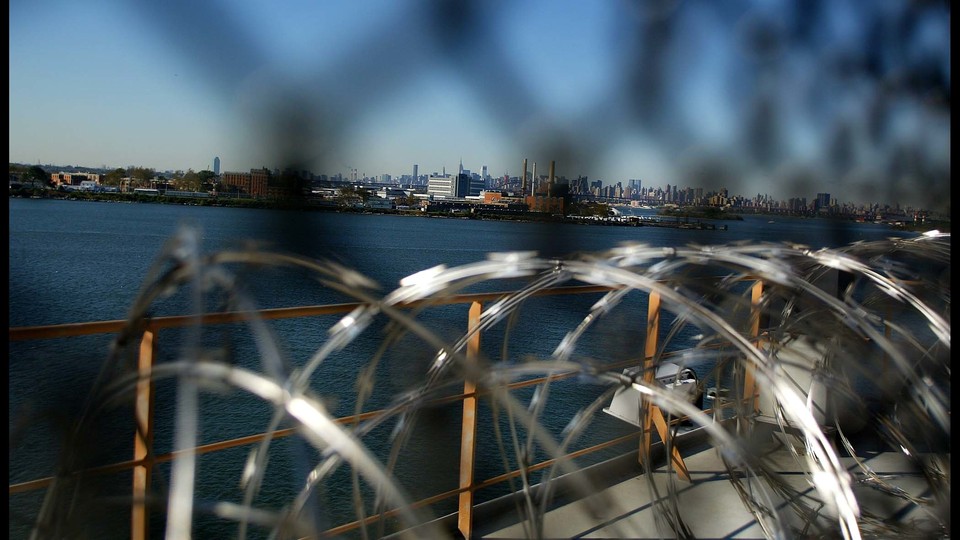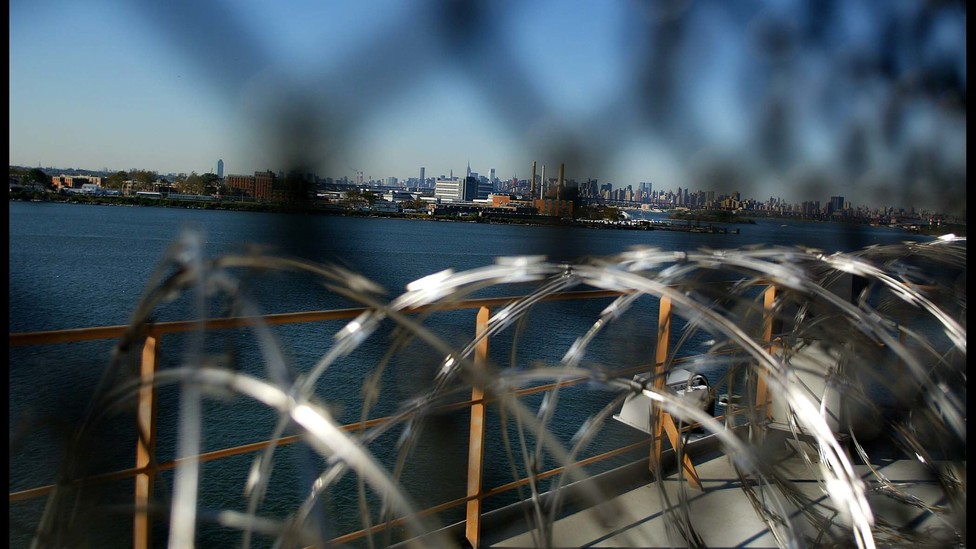 BROOKLYN, N.Y.—Spend even a little time in Kings County Criminal Court, and a pattern to the proceedings quickly emerges. A person recently arrested in Brooklyn is brought before a judge to be arraigned. An assistant district attorney asks the judge to set bail. The judge, without asking whether the defendant can afford the payment, offers him two unworkable choices: Post the full amount of bail now or pay a visit to the bail bondsman, an expensive proposition.
Most are forced to default to a third option: Unable to put up the cash, the defendant is left to spend weeks and months—in some cases, even years—at the widely condemned jail complex on Rikers Island. There, the defendant awaits trial as one of more than 7,000 inmates—about three-quarters of New York City's jail population—convicted of no crime and detained only because they can't buy their freedom. The whole arraignment takes no more than a few minutes, and then it's on to the next one.
Public defenders in Brooklyn are in the process of launching a new initiative intended to disrupt this pattern. When a judge sets bail that a defendant can't afford, the Brooklyn Defenders Service will systematically challenge the judge's order. If that fails, they'll appeal it. The goal of the project is to begin to repair New York City's long-criticized bail system by persuading and incentivizing judges to focus on bail's essential purpose: It's collateral meant to guarantee a criminal defendant's return to court, not punishment for a person accused of a crime. At a moment when bail-reform efforts are gaining momentum nationwide, the initiative models a steady, case-by-case approach to challenging the status quo within the criminal-justice system. It also provides an object lesson in the limits of another, more traditional strategy: broad-sweeping legal change.
Exorbitant bail is the default in many courts in America, even though judges aren't actually required to set it. They can release a defendant pending trial, and they can impose non-monetary conditions for their release. Of the roughly 450,000 inmates awaiting trial on any given day nationwide, nearly all of them were jailed because they can't make bail. In some jurisdictions, overly harsh statutes are to blame. In others, like New York, norms and practices, not the law, are responsible.
New York's bail law is a product of a progressive overhaul of the bail system in the late 1960s and early 1970s. On paper, it's among the more defendant-friendly nationwide—Scott Hechinger, a senior staff attorney and the director of policy for the Brooklyn Defenders, called it "one of the best and most impressive bail statutes in the entire country." It requires judges to consider whether a defendant can afford bail, and it lets judges choose from nine different forms, including options that don't require a defendant to pay anything up front. (Studies, including a report on New York City released in September, suggest that non-cash forms of bail are as effective as cash bail at ensuring a defendant shows up for trial.)
Yet, for almost 50 years, the practice in city courts has failed to conform to the revised law. The law was designed, in the words of the legislature, to "reduce the un-convicted portion of our jail population." But over time, it "ended up resulting in more, not less, pretrial detention," said Jocelyn Simonson, a former public defender and Brooklyn Law School professor who studies bail. According to a report issued this spring by a New York City criminal-justice commission, "there is precious little evidence that either prosecutors or judges consider a person's ability to pay bail." City judges, the report observes, "routinely allow defendants to post only the two most onerous forms"—cash bail or a bail bond.
Public defenders concede that defense attorneys share some of the blame: From the outset, overworked criminal-defense lawyers lacked the time and resources to dig into their clients' backgrounds and challenge the many bail determinations that departed from the law. For prosecutors, the incentives favor the present state of affairs: A defendant in jail is far more likely to take a plea deal, giving the government a win, than take a case to trial.
With both sides largely silent, judges, for their part, have had no reason to change long-standing practice. There can also be real risks to releasing a defendant, and current conditions permit them to take more punitive precautions. "Whether directly or subliminally," said Jonathan Lippman, the former chief judge of New York's highest court and the head of the criminal-justice commission, "the judge doesn't like to see his name on the front page of a tabloid: 'Judge releases so-and-so,' and they do some great damage to public safety."
***
Here are the basics of the Brooklyn Defenders' approach: An associate with the law firm Kramer Levin Naftalis & Frankel, which is partnering with the organization, will work pro bono with one of the public defenders to document each client's finances, background, and community ties. They will then present their findings to a judge and either argue that bail is unnecessary or propose a form of bail the client can realistically meet. Where bail remains outside of the defendant's financial reach, they will challenge the ruling in an appeals court.
In addition to seeing clients freed, the end game of the project is to change courtroom habit and get all parties involved following the law. "Part of this is just training judges," Hechinger said. Systematic appeals—if accompanied by a steady stream of reversals—could also prompt reform by expending judges' time and resources repeatedly redoing reversed bail determinations.
This August, I attended a test run of the project in the Kings County Supreme Court, where Brooklyn's felony cases are tried. The defendant, Mordecai Omatiga, had never been arrested until earlier this year, when a police officer allegedly recognized him on the street from surveillance footage of a grocery-store robbery. When the officer arrested Omatiga, he said, he'd found a handgun and a bag of marijuana on him. Omatiga pleaded not guilty to the robbery and other charges.
At an earlier stage in his case, a judge had given Omatiga two choices if he wanted to post bail: He could deposit $50,000 with the court, or he could pay a bondsman more than $6,000 to post a $100,000 bond. Omatiga didn't have that kind of money. He had a job, but he was attending vocational school and helping raise his five-year-old son.
Omatiga's lawyers—Debora Silberman, a public defender, and Alejandro Ortega, an associate at Kramer Levin—presented the judge with a type of bail application that's central to the Brooklyn Defenders' initiative. The lawyers had spent the preceding weeks interviewing their client and his family, and reviewing their finances. What they'd found, they told Justice James Sullivan, was a man who was a minimal flight risk. His entire life was in New York, and he was very close to his family, which had attended every one of his court dates. If Sullivan wouldn't release Omatiga outright, his parents—Nigerian immigrants—were willing to vouch for his return to court through an unsecured surety bond, one of New York's nine bail options. They would be contractually obliged to pay the court if Omatiga jumped bail.
"They're standing here in court to tell your Honor that they will, essentially, not have a dollar in their pockets," Silberman said. "Every dollar would go to this court until Mr. Omatiga is returned."
After a prosecutor spoke briefly, Sullivan denied the defense attorneys' request. His reasons were threefold. He'd misread Omatiga's clean criminal record and thought it showed a prior arrest for a violent felony. Although Omatiga denied involvement in the robbery, prosecutors said he'd acknowledged to police that he carried a handgun. And there was a video of the crime (though prosecutors and the defense disagreed whether the person in the video resembles Omatiga). "So the Court does not see any ground for changing bail," Sullivan concluded. He made no mention of how specific factors that the bail statute instructs judges to consider affected his reasoning: Omatiga's ability to afford cash bail, his ties to his community, and his family connections. The entire ruling took up less than half a page of court transcript.
Lawyers I spoke to described Sullivan as a careful judge with a reputation for fairness. Yet, he had followed the pattern defense attorneys had predicted he would. He had cited only the severity of what Omatiga was charged with and the evidence against him. He had said nothing about the other factors in the bail law. Nor had he explained why other forms of bail weren't enough to ensure the defendant's return to court. (Sullivan, through a court spokesperson, declined to comment on an ongoing criminal case.)
Later, before an appeals court, prosecutors argued that it was enough that Sullivan indicated he had considered the evidence put in front of him, even if he didn't explain how certain factors listed in the statute had failed to persuade him to change Omatiga's bail. The appellate court partly agreed. Last week, it cut Omatiga's bail in half without explanation, though it left in place the decision to require cash bail or a bail bond. It's not clear he'll be able to meet that reduced amount.
"The reason [bail] gets set is because this is how it's always been done," Hechinger told me outside the courthouse after the August hearing, as Omatiga waited in a holding cell for a bus back to Rikers.
***
A number of efforts to curb cash bail on a system-wide level have been instituted lately, including statewide legislation in New Jersey and broad-sweeping court orders in Massachusetts, Houston, and Chicago. New York City's history, however, underscores the limits of systemic reforms. Legal change on paper alone is not enough to change long-entrenched judicial practice, a lesson that's already becoming apparent in jurisdictions that are part of the new wave of bail reforms. In Chicago, for example, representatives from criminal-justice groups have found that judges have not changed their practices to conform to a new cash-bail process implemented this summer by the chief judge, Simonson told me.
"New York is a lesson in this," said Josh Norkin, a staff attorney at the Legal Aid Society of New York, which represents low-income criminal defendants throughout the city's five boroughs. "There was never a sustained effort. What's a pretty good and pretty liberal statute has been so widely abused to make it almost non-functional."
The Brooklyn Defenders initiative, if successful, may provide a blueprint for case-by-case enforcement of systemic bail-reform measures across the country. A sustained litigation effort, however, is time- and resource-intensive, and a major barrier to that kind of effort is the notorious underfunding of public-defender offices. In Brooklyn, pro bono assistance from the private sector is helping overcome that hurdle, taking pressure off public defenders and assisting them with gathering information, preparing bail applications, and drafting briefs.
Despite the outcome of Omatiga's appeal, there is some reason to believe the initiative—as part of a larger push toward criminal-justice reform in New York—will begin to change courtroom practices. At Legal Aid, Norkin has implemented a smaller scale analog of the Brooklyn program, adding to one litigation group in Manhattan an attorney, paralegal, and social worker dedicated to bail. That unit has secured release for 64 of the 141 defendants it has represented over the past year. (The judicial process is slower moving than in Brooklyn, where the appeals courts adjudicate cases more quickly.)
Still, victory for Brooklyn Defenders might mean only a change in process—forcing judges to explain publicly why they set bail beyond what a defendant can afford—not a change in outcome, Norkin said. Even that, though, could have a meaningful effect: Requiring judges to explain their decisions on the public record may dissuade them from setting bail arbitrarily.
This week, the new project got under way, with a challenge to the bail status of an 18-year-old held at Rikers on gun-possession charges. The initiative will initially focus on felony defendants between the ages of 16 and 25, a cohort whose youth, Hechinger said, leaves them especially likely to be traumatized by stays in the facility. The case is expected to be the beginning of a long process to change practices deeply engrained in the judiciary—practices Lippman, the former chief judge, called "cultural."
"The only way to do that," Hechinger said, "is to get th[e] law in front of as many judges as possible on as systematic a level as possible."