The Baltimore Cops Studying Plato and James Baldwin
Training programs help officers brush up on policing techniques and best practices. But in one instructor's course, they study literature, history, and philosophy instead.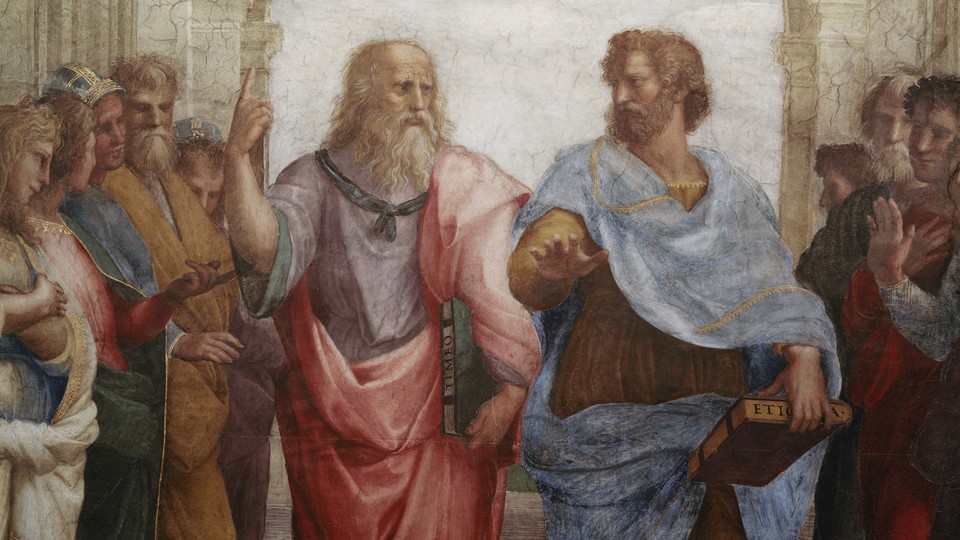 BALTIMORE—Sitting in a classroom one day in September, a police officer studied a passage from James Baldwin's 1966 essay on policing in Harlem, "A Report from Occupied Territory," and read a few lines out loud: "Some school children overturned a fruit stand in Harlem. This would have been a mere childish prank if the children had been white … but these children were black, and the police chased them and beat them."
An instructor, standing in the back of the room, pressed the cop for his reaction: "Tell me, does that give you any basis for our understanding of any modern circumstance?"
It was humanities hour at the city police department's in-service training facility, and Detective Ed Gillespie was presiding, a gun on his hip and literature on his lips. Officer training is front and center in the national conversation about police reform, with advocates and progressive police departments alike promoting lessons on de-escalation, implicit bias, and the like. Gillespie thinks cops need something else, too: the humanities. In his classes, he teaches them Plato, Steinbeck, Dostoevsky, and Baldwin.
About 10 minutes after their initial exchange, the same officer spoke up. "It's 1966, so policing a white neighborhood [versus] a black neighborhood was completely different. Black neighborhood was looked down upon, and [to] this day and age, some people are still carrying that fear," said the officer, a white man who's a veteran of the force. "They've heard stories from their grandparents and stuff like that. And look, it hasn't been that long ago …"
Gillespie agreed that the events of the '60s were recent enough. "No," the officer persisted. "I'm talking about even in my career—that has happened, you know? That [if] you ran, you got your punishment when you got caught."
This connection between literature and everyday life is exactly what Gillespie hopes to facilitate. Police officers, he told me, "deal with the human condition constantly." Books offer people "a safe way to look at circumstances and ask yourself, 'What does this tell us about us? … What does this tell me about myself? What does this tell me about the human condition?'"

And, more to the point: "What does this tell you, officer, about policing?"
***
Since Freddie Gray suffered a fatal injury in the back of a Baltimore police van in 2015, setting off days of protest and rioting, the city has been pushing through a wrenching overhaul of its police department even as violent crime has surged to unprecedented levels.
Gillespie works in the division that teaches retraining courses. Once a year, every cop is pulled off the street and thrown into the classroom to take refreshers and learn new policing techniques. This in-service training used to last for one week. This year, the commissioner doubled it, requiring far more hours than many other departments.
Drawing on his master of liberal arts degree from Johns Hopkins University, the 48-year-old Gillespie teaches a curriculum that includes bite-sized chunks of literature, philosophy, and history. "You can get so into the outcomes, into the methods, [that] you don't look at the ethic with which you're operating in many cases," Gillespie said. "And we're trying to get officers to delve into it."
In a course on Plato, he introduces officers to the philosopher's idea of the tripartite soul, which can be governed by the intellect, by the "spirit," or by the appetites. Gillespie has his students discuss real stories of police misconduct in Platonic terms. "The ultimate point is that you have to … take a moment, and stop and use your intellect, and ask, 'What's driving me right now?'" he explained to me.
Gillespie is trained to teach nuts-and-bolts courses on terrorism response, extremism, and gangs. But since the unrest of 2015, humanities have occupied the bulk of his time. The strategy is unusual in police training. "I've been doing this a long time and I've never heard of an instructor using this type of approach," said William Terrill, a criminal-justice professor at Arizona State University who studies police culture.
But he nevertheless understands the general theory behind it. He's authored studies showing that officers with higher education are less likely to use force than colleagues who have not been to college. The reasons why are unclear, Terrill said, but it's possible that exposure to unfamiliar ideas and diverse people have an effect on officer behavior. Gillespie's classes seem to offer a complement to the typical instruction. Most of it "is mechanical in nature," Terrill said. "It's kind of this step-by-step, instructional booklet."
Officers learn how to properly approach a car, say, but they are rarely given tools to imagine the circumstances of the person in the driver's seat.
***
When he enrolled as a cadet in 2005, Gillespie's police-academy instructors assumed he was there to write a book. When he brought reading to an assignment that involved a lot of waiting around, his supervisor told him to stop. Another cop once said to him, "You say some good shit, but I just hate the way you fucking talk."
Gillespie related these stories to me with enthusiasm as a window into police culture and the discomfort some officers have around issues of education. "I feel comfortable here," he explained, "but definitely, I'm kind of an odd man out."
He was raised in the Philadelphia suburbs; educated at a private, Quaker school; and attended George Washington University and Hopkins. As an undergraduate at George Washington, he enrolled in ROTC, intending to become a Marine Corps officer. But an injury forced him to drop out of the program. Gillespie became a teacher instead, working at elementary, middle, and high schools in Maryland and Ohio. His master's-level classes at Johns Hopkins were scheduled to begin on September 11, 2001. After the attack, Gillespie decided that once his studies were done, he would try again to find a career in public safety.
Gillespie, who is black, started as a patrol officer in Sandtown-Winchester, a low-income neighborhood in West Baltimore where police would later arrest Gray. "I never had any experience with anything resembling Sandtown-Winchester. When I went to work there as a law-enforcement officer, the culture shock was just unbelievable," Gillespie told me. "And it had nothing to do with race. It was about economics, it was about … personal history."
In class, Gillespie frequently refers back to his patrol experience. He raised his discomfort with Sandtown when I visited, addressing one student, a former colleague, directly: "You sir, you, working the central [district], pulled me aside more than once and said, 'You know what, the way you talked to that person wasn't really professional.' … You really helped me recognize I had biases about dealing with people in Sandtown."
Gillespie's personal stories remind officers that he is one of them, not an ivory-tower critic. At the same time, he argues that front-line police need to understand the roots of their work. "Tradition is a big thing for officers, and we are in the tradition of the western world," Gillespie said. "We're kind of government on the ground. I mean, we have to represent democratic values. We have to represent those Enlightenment values in a very immediate way."
Cops also need to embrace the complexity of their jobs, he suggested. "We've reached a stage at which policing has to be taken seriously as a profession"—not just, as cops often call it, "the job."
"I heard a lot of officers talk in terms of how simplistic it is," he told me. But "it's actually very complex. And it takes a sophisticated thinker."
***
On the day Gillespie was teaching Baldwin, he asked the 25 assembled officers to do some brainstorming on the meaning of various terms essential to policing, like "neutrality" or "respect." The conversation about "respect" turned to the way officers interact with people from different communities. One officer assailed the notion that cops should employ a uniform style. He raised the scenario of a kid loitering on a corner in the Gilmor Homes, a public-housing complex in Sandtown.
"I'm like, 'Shorty, come here. You can't be here. Come on. Go on. You know better than this.' … He gets that. That's not disrespectful to him," the officer said. "I can't [say], 'Young man, you have to leave this corner' —'cause then he doesn't get that."
The same language would not work in tony Roland Park, the officer said: "It's not a disrespect to either one," he explained. "It's communicating at a level that they understand."
The fact that a Roland Park resident lingering on a corner is much less likely to be shooed away did not come up. But the officers were nevertheless grappling with what they see on the beat. As others chimed in, they were emphatic that their goal was to show respect.
Gillespie told me they aren't always so easy to engage. That day, he handed one group a sheet of paper with the word "cynicism." "I'm cynical about all of this," groused a rotund detective. Later, the same group was contemplating the meaning of "procedural justice"—the notion that justice hinges not just on fair decisions, but also on fair processes for making those decisions. The detective declared that it means officers must "treat everyone with kid gloves." A colleague replied: "Policing's changed."
There's no way to assess whether Gillespie's teaching has actually made a difference on the street. Two policing experts I spoke with said that a few hours a year is unlikely to have much impact. Maria Haberfeld co-directs a program that offers free courses on ethics, leadership, and diversity to New York City Police Department officers. The NYPD Police Studies program, at John Jay College of Criminal Justice, is a four-course sequence that cops take in addition to their day jobs, often as a first step to pursuing a full degree.
"In-service training is just a Band-Aid," said Haberfeld, a professor at John Jay. If the goal is to change how people talk or think, she added, "You cannot do it in two hours or two days."
Gillespie agrees that his classes are just a small nudge, but he remains optimistic about what they might achieve. "We're building a culture, so it has to be something that's progressive," he said.
My efforts to speak with Baltimore police brass about why they support Gillespie's work were unsuccessful. But the fact that they've made his curriculum part of routine training is significant. Police culture is unlikely to change simply in response to pressure from outsiders. It can take insiders to make new ideas seem legitimate, like something real cops talk about.
That's what Gillespie does. And he understands that not every conversation will take off. "In many cases, officers feel like they're somewhat under siege. 'Why are you criticizing me again? Why are you trying to tell me things I already know? Why are you implying I'm racist, implying I'm biased?'" he said. "And then they kind of shut down."
Or the opposite can happen. The class I observed saw a heated round of venting about how social problems—from family arguments to mental illness—fall into the laps of police. Gillespie had to remind the officers to calm down.
Later, he told me it's all part of the process. "You have to let them go and bring it back around to the point that you're trying to make," he said. "By letting them talk, they're more open to hear."