The Atlantic Politics & Policy Daily: It Goes Down in the DM
In private communications, WikiLeaks asked Donald Trump Jr. for his father's tax returns, and urged the Trump campaign to challenge the election results.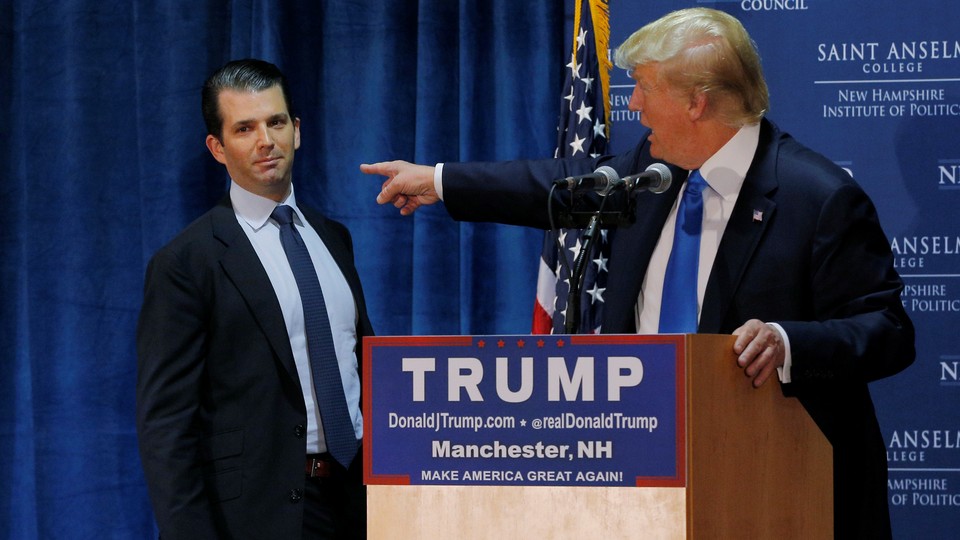 Today in 5 Lines
President Trump nominated former pharmaceutical executive Alex Azar to lead the Department of Health and Human Services. Lawmakers continued to withdraw their endorsements of Alabama Senate candidate Roy Moore in light of allegations that Moore pursued teenage girls when he was in his 30s. Senate Majority Leader Mitch McConnell called on Moore to drop out of the race. And later in the day, an Alabama woman accused Moore of sexual assaulting her when she was 16. The White House said Trump "briefly" touched on human rights during a private meeting with Philippine President Rodrigo Duterte in Manila, but a spokesman for Duterte said human rights were not discussed.
---
Today on The Atlantic
'Strongly Suggest Your Dad Tweets This Link': In private communications, WikiLeaks asked Donald Trump Jr. for his father's tax returns, and urged the Trump campaign to challenge the election results. Read their secret correspondence here. (Julia Ioffe)

Making Things Right: Now that the American public has decided it will believe women's accounts of sexual assault and workplace harassment, it's time for Democrats to reckon with accusations against former President Bill Clinton. (Caitlin Flanagan)

The Case for the Estate Tax: Derek Thompson lays out the very bad arguments for ending the estate tax for good.
Follow stories throughout the day with our Politics & Policy portal.
---
Snapshot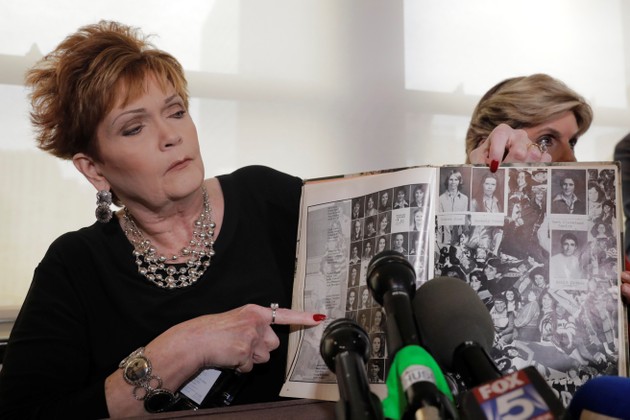 ---
What We're Reading
What Is She Doing?: In her quest to understand Omarosa Manigault's job in the Trump White House, reporter Elaina Plott shadowed the former reality-TV star. She didn't learn much. (The Daily Beast)
'One of the Most Secretive, Dark States': An investigation by The Kansas City Star found several examples of the Kansas state government's decreasing transparency. (Laura Bauer, Judy L. Thomas, and Max Londberg)
Hmmm: One of Donald Trump's judicial nominees is married to a senior lawyer in the White House. He did not disclose that fact on a Senate questionnaire requiring him to list potential conflicts of interest. (Matt Apuzzo and Michael S. Schmidt, The New York Times)
Relics of the Third Reich: Here's how a cache of Nazi propaganda—including four watercolor paintings by Adolf Hitler—ended up in a warehouse in Woodbridge, Virginia. (Andrew Beaujon, Washingtonian)
Roll Tide: George Will argues that Democrat Doug Jones's hopes to beat Roy Moore in the Alabama Senate race rest entirely with "traditional white Democrats (scarce), Republicans capable of chagrin (scarcer), and African Americans." (National Review)
---
Visualized
What's the Plan?: Under the Republican tax plan, most Americans would see a tax cut in 2018, but over time those cuts will get smaller for everyone except the richest 1 percent of earners. (Alicia Parlapiano and Jasmine C. Lee, The New York Times)
Trump Abroad: Check out the most memorable photos from President Trump's 12-day trip across Asia. (Alan Taylor, The Atlantic)
---
Question of the Week
In this dispatch from Seattle, The Atlantic's Olga Khazan describes the city's plans to open a new safe-injection facility for heroin addicts in an attempt to make it safer for them to quit. But critics say it actually makes it easier for users to stay addicted.
Do you think this is an effective strategy for addressing the country's escalating opioid epidemic? Do you see it as necessary—or as enabling?
Share your response here, and we'll feature a few in Friday's Politics & Policy Daily.