The Atlantic Politics & Policy Daily: You're Pardoned
President Trump pardoned a pair of turkeys as part of the annual Thanksgiving tradition.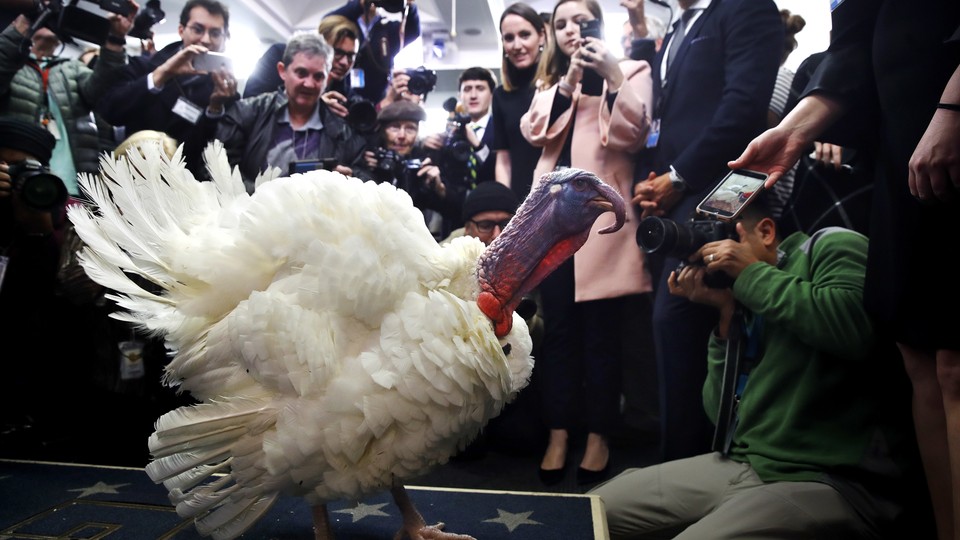 Today in 5 Lines
President Trump pardoned a pair of turkeys as part of the annual Thanksgiving tradition. Asked about whether he supports Alabama Senate candidate Roy Moore, Trump told reporters voters shouldn't support Moore's "liberal" rival, adding that Moore denies the sexual-misconduct allegations against him. The Federal Communications Commission announced plans to dismantle net-neutrality regulations, which would allow companies to charge more for some websites. The House Ethics Committee said it has begun an investigation into accusations of sexual misconduct against Michigan Representative John Conyers. The White House said Trump spoke by phone with Russian President Vladimir Putin about promoting peace in Syria and Ukraine, as well as the looming nuclear threat from North Korea.
---
Today on The Atlantic
This Moment in Time: NPR's Mary Louise Kelly writes that the emerging sexual-harassment allegations against powerful men is a decisive moment for the media, which has taken too long to cover these stories.

Have Faith: If the Democratic Party wants to win votes in the Trump era, they first have to regain the trust of religious Americans. (Michael Wear)

'The Nationalist's Delusion': In voting for Donald Trump, argues Adam Serwer, his supporters indulged in a contradiction as old as the country itself.
Follow stories throughout the day with our Politics & Policy portal.
---
Snapshot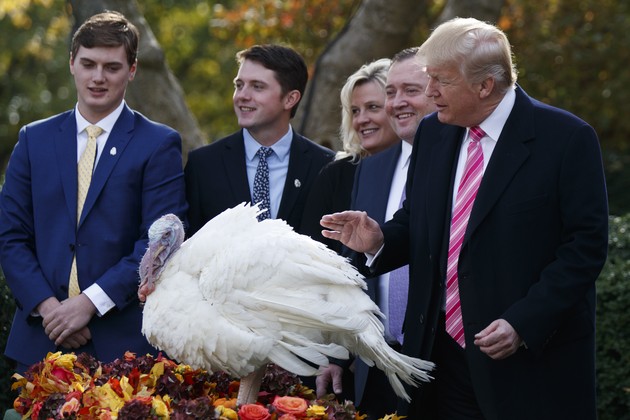 ---
What We're Reading
'I Was Basically Blackballed': Documents obtained by BuzzFeed contain allegations of sexual misconduct against Michigan Representative John Conyers—and reveal how Congress keeps such allegations secret. (Paul McLeod and Lissandra Villa)
How Many Died?: CNN contacted 112 funeral homes in Puerto Rico to find out how many people died in the wake of Hurricane Maria. The number was nine times the official death toll. (John D. Sutter, Leyla Santiago, and Khushbu Shah)
Profile of a Secret-Keeper: In an interview with GQ, former Director of National Intelligence James Clapper weighs in on Donald Trump's "fitness" for office and Russia's role in American politics. (Mattathias Schwartz)
Why Our Wars Won't End: As in many long-winded wars, the U.S. is fighting to prevent defeat rather than to achieve lasting victory in many of its conflicts in the Middle East. (Victor Davis Hanson, National Review)
Collision Course: The biggest obstacle to passing a federal budget in December might end up being the DREAM Act. (Rachael Bade and Heather Caygle, Politico)
---
Visualized
Keeping Track: Here's a list of the cases of sexual misconduct that have been brought to light since October 5. (Sarah Almukhtar, Larry Buchanan, and Michael Gold, The New York Times)
---
Question of the Week
In this story, The Atlantic's Derek Thompson writes that through its economic policies, the Republican Party seems to be waging a war on higher education. Do you think that's the case? Why or why not?
Share your response here, and we'll feature a few in Wednesday's Politics & Policy Daily.