The Atlantic Politics & Policy Daily: Yikes
President Trump retweeted unverified videos purporting to show Muslims committing acts of violence, and both Matt Lauer and Garrison Keillor were fired over separate sexual-misconduct allegations.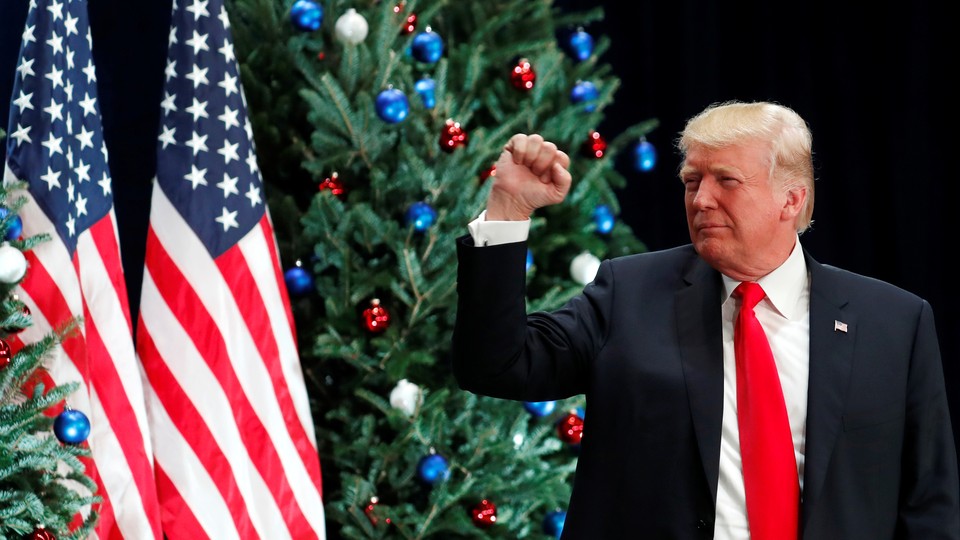 Today in 5 Lines
White House Press Secretary Sarah Huckabee Sanders defended President Trump after he retweeted unverified videos purporting to show Muslims committing acts of violence from an account belonging to a far-right British political group. NBC fired Today host Matt Lauer and Minnesota Public Radio fired host Garrison Keillor amid separate accusations of sexual misconduct. The Trump administration threatened North Korea with additional sanctions after it test-launched another ballistic missile on Tuesday. Donald Trump Jr. has reportedly agreed to meet with the House Intelligence Committee as early as next week to discuss his contacts with Russians during the presidential campaign. And the House passed a bipartisan measure requiring lawmakers to undergo annual anti-harassment training.
---
Today on The Atlantic
'No Family Is Safe From This Epidemic': James Winnefeld, the former vice chairman of the Joint Chiefs of Staff, shares the story of his son's struggle with opioid addiction.

He Means It All: Some people have convinced themselves that Donald Trump's bigotry and hypocrisy are all part of an act, argues David A. Graham. It's no longer possible to believe that.

A Veteran's View: In the seventh installment of our series of essays written by veterans, a former Army officer explains how his military service turned him into a supporter of universal health care. (Dominick Tao)
Follow stories throughout the day with our Politics & Policy portal.
---
Snapshot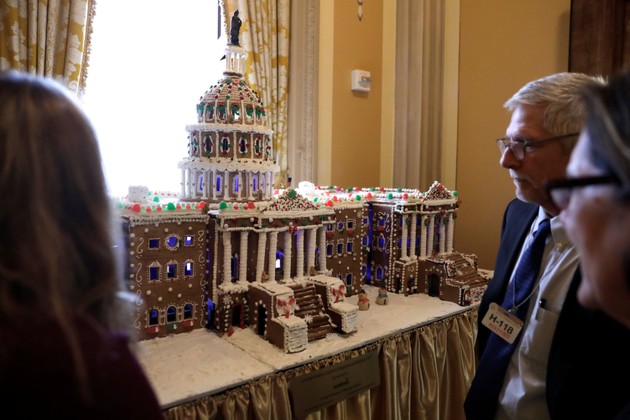 ---
What We're Reading
Historically Unpopular: Republicans are close to passing a tax plan, but polls show that their proposed tax cuts are even more unpopular than past tax hikes. (Harry Enten, FiveThirtyEight)
Told You So: The recent cascade of sexual-misconduct allegations reveals a broader truth, writes Mark Hemingway: "that conservatives were right about sex all along." (The Weekly Standard)*
Changing His Story: Donald Trump apologized after the infamous Access Hollywood tape surfaced last fall. Now, the president is reportedly suggesting that the voice making vulgar comments about women might not be his. (Maggie Haberman and Jonathan Martin, The New York Times)
'Everybody Hates Jill': Eve Peyser talks with the Green Party's Jill Stein about the alleged health effects of Wi-Fi, Russian President Vladimir Putin, and her role in the 2016 presidential election. (Vice)
Getting Past Partisanship: Democrats are guilty of applying a double standard in their reluctance to condemn Representative John Conyers, argues Jonah Goldberg. But there's a simple solution to this kind of tribal politics. (National Review)
---
Visualized
North Korea's Progress: On Tuesday, the country test-launched a ballistic missile that flew higher and longer than in previous tests. See comparisons here. (Bonnie Berkowitz, Laris Karklis, and Kevin Schaul, The Washington Post)
---
Question of the Week
In a recent story in The New York Times, reporter Richard Fausset described the relatively ordinary life of Tony Hovater, a white nationalist living in Ohio, referring to him as "the Nazi sympathizer next door." Critics argued that the piece didn't offer context and left white-nationalist ideas unchecked. (In this vein, The Atlantic's James Hamblin wrote a parody of the story.) Fausset soon followed up with a piece describing his reporting process.
What do you think? Do stories like this normalize people with extreme viewpoints?
Share your response here, and we'll feature a few in Friday's Politics & Policy Daily.
---
* This newsletter originally included an incorrect link for a Weekly Standard piece by Mark Hemingway. We regret the error.