The Atlantic Politics & Policy Daily: Slow-Motion Train Rex
The New York Times reported that the White House plans to force out Secretary of State Rex Tillerson and replace with him with CIA Director Mike Pompeo.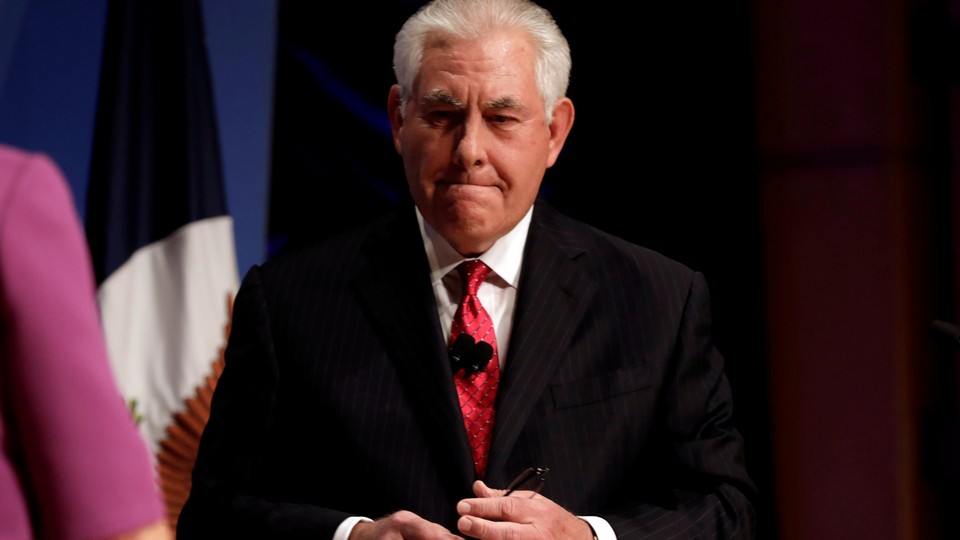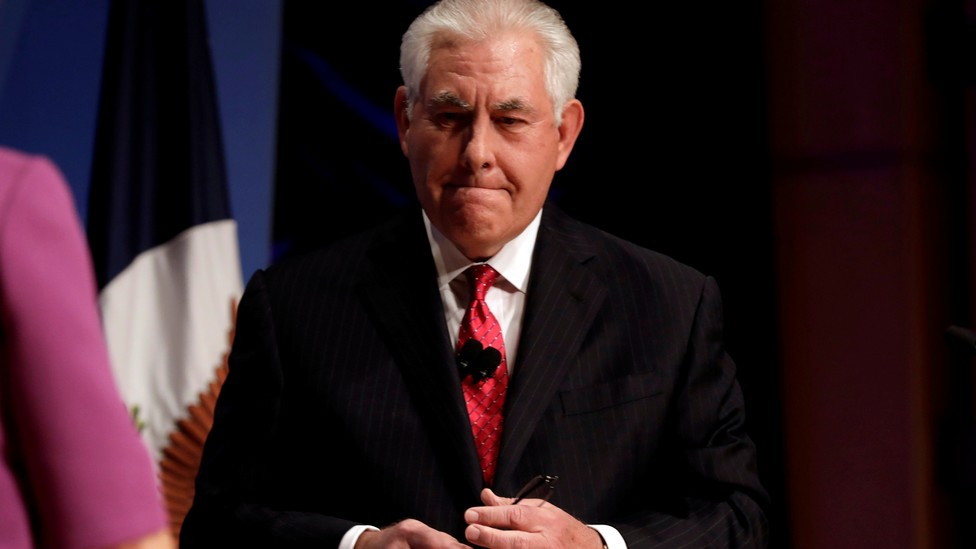 Today in 5 Lines
The New York Times reported that the White House plans to force out Secretary of State Rex Tillerson and replace with him with CIA Director Mike Pompeo. In a reversal, House Minority Leader Nancy Pelosi called on Representative John Conyers to resign amid sexual-harassment allegations. Senate Republicans unanimously approved a procedural motion to advance their tax bill, but several votes remain before the legislation's final passage. A fifth woman accused Minnesota Senator Al Franken of groping her. And President Trump donated his third-quarter salary to combat the nation's opioid crisis.
---
Today on The Atlantic
'The Phantom Czar': President Trump has chosen White House counselor and former pollster Kellyanne Conway to be his "opioid czar." But the Trump administration has no real plan to address the crisis, and there is no opioid office. (David Frum)

Islamophobia 2.0: President Trump's tweets on Wednesday show that anti-Muslim bigotry no longer needs terrorism as a rationalization. (Peter Beinart)

An 11th-Hour Raid: Ronald Brownstein argues that the Republican tax plan benefits wealthy Baby Boomers most—and leaves the next generation of Americans with the bill.
Follow stories throughout the day with our Politics & Policy portal.
---
Snapshot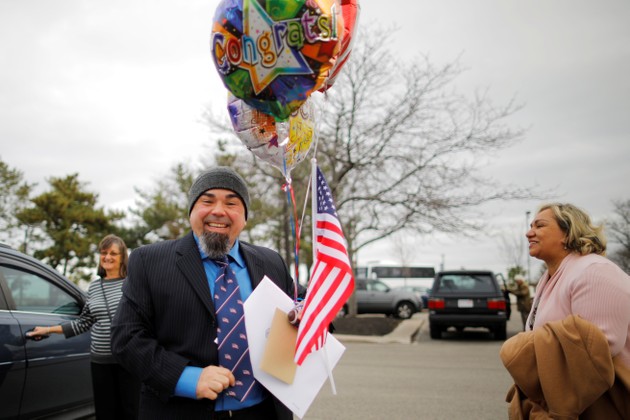 ---
What We're Reading
Ripple Effect: Although it was presented as a straightforward tax cut, the Republican tax plan could end up reshaping American life. (Peter S. Goodman and Patricia Cohen, The New York Times)
What the Bill Doesn't Do: There are good criticisms to be made of the Republican tax bill, argues Brian Riedl, but instead, many critics continue to make these four misleading arguments. (National Review)
What If America Made a Mistake?: Ezra Klein writes that the consequences of impeaching an "impulsive, conspiratorial, undisciplined, cruel" president might be less significant than leaving him in office. (Vox)
He's Not Going Quietly: In October, Arizona Senator Jeff Flake announced he would not seek reelection. For the rest of his term, he says he's happy to be "unchained from the necessities of politics." (Nash Jenkins, Time)
A Wild West Approach: Politico asked all 535 House and Senate offices about their sexual-harassment policies and received widely different responses. (Elana Schor and Genevieve Glatsky)
---
Visualized
Stopping a Bomb: The U.S. has a $40 billion system designed to intercept a nuclear missile from North Korea. Here's how it works. (Bonnie Berkowitz and Aaron Steckelberg, The Washington Post)
---
Question of the Week
In a recent story in The New York Times, reporter Richard Fausset described the relatively ordinary life of Tony Hovater, a white nationalist living in Ohio, referring to him as "the Nazi sympathizer next door." Critics argued that the piece didn't offer context and left white-nationalist ideas unchecked. (In this vein, The Atlantic's James Hamblin wrote a parody of the story.) Fausset soon followed up with a piece describing his reporting process.
What do you think? Do stories like this normalize people with extreme viewpoints?
Share your response here, and we'll feature a few in Friday's Politics & Policy Daily.
---
Note: In yesterday's newsletter, we included an incorrect link for a Weekly Standard piece by Mark Hemingway. Here's the right one.