The Atlantic Politics & Policy Daily: Roy Moore Denies Allegations of Sexual Misconduct
In an interview with conservative commentator Sean Hannity, Alabama Senate candidate Roy Moore denied allegations that he had a sexual encounter with a 14-year-old girl when he was 32.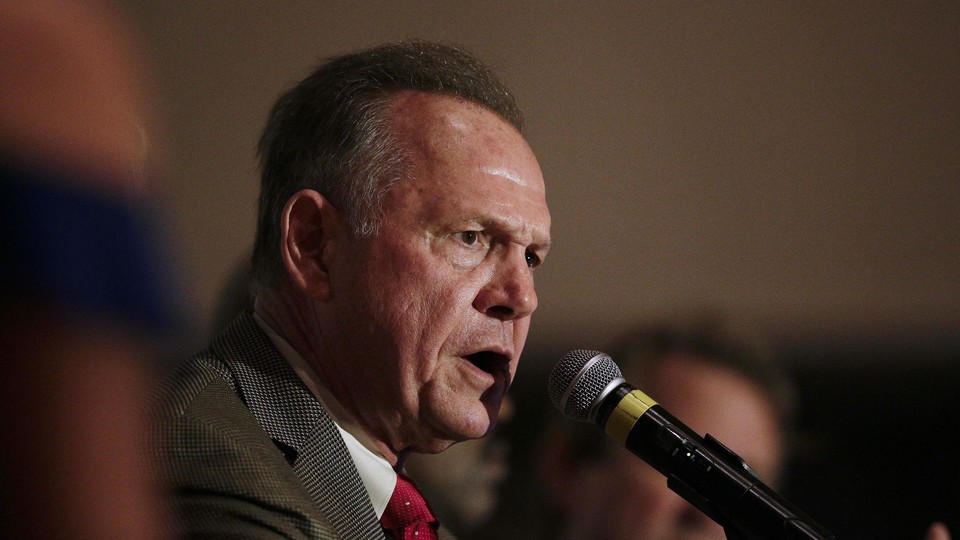 Today in 5 Lines
In an interview with conservative commentator Sean Hannity, Alabama Senate candidate Roy Moore denied allegations that he had a sexual encounter with a 14-year-old girl when he was 32, but only said he could not recall dating girls as young as 17. Earlier in the day, Mitt Romney said Moore "is unfit for office and should step aside." Senate Republicans' campaign committee will no longer fundraise on Moore's behalf. During a speech at the Asia-Pacific Economic Cooperation summit, President Trump delivered an "America First" message and pledged to pursue fair trade deals. Five Democratic senators said they want to hold a second confirmation hearing for Kirstjen Nielsen, Trump's nominee to head the Department of Homeland Security.
---
Today on The Atlantic
Follow stories throughout the day with our Politics & Policy portal.
---
Snapshot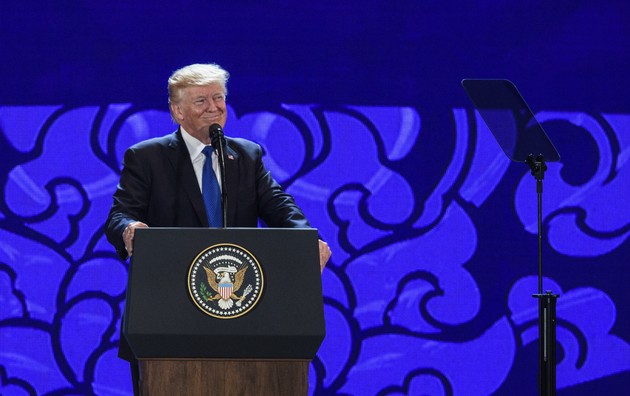 ---
What We're Reading
No Place in Politics: David French argues that Alabamians should not dismiss the allegations against Senate candidate Roy Moore—and should consider supporting a write-in candidate on the ballot. (National Review)
A Biden Bid: After repeatedly changing his mind about launching a presidential bid, people close to the former vice president say he's leaning toward running in 2020. (Edward-Isaac Dovere, Politico)
The Highlights: In his interview with The New York Times, former White House Chief Strategist Steve Bannon talked about his plan to topple the political establishment and shape the Republican Party in Trump's image. Here are a few key takeaways. (Jeremy W. Peters)
Predicting 2020: Trump's supporters are still loyal to him—and probably will be no matter what, argues Ezra Klein, "but we shouldn't mistake Trump's hardcore support for the votes that won him the White House, and that he's at most risk of losing." (Vox)
Inexperienced: President Trump's nominee to be a federal judge in Alabama has reportedly never tried a case and was rated "not qualified" by the American Bar Association. (David G. Savage, Los Angeles Times)
---
Visualized
It's Been a Long Year: Want to feel old? Take a look at this timeline chronicling the 365 days since Donald Trump was elected president of the United States. (Benjamin Freed, Washingtonian)
---
Question of the Week
This week, we asked you to share your memories from the 2016 election. Many of you shared similar stories, mostly marked by disbelief at the results.
"I was awake until 1 a.m. and gave up and went to bed," writes Daphne Georges from Massachusetts. "I voted for Trump for a number of reasons but never thought he'd win. When I woke up the next morning and turned on the news, I felt like Rip Van Winkle. Couldn't believe it."
For others, that surprise was less welcome. Kathryn Ischinger from California writes that she had planned for a Clinton victory: "Caviar was in the refrigerator as was the champagne. Needless to say, there was not a celebration to be had."
Dennis Futoryan from New York was at the Hillary Clinton election party in New York City, where he said the atmosphere was hopeful at first. "But then came Florida, and the crowd stood as the state turned red," he writes. "As a state would turn red or blue, people would look to their phones to read the latest analysis and answer the question of 'What state does Hillary need next to guarantee an Electoral College victory?' I didn't stick around too soon after that, as the waiting grew tiresome and cold in the late hours."
Thanks to everyone who submitted responses, and stay tuned for next week's Question of the Week.