The Atlantic Politics & Policy Daily: 'Release the Yearbook'
During a press conference, the attorney for Roy Moore attempted to discredit a recent allegation against the Alabama Senate candidate.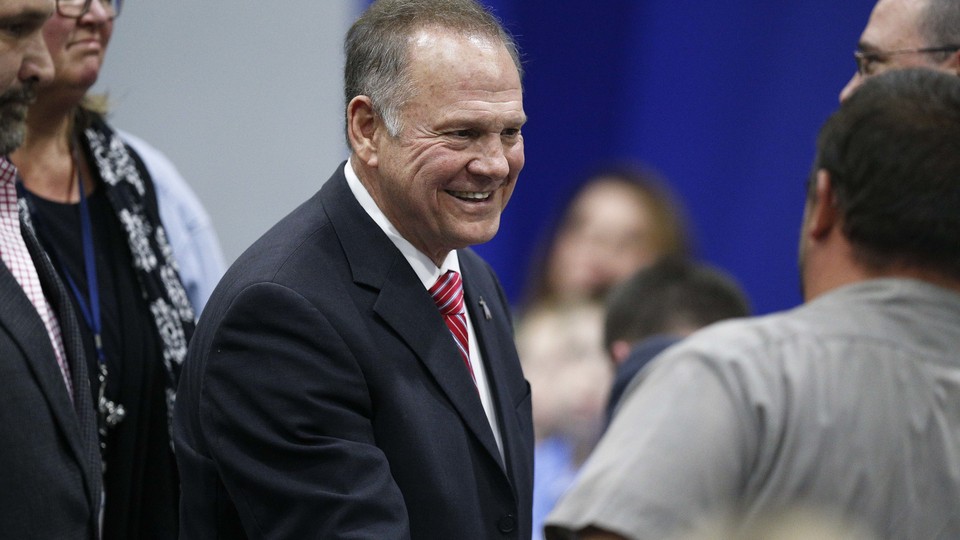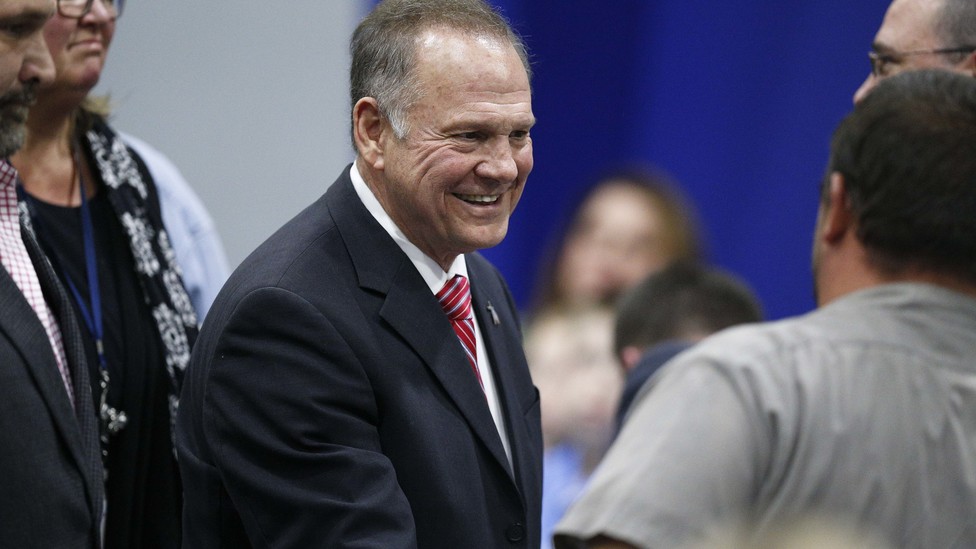 Today in 5 Lines
In his first public address since returning from Asia, President Trump said "America is back and the future has never looked brighter." During a press conference, the attorney for Roy Moore attempted to discredit a recent allegation against the Alabama Senate candidate. Richard Cordray announced he will step down as head of the Consumer Financial Protection Bureau. Senators clashed over changes made to the GOP tax bill late Tuesday night. Authorities said the gunman who opened fire in a small community in Northern California on Tuesday had killed his wife the night before.
---
Today on The Atlantic
An Inconvenient Truth: For years, Democrats have been the party advocating for more aggressive action to prevent climate change. The problem is, they don't have a plan. (Robinson Meyer)

In Defense of Mormons: The tendency to mock Mormons for their religious beliefs while praising them for their good deeds misses the connection between them. (Hal Boyd)

Moore Trouble Ahead: Despite the sexual-misconduct allegations against Alabama Senate candidate Roy Moore, the state's election laws are keeping him on the ballot. Here's how. (Vann R. Newkirk II)
Follow stories throughout the day with our Politics & Policy portal.
---
Snapshot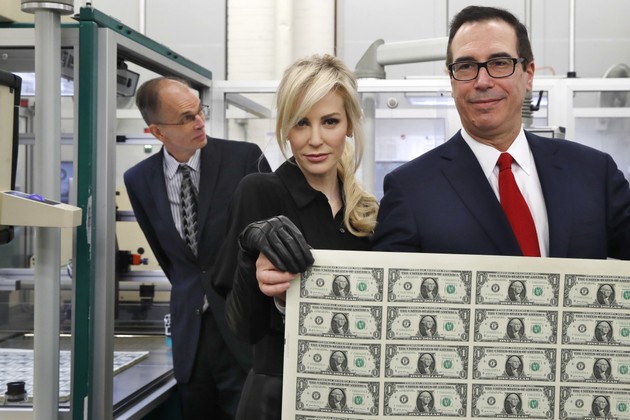 ---
What We're Reading
'If I Could Go Back, I Wouldn't Say a Word': Eight women explain what happened after they reported being sexually harassed at work. (Jessica Contrera, The Washington Post)
Past Deadline: Vox reports that the Trump administration rejected roughly 4,000 "late" DACA renewals—some of which actually arrived on time but were left sitting in government mailboxes. (Dara Lind)
'Roy Moore Reminds Me of My Rabbi': If Alabama Senate candidate Roy Moore wins, the Republican brand and the faith community will be irreparably damaged. (Bethany Mandel, The New York Times)
Doesn't Add Up: When it comes to tax reform, Republicans seem to have a recurring problem: "As soon as they come up with an idea for new revenue, they immediately remember a new tax they'd like to cut." (Eric Levitz, New York)
Footing the Bill: American taxpayers are reportedly paying the salaries of at least 10 Justice Department lawyers who are defending President Trump's private businesses in four different lawsuits. (Nick Penzenstadler, USA Today)
---
Visualized
What's in It?: On Thursday, the House will vote on the Republicans' new tax bill. Here are all the tax cuts and increases it contains. (Alicia Parlapiano and Adam Pearce, The New York Times)
The Case for the Case: Throughout its 160-year history, The Atlantic has made "The Case" for something more than 250 times. Browse the full collection here. (Caroline Mimbs Nyce)
---
Question of the Week
In this dispatch from Seattle, The Atlantic's Olga Khazan describes the city's plans to open a new safe-injection facility for heroin addicts in an attempt to make it safer for them to quit. But critics say it actually makes it easier for users to stay addicted.
Do you think this is an effective strategy for addressing the country's escalating opioid epidemic? Do you see it as necessary—or as enabling?
Share your response here, and we'll feature a few in Friday's Politics & Policy Daily.