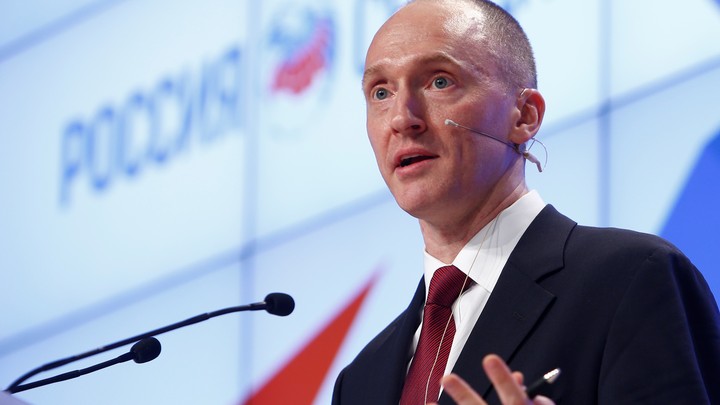 Today in 5 Lines
Voters head to the polls to cast their ballots in gubernatorial races in Virginia and New Jersey. Polls close at 7 p.m. ET in Virginia and 8 p.m. ET in New Jersey. During his testimony before the House Intelligence Committee on November 2, Carter Page, a former Trump aide, said he told campaign officials about his trip to Russia over the summer, contradicting his earlier statements. In a news conference with South Korean President Moon Jae-in, President Trump stressed the importance of diplomacy with North Korea, adding that "ultimately, it will all work out." Syria signed the Paris climate agreement, making the United States the only country in the world not to agree to the deal.
---
Today on The Atlantic
International Man of Mystery: The 243-page transcript of Carter Page's testimony before the House Intelligence Committee reveals his connections with Russia, but fails to make the investigation any clearer. (David A. Graham)

Where the Passion Is: One month after the worst mass shooting in modern American history, Congress hasn't passed any gun-control legislation. Why? (Russell Berman)

Defending Trump: Four supporters of Donald Trump explain why they still back the president, despite his inconsistencies on Russia. (Conor Friedersdorf)
Follow stories throughout the day with our Politics & Policy portal.
---
Snapshot
---
What We're Reading
Not Just Virginia: Victories in Tuesday's elections in New Jersey, Washington, and Maine could have huge implications for Democrats. Here's why. (Matthew Yglesias, Vox)
'She Just Started Praying': Seventy-three-year-old Farida Brown was shot four times in the attack at the First Baptist Church in Sutherland Springs, Texas. Miraculously, she survived. (Samantha Schmidt, The Washington Post)
'Army of Spies': Harvey Weinstein reportedly hired a team of private investigators to gather information on the women making sexual-harassment allegations against him—and the journalists trying to bring those allegations to light. (Ronan Farrow, The New Yorker)
Pics in the Rose Garden: In April, Omarosa Manigault, the director of communications for the Office of the Public Liaison, took some officials by surprise by bringing her entire wedding party to the White House for a photo shoot. The incident didn't help the office's dysfunctional reputation. (Josh Dawsey, Politico)
Why We Need Guns: In rural parts of America, guns are necessary for self-protection, argues Rich Lowry. Stricter gun-control legislation would have prevented bystanders like Stephen Willeford and Johnnie Langendorff from confronting the Texas shooter. (National Review)
---
Visualized
Why Here?: These charts show the one variable that can explain the high rate of mass shootings in the United States. (Max Fisher and Josh Keller, The New York Times)
---
Question of the Week
In this Esquire story, political commentators, insiders, and journalists shared their memories from November 8, 2016. Many of them, including members of Donald Trump's own circle, expected Hillary Clinton to win the presidential election.
Where were you during the 2016 election? What are your memories from that day?
Share your response here, and we'll feature a few in Friday's Politics & Policy Daily.
-Written by Elaine Godfrey (@elainejgodfrey) and Lena Felton (@lenakfelton)
We want to hear what you think about this article. Submit a letter to the editor or write to letters@theatlantic.com.
Elaine Godfrey
is a staff writer at
The Atlantic
, where she covers politics.