The Atlantic Politics & Policy Daily: Virginia Is for Voters
Ralph Northam's victory in the Virginia governor's race energized Democrats nationwide.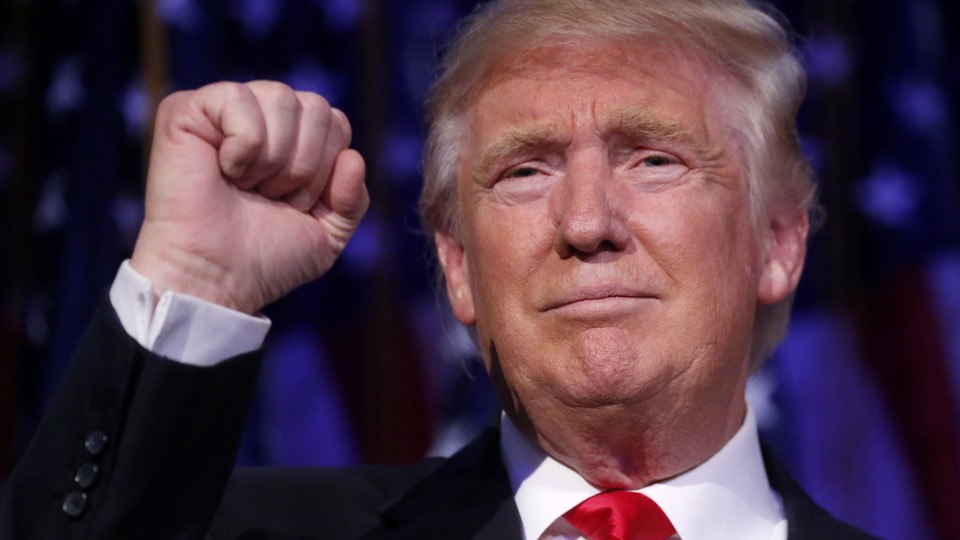 Today in 5 Lines
Today marked the first anniversary of Donald Trump's election. Ralph Northam's victory in the Virginia governor's race energized Democrats nationwide, as they look to make gains in 2018. During his visit to China, Trump called on Beijing to put greater economic pressure on North Korea. In her confirmation hearing, Kirstjen Nielsen, Trump's pick to lead the Department of Homeland Security, said she backed border security, but opposed a wall across the entire U.S.-Mexico border. The Justice Department called on AT&T to sell Turner Broadcasting, which includes CNN, for approval of its $85.4 billion merger with Time Warner.
---
Today on The Atlantic
Follow stories throughout the day with our Politics & Policy portal.
---
Snapshot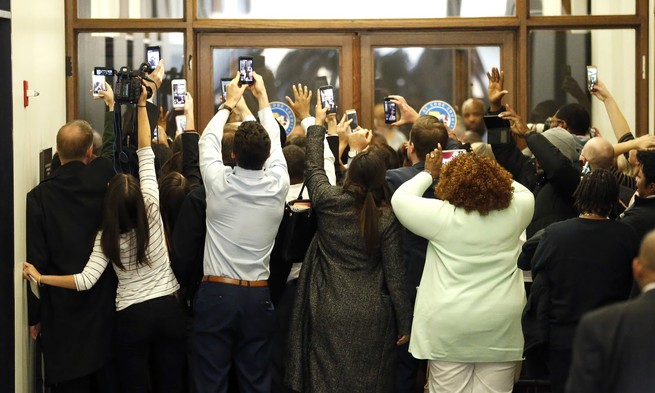 ---
What We're Reading
'The Savior?': A year after his election, Trump hasn't helped small towns like Johnstown, Pennsylvania, much—but residents love him anyway. (Michael Kruse, Politico)
Murphy in the Mansion: Philip D. Murphy is the first Democrat to be elected as New Jersey's governor in eight years. Will the "political newbie" prove to be more than just a wealthy former ambassador? (Nick Corasaniti, The New York Times)
Trapped: For undocumented immigrants residing in the United States, appearing in court can become a trap. (Steve Coll, The New Yorker)
The Losing Couple: Ivanka Trump and Jared Kushner's first year in Washington, D.C., is not shaping up as planned, but moving back to New York isn't as promising as it once was, either. (Emily Jane Fox, Vanity Fair)
'Discrimination Is a Disqualifier': When Danica Roem was elected to Virginia's House of Delegates on Tuesday night, she became the first openly transgender person elected to a state legislature. Antonio Olivo recaps her historic campaign against conservative incumbent Robert G. Marshall. (The Washington Post)
---
Visualized
How Did Virginians Vote?: Exit polls—broken down by factors like gender, race, and gun ownership—reveal how Virginians voted in the gubernatorial race. (The Washington Post)
The Wall, Eight Ways: Here are the prototypes under consideration for Trump's U.S.-Mexico border wall. (Jennifer Medina, Josh Haner, Josh Williams, and Quoctrung Bui, The New York Times)
---
Question of the Week
In this Esquire story, political commentators, insiders, and journalists shared their memories from November 8, 2016. Many of them, including members of Donald Trump's own circle, expected Hillary Clinton to win the presidential election.
Where were you during the 2016 election? What are your memories from that day?
Share your response here, and we'll feature a few in Friday's Politics & Policy Daily.
-Written by Lena Felton (@lenakfelton) and Taylor Hosking (@Taylor__Hosking)