The Atlantic Politics & Policy Daily: Jeff's Concessions
During his testimony before the House Intelligence Committee, Attorney General Jeff Sessions defended his past statements about Russia and the Trump campaign.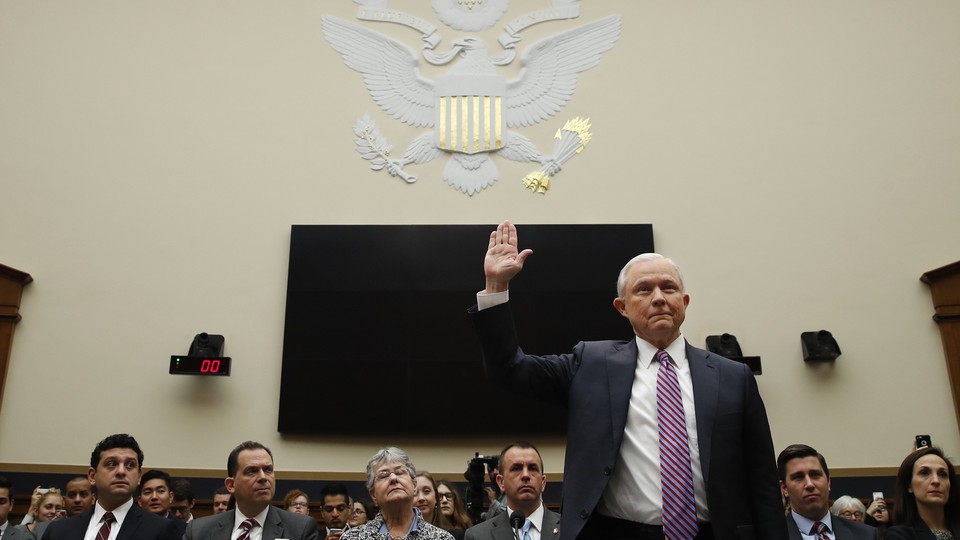 Today in 5 Lines
During his testimony before the House Intelligence Committee, Attorney General Jeff Sessions defended his past statements about Russia and the Trump campaign. When asked about the sexual-misconduct allegations against Alabama Senate candidate Roy Moore, Sessions said he has "no reason to doubt" Moore's accusers. In another House hearing, two female lawmakers accused sitting male lawmakers of sexual harassment and misconduct. Senate Republicans announced that they will include a provision to repeal the Affordable Care Act's individual insurance mandate in their tax bill. And the federal judge overseeing the bribery trial of Democratic Senator Robert Menendez encouraged jurors to take their time reaching a verdict, after the group was deadlocked on Monday.
---
Today on The Atlantic
'The Making of an American Nazi': In our December cover story, Luke O'Brien describes how Andrew Anglin, the publisher of the world's biggest neo-Nazi website, became one of the alt-right's most vicious trolls.

Breitbart v. Breitbart: Andrew Breitbart once said that "politics is downstream from culture." But the website he created has since "shaped a culture on the populist right that has proven deeply corrosive"—and destroyed his legacy in the process. (Conor Friedersdorf)

Benefiting From Affirmative Action: Reflecting on his tenure at the New Republic, Peter Beinart asks himself what kind of journalistic career he would have had without affirmative action: "A less successful one, probably."
Follow stories throughout the day with our Politics & Policy portal.
---
Snapshot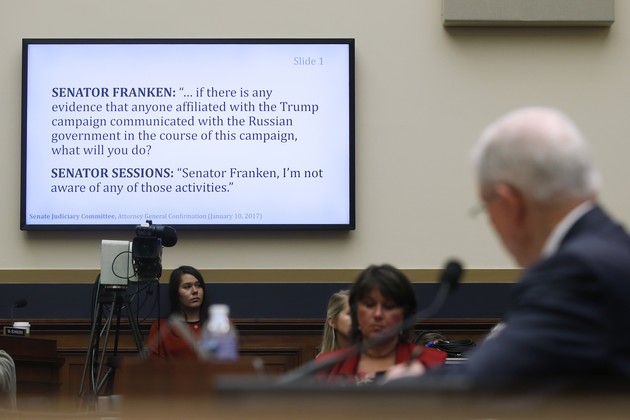 ---
What We're Reading
What Happens Now?: As allegations against Alabama Senate candidate Roy Moore continue to mount, the state's Republican Party has to decide whether to drop him or stand by him. (Cameron Joseph, Talking Points Memo)
Much Ado About Uranium: Attorney General Jeff Sessions is considering appointing a special counsel to investigate, among other things, allegations that Hillary Clinton made a uranium deal with Russia. But the scandal is a myth. (Zeeshan Aleem, Vox)
What's in a Name?: Both Donald Trump's allies and opponents make use of the term "Trumpism" to define the president's ideology. But, Roger Kimball argues, Trumpism doesn't actually exist. (American Greatness)
Capitol Hill 'Creep List': More than 50 lawmakers, former and current Hill aides, and politics veterans share stories of sexual harassment on Capitol Hill. (CNN)
Misunderstanding the Second Amendment: How did the United States become a country where people believe it's their right to own an assault-style weapon? The answer lies in how Americans' definition of freedom has changed.  (Elizabeth Bruenig, The Washington Post)
---
Visualized
Grieving in a Fishbowl: In this short video, Olivia Merrion documents how the survivors of mass shootings are approached by members of the media and asked to recount details of their experiences over and over. (The Center for Investigative Reporting)
---
Question of the Week
In this dispatch from Seattle, The Atlantic's Olga Khazan describes the city's plans to open a new safe-injection facility for heroin addicts in an attempt to make it safer for them to quit. But critics say it actually makes it easier for users to stay addicted.
Do you think this is an effective strategy for addressing the country's escalating opioid epidemic? Do you see it as necessary—or as enabling?
Share your response here, and we'll feature a few in Friday's Politics & Policy Daily.