The Atlantic Politics & Policy Daily: 'He Will Not Step Down'
During a rally in Alabama, Kayla Moore, the wife of Senate candidate Roy Moore, said her husband isn't letting the allegations get to him.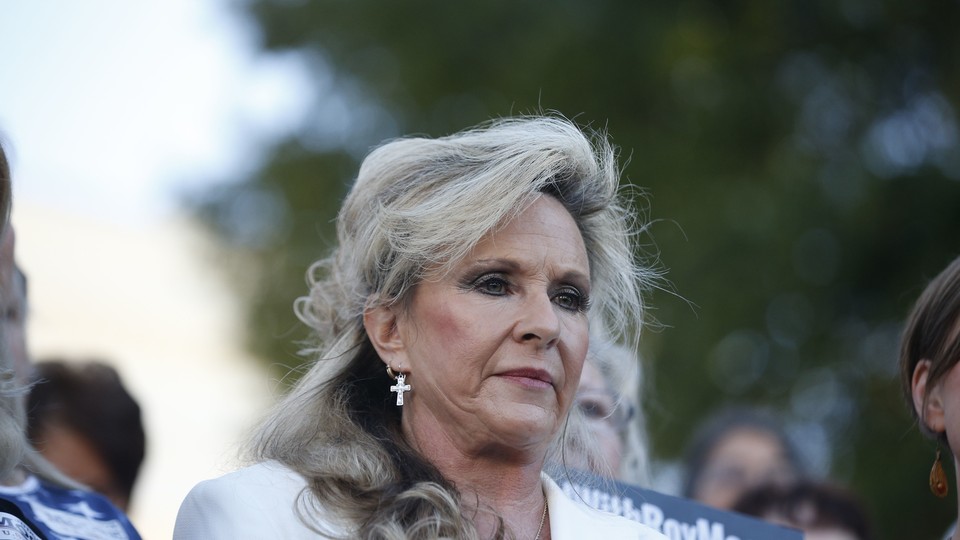 Today in 5 Lines
President Trump blasted Minnesota Senator Al Franken after the lawmaker was accused of forcibly kissing and groping a woman, but did not mention Alabama Senate candidate Roy Moore, who has also been accused of sexual misconduct. During a rally in Alabama, Kayla Moore said her husband isn't letting the allegations get to him: "He will not step down." Reverend Jesse Jackson, the 76-year-old civil-rights leader, announced that he was diagnosed with Parkinson's disease. The executive director of the Puerto Rico Electric Power Authority resigned amid questions about the slow rate of repairs to the island's electrical grid. And in a statement on Facebook, Ohio Supreme Court Justice William O'Neill defended "heterosexual males" amid allegations of sexual misconduct, and described his own sexual history.
---
Today on The Atlantic
Follow stories throughout the day with our Politics & Policy portal.
---
Snapshot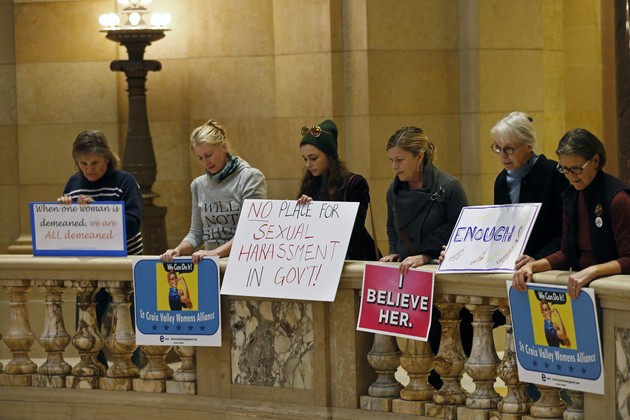 ---
What We're Reading
Where Will It End?: The question prompted by recent sexual-misconduct allegations against Senator Al Franken isn't whether he will resign, it's how many other sitting lawmakers will be similarly accused. (Damon Linker, The Week)
The Greater Good: Kate Harding, a self-identified feminist and author of a book on rape culture, makes the case for why Democrats shouldn't demand Senator Al Franken's resignation. (The Washington Post)
Epic Exit Interview: New Jersey Governor Chris Christie has had a rough couple of years, but he wants to focus on the good things he's done during his time in office: "The bridge stuff is part of that, and the Trump stuff is part of that, but it's only a part." (Josh Dawsey, Politico)
Driven to Hypocrisy: In an interview published Friday, Hillary Clinton questioned the legitimacy of the 2016 presidential election. Becket Adams argues that her question directly threatens American democracy. (Washington Examiner)
Behind the Trump Ocean Club: This is the story of how an alleged fraudster in Panama worked with Ivanka Trump to accomplish the Trump family's first international hotel venture. (Reuters)
'The Uncounted': The New York Times visited 150 sites of U.S.-led coalition airstrikes in northern Iraq and found that 20 percent of the strikes resulted in a civilian death—more than 31 times the number reported by the coalition. (Azmat Khan and Anand Gopal)
---
Visualized
Into Darkness: Puerto Rico has been mostly without power for nearly 59 days. Check out these graphics of the ongoing blackout. (The Washington Post)
---
Question of the Week
This week, we asked whether you think Seattle's new safe-injection facility for heroin addicts is an effective strategy for addressing the country's escalating opioid epidemic. Here's what you said:
"Just as sex education doesn't cause sex, safe injection facilities will help those suffering from addiction," said reader Sasia Bushko, "especially when treatment opportunities are also advertised at the facilities."
But James disagrees: "I believe through experience that the only way addiction can be healed is through behavior-modification and the transforming of belief-systems. To simply offer a safer way to 'get high' and 'stay addicted' is ludicrous and a waste of money and time."
Finally, Betsy, who is from Seattle, reminds us that there isn't a simple solution: "It strikes me that a problem as complex as opioid addiction resembles homelessness: there's no one approach that will solve it, and because the cost of living here has become ridiculous, anything related to property, whether squatting in a neighborhood, camping in a car, opening an injection site in a residential area—touches hot buttons and stokes anger and fear among taxpayers that planners and advocates refuse to acknowledge."
Thanks to everyone who submitted responses, and stay tuned for next week's Question of the Week.