The Atlantic Politics & Policy Daily: Apart of the Deal
Democratic leaders pulled out of spending negotiations with President Trump after he tweeted, "I don't see a deal."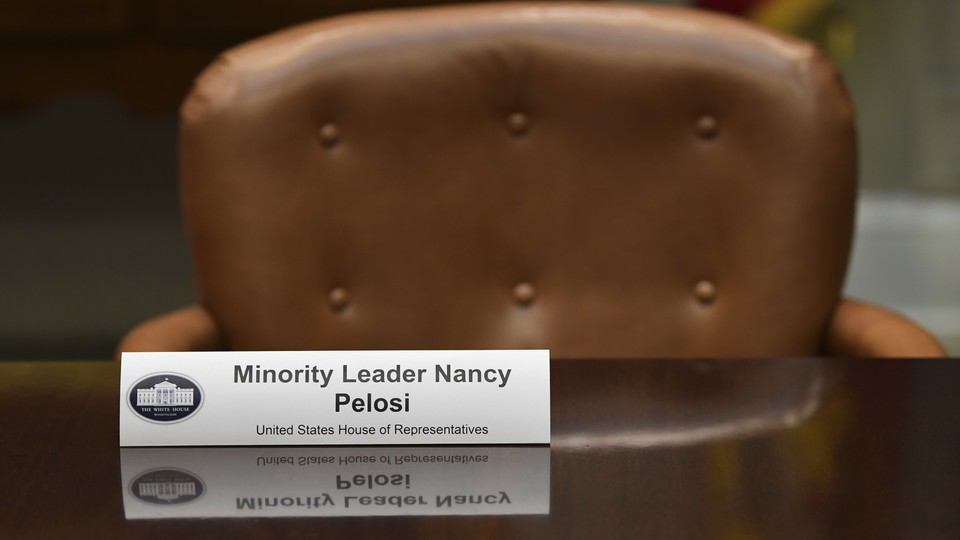 Today in 5 Lines
Democratic leaders Chuck Schumer and Nancy Pelosi pulled out of spending negotiations with President Trump after he tweeted, "I don't see a deal." In response, Majority Leader Mitch McConnell and Speaker Paul Ryan issued a statement saying the Democrats' "antics" put government operations at risk. The Senate Budget Committee approved the Republican tax bill in a party-line vote, moving the legislation closer to a floor vote later this week. A federal judge sided with the Trump administration and refused to block Mick Mulvaney from continuing as interim director of the Consumer Financial Protection Bureau. And North Korea test-fired another ballistic missile.
---
Today on The Atlantic
'A Quiet Starvation': The Trump administration's attack on the AT&T-Time Warner merger is an attack on the press—and should be a wake-up call for American journalists. (Julia Ioffe)

Proxy War: The dispute over who should lead the Consumer Financial Protection Bureau is about more than the agency: It's a fight over how to fix America's broken political system. (David A. Graham)

Backfired: In his attempted sting operation against The Washington Post, Rosie Gray and McKay Coppins write that right-wing media darling James O'Keefe "found himself stung" instead.
Follow stories throughout the day with our Politics & Policy portal.
---
Snapshot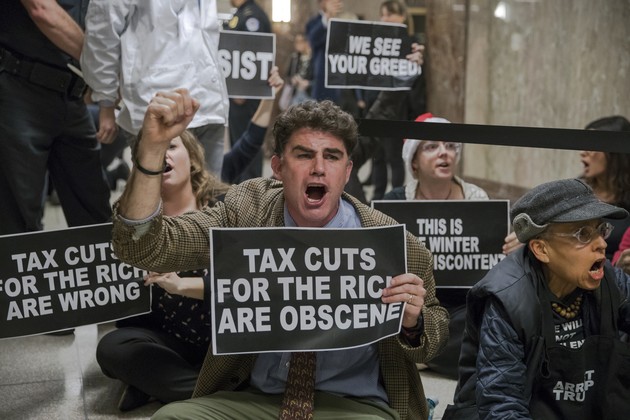 ---
What We're Reading
Is Elizabeth Warren Part Native American?: On Monday, President Trump referred to the Massachusetts senator as "Pocahontas," mocking her repeated assertion that she is part Native American. Here's the backstory. (Gregory Krieg, CNN)
Doesn't Make Sense: Ezra Klein lays out five big problems created by the Senate Republicans' tax plan—and suggests what the lawmakers could have done differently. (Vox)
The Problem With Unthinking Belief: The new rallying cry to "believe all women" and their allegations of sexual misconduct feels like a justified response to injustice, argues Bari Weiss. But a better mantra would be "Trust but verify." (The New York Times)
Tracking Without a Warrant: On Wednesday, the U.S. Supreme Court will hear oral arguments in a case dealing with one of the most important questions facing law enforcement in the digital age. (Nina Totenberg, NPR)
The Left Should Do Better: Liberals continue to fight right-wing extremism with name-calling, instead of by countering toxic ideas with good ones, argues Damon Linker. (The Week)
---
Visualized
Whip Count: Senate leaders can only afford to lose the support of two Senate Republicans to pass their new tax bill. Here's where lawmakers stand on the legislation. (Thomas Kaplan and Jasmine C. Lee, The New York Times)
---
Question of the Week
In a recent story in The New York Times, reporter Richard Fausset described the relatively ordinary life of Tony Hovater, a white nationalist living in Ohio, referring to him as "the Nazi sympathizer next door." Critics argued that the piece didn't offer context and left white-nationalist ideas unchecked. (In this vein, The Atlantic's James Hamblin wrote a parody of the story.) Fausset soon followed up with a piece describing his reporting process.
What do you think? Do stories like this normalize people with extreme viewpoints?
Share your response here, and we'll feature a few in Friday's Politics & Policy Daily.