The Atlantic Politics & Policy Daily: Allegations and the Aftermath
Republican lawmakers responded to allegations against Alabama Senate candidate Roy Moore.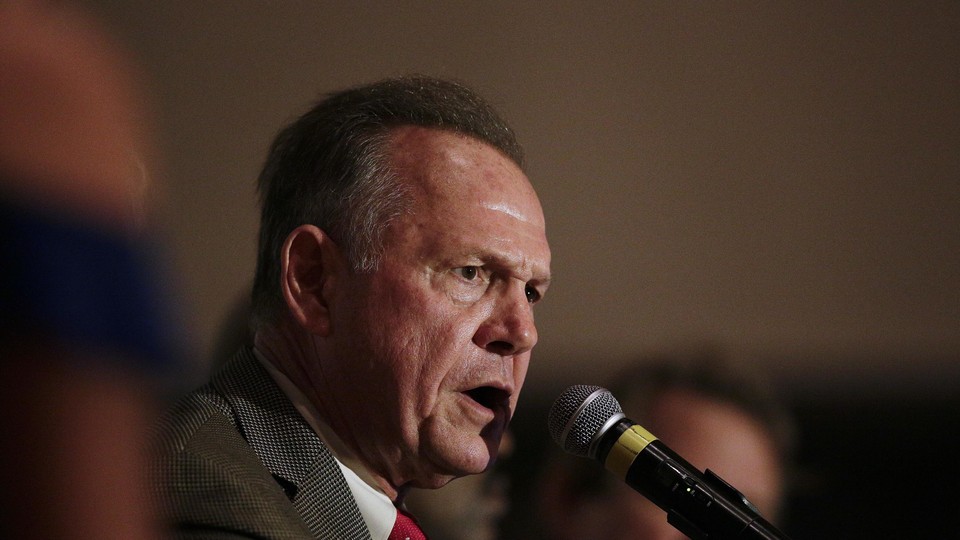 Today in 5 Lines
The Washington Post reports that Roy Moore, the GOP nominee in Alabama for a U.S. Senate seat, initiated a sexual encounter with a 14-year-old girl in the 1970s. Multiple senators called for Moore to drop out of the race if the allegations detailed in the Post are true. "If these allegations are true, he must step aside," said Senate Majority Leader Mitch McConnell. The House Ways and Means Committee voted to advance a Republican tax-reform bill. Chief of Staff John Kelly reportedly pressured Department of Homeland Security Acting Secretary Elaine Duke to end protections for thousands of Hondurans living in the United States.
---
Today on The Atlantic
'High Holy Day of MAGA': During a speech in Michigan Wednesday, Steve Bannon insisted that Ed Gillespie's loss in the Virginia governor's race was not a sign that Trumpism had failed, but that he had not embraced the president enough. (Rosie Gray)

A Fighting Chance: Despite President Trump's attempts to undercut Obamacare, voters Tuesday night showed overwhelming support for the health-care program. (Russell Berman)

Thinking Small on Taxes: The Republican Party risks putting forward a tax bill that is "unpopular, unpassable, and unpopulist," argues Derek Thompson. Here's how to fix it.
Follow stories throughout the day with our Politics & Policy portal.
---
Snapshot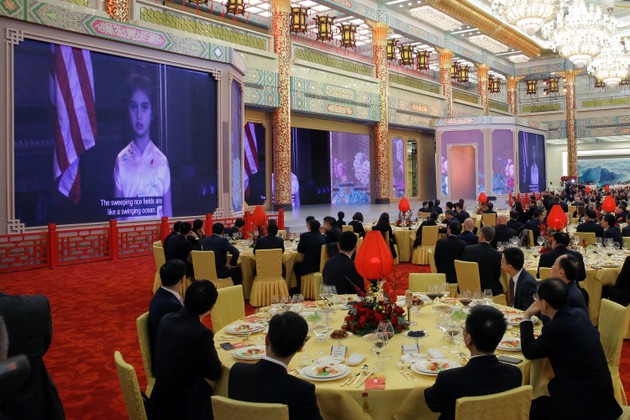 ---
What We're Reading
American Dream Town: Orange City, Iowa, is one of the most conservative small towns in the country, but contrary to stereotypes, it's not stagnant. In fact, it's thriving. (Larissa MacFarquhar, The New Yorker)
Beware Big Tech: In a speech on Wednesday, Senator Al Franken delivered the speech that Facebook, Google, and other tech giants have been dreading. (Nitasha Tiku, Wired)
Revisiting the Revolution: Exposing the legitimate shortcomings of Vladimir Lenin, who's often "airbrushed," can provide lessons for today's left. (Mitchell Cohen, Dissent)  
Alternate Timeline: If Hillary Clinton had won the 2016 election, here's what would've happened. (Ben Terris, Dan Zak, Monica Hesse, and Amy Argetsinger, The Washington Post)
A Tax-Plan Migraine: The GOP tax bill has a whole host of problems, argues Eric Levitz, most of which stem from Republicans' "obsession" with a 20 percent corporate tax rate. (New York)
---
Staff Pick
Plott checks in with the man who served as the White House communications director during Trump's chaotic first 100 days in office. As it turns out, Dubke has some stories to tell—filled with weird, amusing details, and genuine insights about how this president operates.

–Staff writer McKay Coppins
---
Visualized
A Polarized Virginia: These maps reveal how Ed Gillespie lost in Virginia's governor's race. (Ted Mellnik and Kevin Schaul, The Washington Post)
---
Question of the Week
In this Esquire story, political commentators, insiders, and journalists shared their memories from November 8, 2016. Many of them, including members of Donald Trump's own circle, expected Hillary Clinton to win the presidential election.
Where were you during the 2016 election? What are your memories from that day?
Share your response here, and we'll feature a few in Friday's Politics & Policy Daily.
-Written by Lena Felton (@lenakfelton), Taylor Hosking (@Taylor__Hosking), and Elaine Godfrey (@elainejgodfrey)