The Atlantic Politics & Policy Daily: A Taxing Day
The House voted to approve the Republican tax bill, and Senator Al Franken was accused of sexual misconduct.
Today in 5 Lines
The House voted to approve the Republican tax bill. Leeann Tweeden, a radio host, accused Minnesota Senator Al Franken of forcibly kissing and groping her in 2006. In response, Majority Leader Mitch McConnell, along with a number of Democrats, called for a review of the allegations by the Senate Ethics Committee. Alabama Republican Party Chairman Terry Lathan said the party will stand by Senate candidate Roy Moore, despite sexual-misconduct allegations against him, adding that they "trust the Alabama voters" to make a decision. A judge declared a mistrial in the corruption case of New Jersey Senator Bob Menendez.
---
Today on The Atlantic
I Was Just Kidding: On Thursday, Minnesota Senator Al Franken apologized for a photo where he appears to be pretending to grope a woman's breasts, saying "it was clearly intended to be funny but wasn't." It's an excuse used all too often. (David Sims)

A 'Whopping' Legal Problem: Donald Trump Jr.'s private messages with WikiLeaks are evidence that the campaign garnered support from an organization linked to Russia—which is a direct breach of campaign-finance rules. (Bob Bauer)

Kicking the Can: Democrats are united in their response to sexual-misconduct allegations against Senator Al Franken: Let the Ethics Committee decide. (Elaine Godfrey)
Follow stories throughout the day with our Politics & Policy portal.
---
Snapshot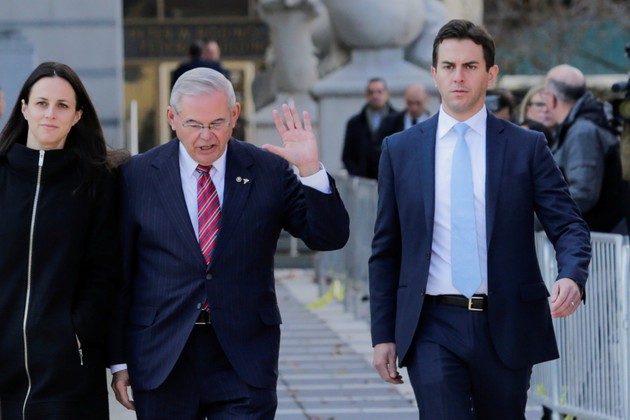 ---
What We're Reading
A Stubborn Candidate: Roy Moore's refusal to quit the Alabama Senate race exposes just how powerless the national Republican Party is. (Tarini Parti, Henry J. Gomez, and Alexis Levinson, Buzzfeed)
In Crowd, Out Crowd: Karl Rove is the embodiment of the Republican establishment, and that's exactly why Steve Bannon wants to take him down. (Susan B. Glasser, The New Yorker)
They Have Hope: Special Counsel Robert Mueller's Russia investigation is leading up to an interview with someone who just might hold the key to the Russia puzzle: longtime Trump aide Hope Hicks. (Darren Samuelsohn, Politico)
Exposed: The BBC reports the details of a secret pact in Raqqa that allowed hundreds of Islamic State fighters to escape. (Quentin Sommerville and Riam Dalati)
Behind the Money: On Capitol Hill, more than $15 million has been paid to victims through an office that handles harassment complaints. Here's what we know about the money. (MJ Lee, Sunlen Serfaty, and Juana Summers, CNN)
---
Visualized
Accusations, Plotted on a Timeline: This is how eight alleged encounters of harassment overlapped with Roy Moore's life. (Philip Bump, The Washington Post)
---
Question of the Week
In this dispatch from Seattle, The Atlantic's Olga Khazan describes the city's plans to open a new safe-injection facility for heroin addicts in an attempt to make it safer for them to quit. But critics say it actually makes it easier for users to stay addicted.
Do you think this is an effective strategy for addressing the country's escalating opioid epidemic? Do you see it as necessary—or as enabling?
Share your response here, and we'll feature a few in Friday's Politics & Policy Daily.