The Atlantic Politics & Policy Daily: A Tale of Two Acting Directors
Two officials showed up on Monday expecting to fill the role of acting director at the Consumer Financial Protection Bureau.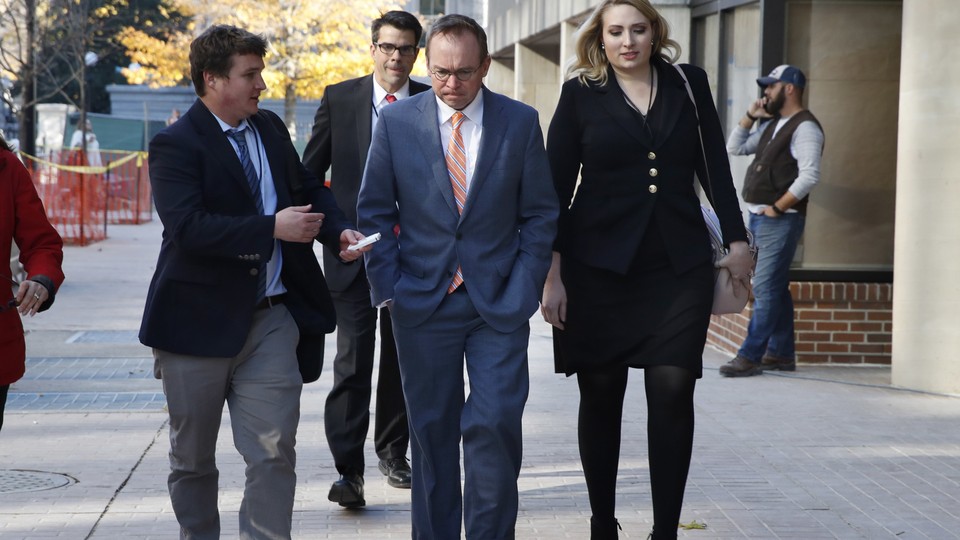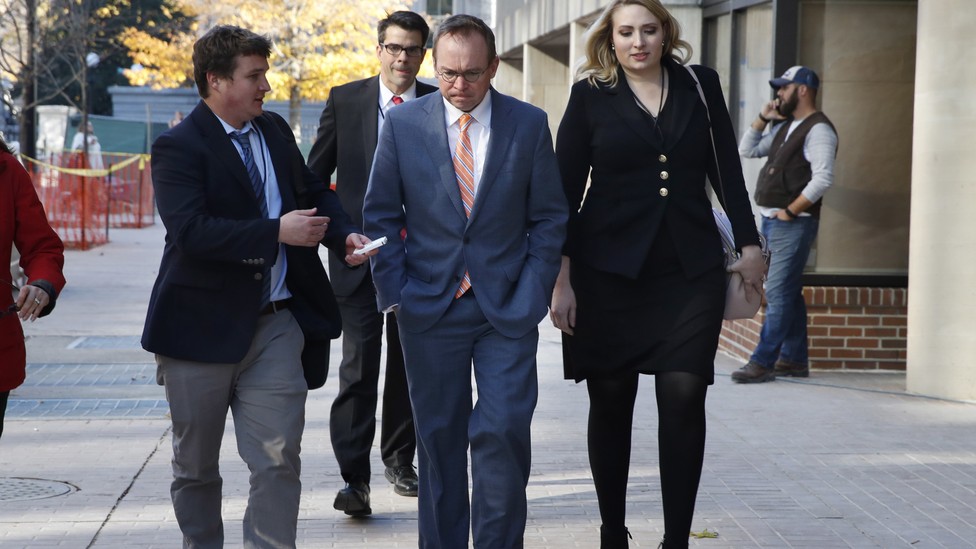 Today in 5 Lines
President Trump met with Republican members of the Senate Finance Committee to discuss changes to their tax plan. Texas Senator John Cornyn told reporters that the chamber will vote on the legislation this week, although it's not clear that the bill has enough votes to pass. A White House official said the president has no plans to campaign for Alabama Senate candidate Roy Moore, despite Trump's defense of Moore against sexual-misconduct allegations. In his first news conference since he was accused of groping several women, Minnesota Senator Al Franken apologized, but said he will return to work. Trump referred to Massachusetts Senator Elizabeth Warren as "Pocahontas" during an event honoring Navajo code talkers who served during World War II.
---
Today on The Atlantic
Monday Morning Madness: The battle over who will lead the Consumer Financial Protection Bureau began when two different acting directors showed up at the office. (Gillian B. White)

Ominous Words?: The Department of Justice is opposing the AT&T-Time Warner merger on antitrust grounds. But Trump's hostility toward CNN, which is owned by Time-Warner, makes the challenge far more sinister, argues David Frum.

Red-State Revolt: In Oklahoma, a state where 65 percent of voters backed Trump just a year ago, Democrats are taking advantage of a budget crisis unfolding in the Republican-led government. (Russell Berman)
Follow stories throughout the day with our Politics & Policy portal.
---
Snapshot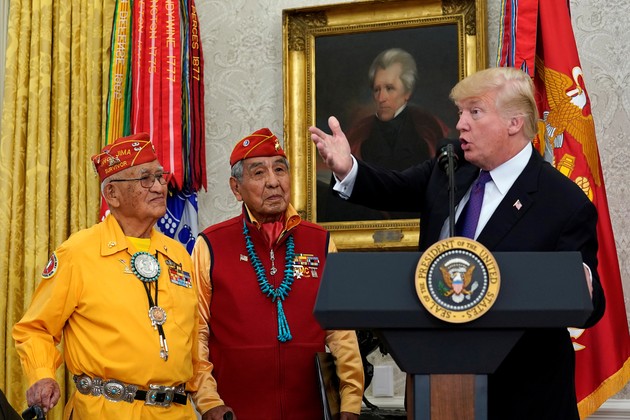 ---
What We're Reading
Inside the East Wing: Sarah Ellison interviewed Melania Trump's staffers, friends, and advisers to better understand the first lady and her motivations. According to one friend of the Trumps', "This isn't something she wanted, and it isn't something he ever thought he'd win." (Vanity Fair)
What Does It Mean?: The lawyer for former National-Security Adviser Michael Flynn reportedly met with members of Special Counsel Robert Mueller's team. (Matthew Mosk, Mike Levine, and Brian Ross, ABC News)
Worse Off: New analysis of the Senate tax bill from the Congressional Budget Office shows it would place a much bigger burden on low-income families than originally thought. (Heather Long, The Washington Post)
'I've Raised My Voice': John McCain discusses his life- and career-changing year—and the legacy he hopes to leave behind. (David Usborne, Esquire)
Misunderstanding Due Process: David French argues that House Minority Leader Nancy Pelosi's defense of Democrat John Conyers, who has been accused of sexual misconduct, demonstrates that "the 'icon' defense is alive and well." (National Review)
---
Staff Pick
The New York Times raised a furor over the Thanksgiving weekend with its profile of Tony Hovater, a 29-year-old white nationalist from Ohio. What I found elucidating was Warzel's follow-up piece that dove into Hovater's online record of racist and hateful posts. There's been no shortage of writing on white nationalists this year, but the best of it has taken the epidemiological approach Warzel displays here: probing the vectors of Hovater's "infection" by a bigoted ideology and dissecting the "symptoms" he's displayed as it's progressed.

—Associate editor Matt Ford
---
Visualized
A Timeline of the Trump-Russia Scandal: This visual guide summarizes each newsmaking event in the story of alleged collaboration between Trump's campaign and the Russian government. (Vox)
---
Question of the Week
In a recent story in The New York Times, reporter Richard Fausset described the relatively ordinary life of Tony Hovater, a white nationalist living in Ohio, referring to him as "the Nazi sympathizer next door." Critics argued that the piece didn't offer context and left white-nationalist ideas unchecked. (In this vein, The Atlantic's James Hamblin wrote a parody of the story.) Fausset soon followed up with a piece describing his reporting process.
What do you think? Do stories like this normalize people with extreme viewpoints?
Share your response here, and we'll feature a few in Friday's Politics & Policy Daily.