The Atlantic Politics & Policy Daily: A Shooting in Sutherland Springs
Twenty-six people, ranging from 18 months to 77 years old, were killed in a shooting at First Baptist Church in Texas on Sunday.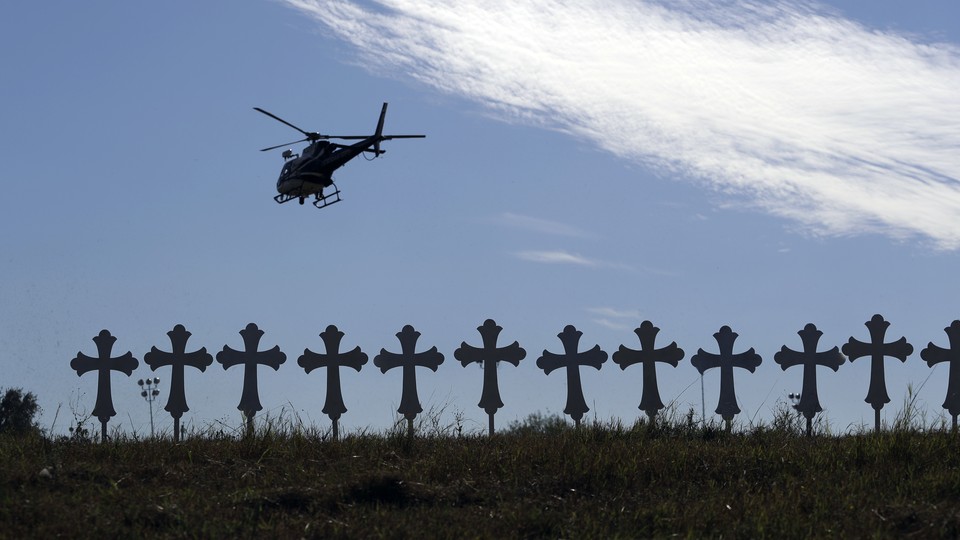 Today in 5 Lines
Texas Governor Greg Abbott confirmed that 26 people, ranging from 18 months to 77 years old, were killed in a shooting at First Baptist Church in Sutherland Springs, Texas, on Sunday. Officials said the alleged gunman, Devin Patrick Kelley, had previously sent threatening text messages to his mother-in-law, who attended the church, and revealed that Kelley had been discharged from the Air Force for assaulting his wife and a child. During a joint news conference with Japanese Prime Minister Shinzo Abe in Tokyo, President Trump said the shooting was the result of a "mental health" problem, not "a guns situation." The House Ways and Means Committee began their markup of the GOP tax reform bill. And Senator Rand Paul is recovering from multiple injuries after he was allegedly assaulted by a neighbor at his home; the suspect's lawyer called the altercation a "matter that most people would regard as trivial."
---
Today on The Atlantic
Follow stories throughout the day with our Politics & Policy portal.
---
Snapshot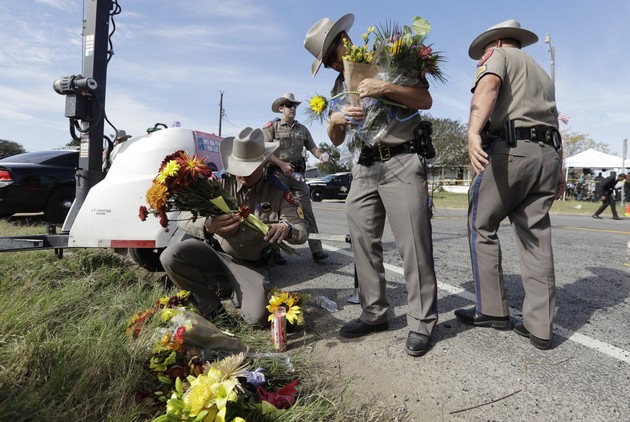 ---
What We're Reading
The Russian Links: At least nine Trump associates had contacts with Russians during the campaign or presidential transition. (Rosalind S. Helderman, Tom Hamburger, and Carol D. Leonnig, The Washington Post)  
One Year Ago: Journalists, commentators and campaign aides share what they remember about Election Day 2016: "We were waiting for the coronation. I was planning my Instagram caption." (Esquire)
Debate Has Begun: The next four days could make or break the Republican tax bill. Here's why. (Sahil Kapur, Bloomberg)
The New Trump?: Arkansas Senator Tom Cotton is the youngest member of the Senate, and one of the most dynamic: He's able to appeal to establishment Republicans while touting quintessentially Trumpist ideals. (Jeffrey Toobin, The New Yorker)
'From Establishment Fixture to Culture Warrior': If Republican Ed Gillespie wins Virginia's gubernatorial election, his campaign strategy could become a blueprint for 2018 races across the country. (Jonathan Martin, The New York Times)
Cook Off: Chef José Andrés and FEMA are in a public back-and-forth after the chef was contracted to provide meals to Puerto Rico, which is still recovering from Hurricane Maria. (Adrian Carrasquillo, BuzzFeed)
---
Visualized
73 Years of Electoral History: Watch Virginia go from a blue to red to purple state, all in electoral maps. (Reuben Fischer-Baum and Kim Soffen, The Washington Post)
Notification Overload: See how push alerts have shaped Americans' lives over the past year. (Slate)
---
Question of the Week
In this Esquire story, political commentators, insiders, and journalists shared their memories from November 8, 2016. Many of them, including members of Donald Trump's own circle, expected Hillary Clinton to win the presidential election.
Where were you during the 2016 election? What are your memories from that day?
Share your response here, and we'll feature a few in Friday's Politics & Policy Daily.
-Written by Elaine Godfrey (@elainejgodfrey) and Lena Felton (@lenakfelton)