Sessions: 'I've Always Told the Truth'
Testifying to the House Judiciary Committee, the attorney general defended his past statements about Russia and the Trump campaign and his hesitation to appoint a special counsel to investigate Hillary Clinton.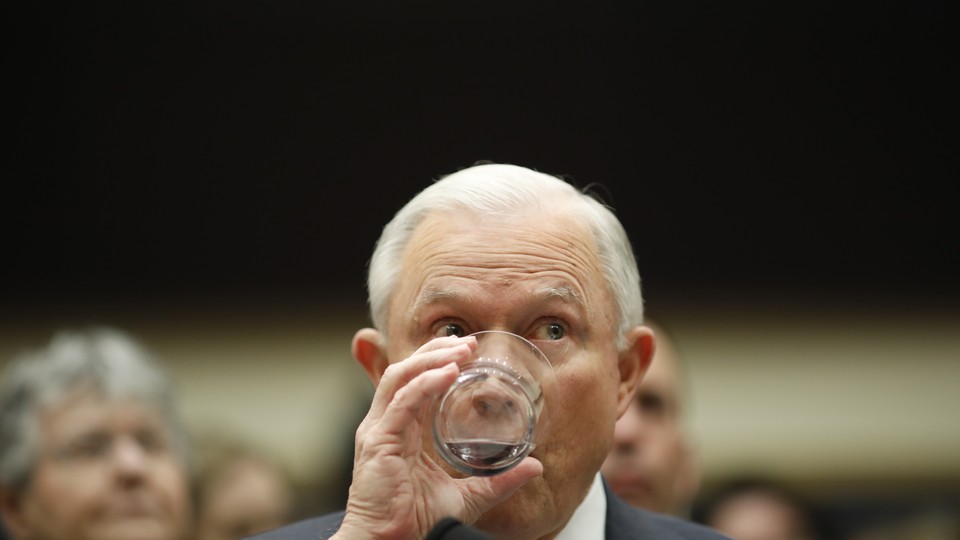 It was three hours into his testimony before the House Judiciary Committee that the questions finally seemed to get to Jeff Sessions. Hakeem Jeffries, a New York Democrat, was pressing the attorney general on discrepancies between his past testimony about Trump campaign contacts with Russia and his current story. Jeffries asked Sessions about his frequent statements that he could not recall certain things, his vote to remove former President Bill Clinton from office for perjury, and an assertion in 2016 that falsely claiming not to recall something constituted perjury.
"Nobody, not you or anyone else, not me, should be accused of perjury for answering the question the way I did in this hearing," an indignant Sessions said. "I've always tried to answer the questions fairly and accurately."
Judgments on that assertion differ widely, largely following party lines, as the hearing demonstrated. Although he received a few softballs from committee members, Sessions was mostly subjected to a barrage of questions: from Democrats questioning his honesty in describing Trump campaign contacts with Russia; from Republicans who want to see a special-counsel investigation into Hillary Clinton; from African American Democrats livid over an FBI report on "Black Identity Extremists"; and from Republicans at odds with the Trump administration over renewing NSA warrantless-wiretapping provisions.
Sessions staunchly defended his honesty about Russia, despite having to repeatedly revise his accounts. "I've always told the truth," he said in his opening statement. Citing the chaos of the campaign, he said he hadn't recalled recently revealed interactions regarding Russia with Trump staffers Carter Page and George Papadopoulos, both of whom were in contact with Russian officials during the campaign.
"All of you have been in a campaign. But most of you have not participated in a presidential campaign. And none of you had a part in the Trump campaign," Sessions said. "It was a brilliant campaign in many ways, but it was a form of chaos every day from day one. We traveled all the time, sometimes to several places in one day. Sleep was in short supply … I have been asked to remember details from a year ago, such as who I saw on what day, in what meeting, and who said what when."
At his confirmation hearings in January, Sessions told Senator Al Franken, "I did not have communications with the Russians, and I'm unable to comment on it." That turned out not to be true: Sessions had met with then-Russian Ambassador Sergey Kislyak twice during the campaign, one at the Republican National Convention. Later, in October, he told Franken that with regards to the question of whether any campaign surrogates had been in touch with the Russians, "I did not, and I'm not aware of anyone else that did, and I don't believe it happened."
However, two new developments suggested that was untrue. First, in a guilty plea, former Trump campaign aide George Papadopoulos admitted attending a March 31, 2016, meeting with both Sessions and Donald Trump in which he said he could arrange a meeting with Russian President Vladimir Putin. The same week, staffer Carter Page testified to the House Intelligence Committee that he had mentioned an impending trip to Russia to Sessions after a June dinner.
Faced with these revelations, Sessions had to strike a nuanced position: He told the House panel on Tuesday that on the one hand he sincerely had not recalled the meeting with Papadopoulos until recent press reports, but that he had also acted decisively, in the meeting that he had forgotten, to push back on Papadopoulos, and to tell him he was not authorized to speak to the Russians on behalf of the campaign. (Sessions said he had no recollection of his conversation with Page, which Page said was very brief.)
Democrat after Democrat hammered Sessions on his previous testimony, and time after time, Sessions either insisted that his prior remarks, if inaccurate, had been simply the product of misremembering. In other cases, he filibustered on answers, taking advantage of the tight five-minute time limit for each member to ask questions. Many Democrats asked Sessions to answer questions with yes or no, and he repeatedly protested that he could not.
Democrat Zoe Lofgren quizzed Sessions, who chaired the Trump campaign's national-security committee, on whether he was aware of fired National-Security Adviser Michael Flynn's contacts with Kislyak, his work on behalf of the Turkish government, or his involvement in a supposed plot to kidnap the Turkish cleric Fethullah Gulen, who currently resides in Pennsylvania, and bundle him off to Turkey. Turkish President Recep Tayyip Erdogan has accused Gulen of fomenting a coup and has sought his extradition from the U.S. Sessions said he was unaware of such a scheme.
In March, just after his own meetings with Kislyak were revealed, Sessions abruptly announced he would "recuse myself from any existing or future investigations of any matters related in any way to the campaigns for president of the United States," in part replying to the political furor. (Committee Chair Bob Goodlatte kicked the hearing off by telling Sessions he disagreed with that decision.) Two months later, President Trump fired James Comey, and Rod Rosenstein, the deputy attorney general, decided to appoint Robert Mueller as a special counsel, with far-reaching results.
As Mueller's probe heats up, including the Papadopoulos plea and indictments of former Trump campaign manager Paul Manafort and former Trump campaign aide Rick Gates, many Republicans and conservative pundits have begun loudly demanding that the Justice Department appoint a special counsel to investigate several matters related to Hillary Clinton, including the DOJ's process for investigating her use of a private email server and a Russian uranium deal. On Monday, The Washington Post revealed a letter from Sessions to Goodlatte in which he said the department was considering appointing a special counsel.
But in Tuesday's hearing, Sessions seemed cool to the idea. One of the sharpest exchanges of the day was between Jim Jordan, a hardline conservative from Ohio, and Sessions. With a long wind up of innuendo, Jordan asked Sessions what it would take to get a special counsel appointed.
"It would take a factual basis that meets the standards of the appointment of a special counsel," Sessions said. After Jordan pressed further, Sessions replied, somewhat testily, "You can have your idea but sometimes we have to study what the facts are and to evaluate whether it meets the standards that require a special counsel."
Of course, some Democrats insisted that the decision was not Sessions's to make, citing his recusal.
"Now, for my yes or no question, are you recused from investigations that involve Secretary Clinton?" Ranking Democrat John Conyers asked.
"I cannot answer that yes or no because under the policies of the Department of Justice, to announce recusal in any investigation would reveal the existence of that investigation and the top ethics officials have advised me I should not do so," Sessions replied.
Later in the hearing, Representative Matt Gaetz, a Florida Republican, tried to pin Sessions down more specifically on his recusal. Was he authorized to appoint a special counsel on the Uranium One case, Gaetz wondered? Sessions said he believed so. Gaetz then asked whether Sessions had the authority to appoint a special counsel to investigate whether the FBI paid Christopher Steele, the former British intelligence agent who compiled a dossier of allegations against Donald Trump. Sessions hesitated, saying he had that authority if he was not recused, but he demurred on whether that was the case, saying ethics officials had advised him not to say when he was and was not recused.
Sessions said he could not say whether the FBI paid Steele, both because of an ongoing investigation and because the answer might reveal classified information. Sessions also told Democrat Ted Deutch he was not able to say whether Trump could fire Mueller if he wanted, or whether Trump could fire specific members of Mueller's team. Under further questioning from Deutch, he also declined to say whether the president could pardon people in the Russia investigation, including family members or people not yet charged.
Several Democrats expressed concern about statements by the president, both during the campaign, when he told Hillary Clinton during a debate that if he were elected he would have her investigated, and later, especially several tweets in which he lambasted Sessions and called on the Justice Department to investigate her. "When Richard Nixon spoke about us this way at least he had the decency to do it behind closed doors," said Conyers, who boasted he had been on 37th president's enemies list.
"The Department of Justice can never be used to retaliate politically against opponents and that would be wrong," Sessions said. "I would say it's improper to influence—a president cannot improperly influence an investigation, and I have not been improperly influenced and would not be improperly influenced."
There was unusual unanimity among Republicans, Democrats, and Sessions on the need for careful defense of American voting systems against foreign interference.
Yet some of the most interesting exchanges had nothing do with Russia. Several Republicans, led by Wisconsin's James Sensenbrenner, sparred with Sessions over wireless wiretaps. Congress has favored new rules that somewhat limit the executive branch, while the Trump administration has pushed for broad leeway. Texas Republican Ted Poe suggested the intelligence community should not be given the benefit of the doubt. Citing Edward Snowden's revelations, Poe said, "We know we can't trust the NSA."
Meanwhile, several black Democrats questioned Sessions closely about the "Black Extremist Identity" report, revealed by Foreign Policy in October. Sheila Jackson Lee of Texas likened it to the FBI's infamous COINTELPRO, which targeted civil-rights activists, among others.
Sessions told Karen Bass of California he had not read the report, adding, "I'm not sure how that report got ordered. I don't believe I explicitly ordered or directed it." Bass asked Sessions whether he was aware of "white identity extremists" and whether there was an FBI report into them. Sessions said yes, but "it's not coming to me at this moment." Bass suggested the sovereign-citizen movement to Sessions and said that the groups cited in the FBI report were 30 to 40 years old. She cited widespread concern among activists about federal repression and asked Sessions to review it.
Cedric Richmond, the chair of the Congressional Black Caucus, who testified against Sessions's confirmation, also interrogated the attorney general over protection of voting rights and also whether Sessions had any African Americans among his top staff at DOJ. Sessions said there were not any.
The importance of Tuesday's hearing will depend in part upon whether future revelations force Sessions to once again revise his statements about his and the Trump campaign's interactions with Russia. Such a revision would further call his candor into question.
In recent days, a rumor has circulated that Republicans might try to stand Sessions as a write-in candidate against beleaguered Alabama U.S. Senate candidate Roy Moore, who is running for the seat Sessions vacated. That would be highly unconventional, and Sessions's aides have said he is not interested in leaving the Justice Department.
Still, after some five hours of tough questioning from both sides of the aisle, Sessions must have felt at least a little bit wistful about his days in the Senate, when he got to be the one asking, rather than answering, the questions.